Due to the pandemic, central banks around the world, including Singapore, slashed interest rates to near 0% to encourage borrowing and spending. This also meant that the popular fuss free, high-interest yielding bank accounts like Standard Chartered JumpStart also cut rates by more than half.
For context, the JumpStart account used to offer 2% p.a interest on your bank account on the first S$20,00 and 1% p.a for any amount above S$20,000 without jumping through any hoops. Just leave your money in there, and 2% simple interest will be paid out at the end of the month. No lock ups, no deposit requirements, no spending requirements, it was a good time.
But as of March 2022, the JumpStart account offers a paltry 0.5% p.a interest on the first S$20,000 deposited, and 0.1% p.a for any amount above S$20,000. The hassle-free terms still stuck though: No lock ups, no spending requirements. Consumers could either begrudgingly accept these terms, or move their money into a relatively new Fintech product: Insurance Saving Plans.
Insurance Saving Plans (ISPs) like the Singlife account, ELASTIQ by Tiq, and Dash Pet usually offer higher interest rates than traditional bank accounts. 1.x% p.a vs 0.x% p.a interest. Most have free unlimited withdrawals at any time, provide some micro-insurance benefits, and allow for quick deposits via FAST. 
Both are insured by the Singapore Deposit Insurance Corporation (SDIC) up to specified limits: Insurance Policies (depends), Banks (S$75,000). SDIC compensation kicks in during an event where a bank or insurance company fails.
Anyway, back to the topic of the review: Singlife Account, an ISP with retrenchment and death benefits, and a 0% FX fee debit card. 
I have been using Singlife Account as my main store of liquid savings since June 2020. My account went through Singlife's 3 interest rate cuts (from 2.5% p.a) and acquisition by Aviva in 2022. Here is my 1.5 year review of it, keeping in mind that this is in no way financial advice.
Earning Interest
As of March 2022, Singlife offers 1% p.a on deposits up to S$10,000, 0.5% for the next S$90,000 and 0% for anything higher. At the end of every day, a snapshot of your balance is recorded to calculate the interest earned for the month.
For illustration, an account with a balance of S$10,000 will earn (1% / 365) of interest a day, or S$0.27, assuming no withdrawals are made. If the account holder withdraws S$1000, the (1% / 365) interest will be applied on the remaining S$9000 from that day onwards.
The daily interest calculated is accumulated into a monthly sum that is credited at the end of your policy month, on the date you signed up for the Singlife Account. Take note, you will need a minimum account balance of S$500 in order to start earning interest.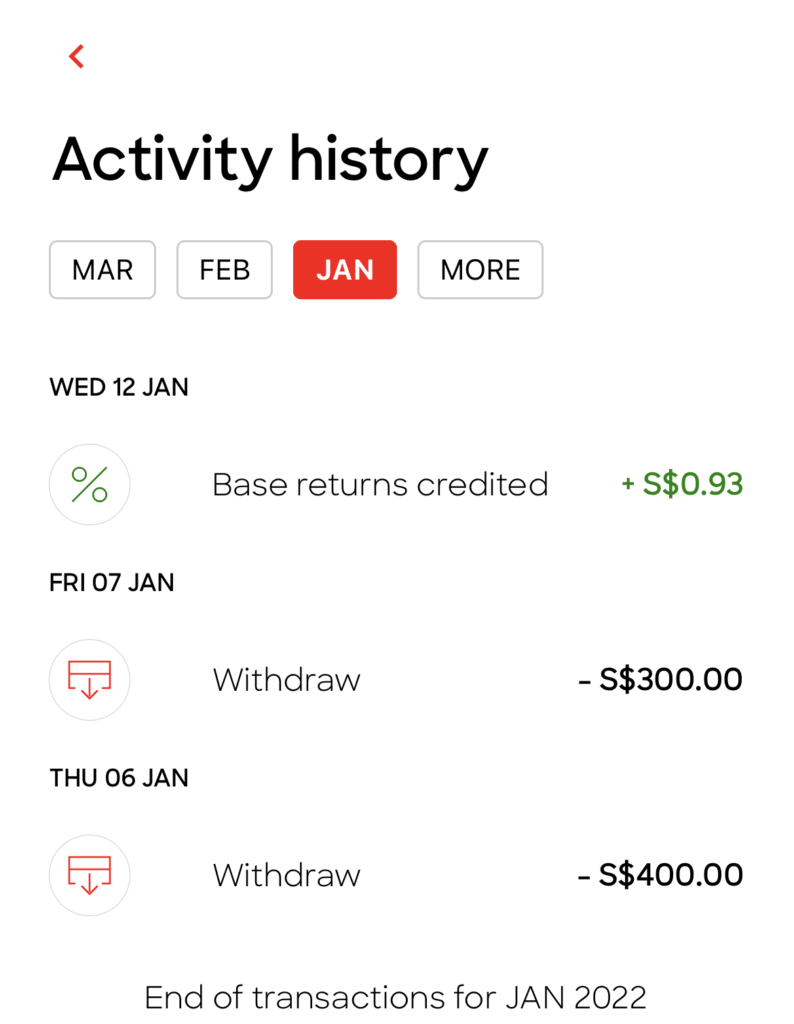 1% interest p.a doesn't seem like much. But when you compare it to your standard, fuss-free POSB kids account that gives 0.1% p.a, the Singlife account actually gives 9x more interest.
Sure, there are bank accounts that give higher than 1% interest, provided you jump through multiple hoops like meeting their minimum spend, crediting salary, or making no withdrawals. It's too restrictive.
And if you'd like to earn more interest, simply participate in one of the two Singlife campaigns: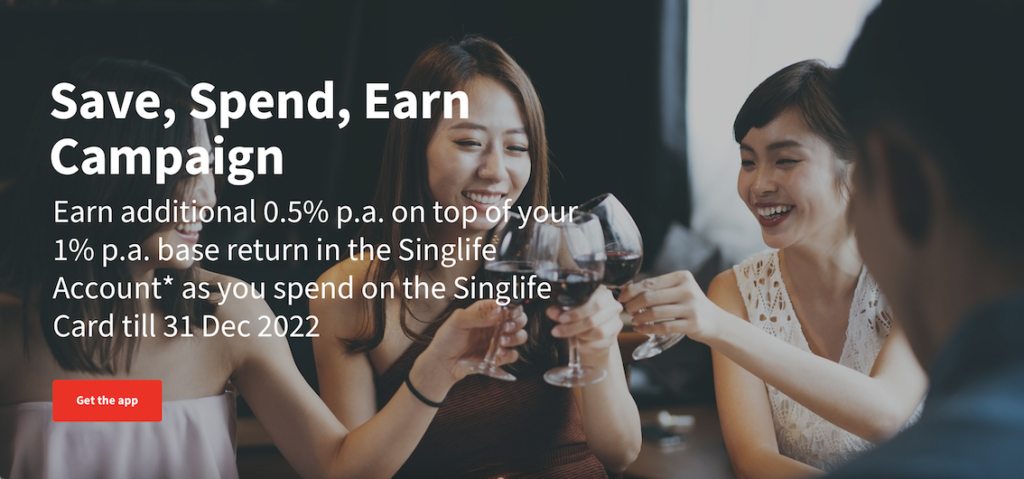 The Save, Spend, Earn campaign awards you with 0.5% p.a more interest during the same month, if you spend S$500 on the Singlife debit card (more on that later).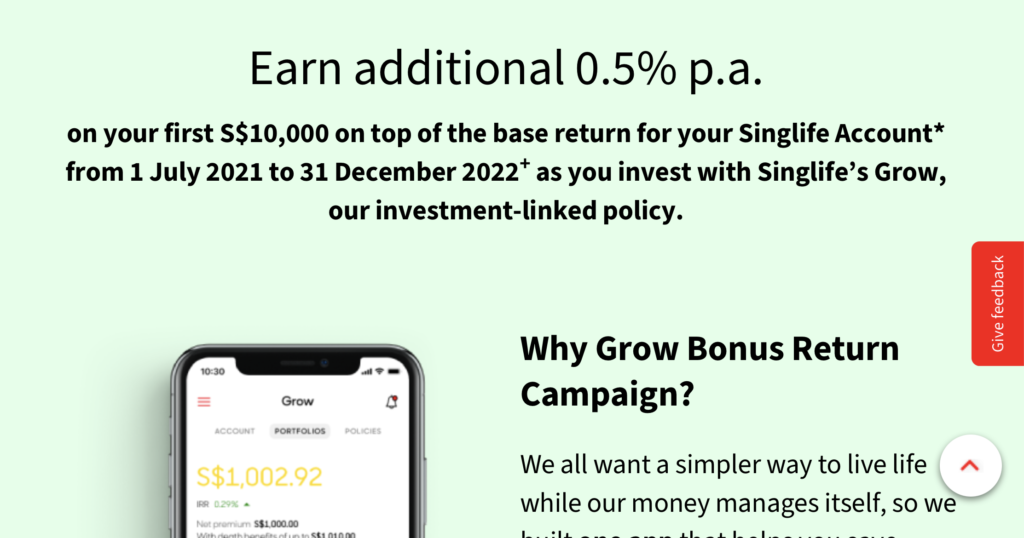 The Grow campaign awards you with 0.5% p.a more interest until December 2022 if you purchase a Singlife Investment Linked Policy. This is a tech blog, so I shall not go into the pros and cons of this insurance policy.
Both campaigns can be stacked to give you an effective 2% p.a interest while it lasts. Pretty decent in this low interest climate.
Top Up and Withdrawals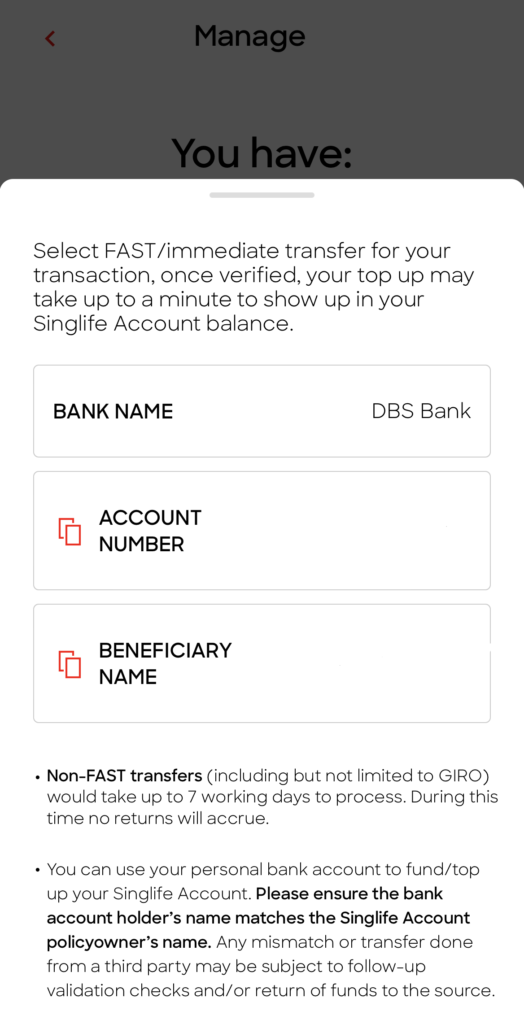 Top ups are done through bank transfers via FAST to a unique DBS bank account provided to you. The bank account used for the transfer must be in your name or it will fail. Top ups are usually instantaneous, and the app will send you a notification once your funds are credited.
No, you cannot use a credit card to top up your Singlife Account to earn a month's worth of interest, then withdraw and pay the bills. That is cash advance in their eyes, and banks would rather charge you a fee for that. 
Now, the main draw of this ISP is its unlimited, quick, and free withdrawals just like on any other bank account. Similar to top ups, the bank account used to receive the funds must be in your name. This is a regulatory procedure to ensure there is no money laundering involved.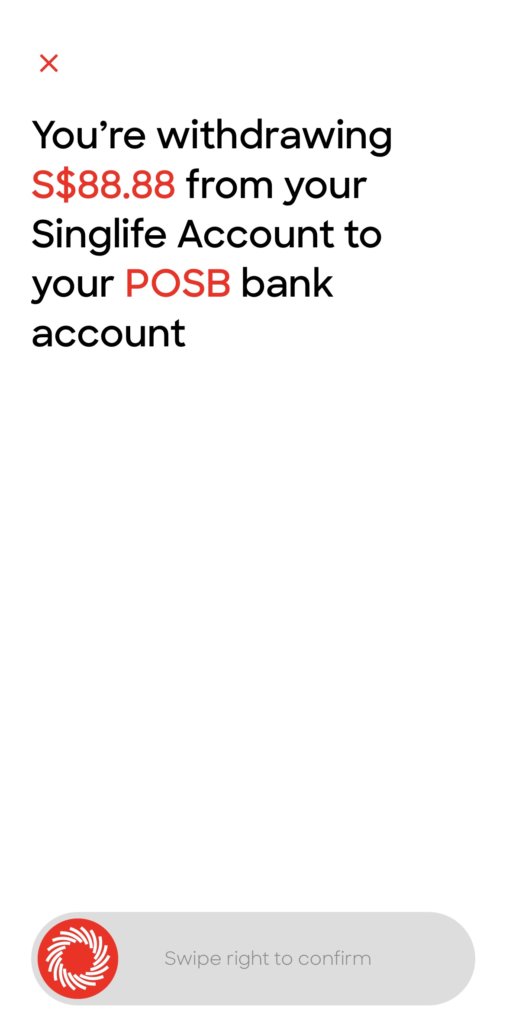 Tap on the withdraw button, enter the amount you'd like to withdraw, verify with a SMS OTP, confirm the transfer, and your funds will be on its way. 
Unlike instant top ups, funds may take up to 4 hours to be reflected in your bank account according to Singlife. But in my own experience, withdrawing amounts less than S$10,000 at a go doesn't take more than 15 minutes.
Debit Card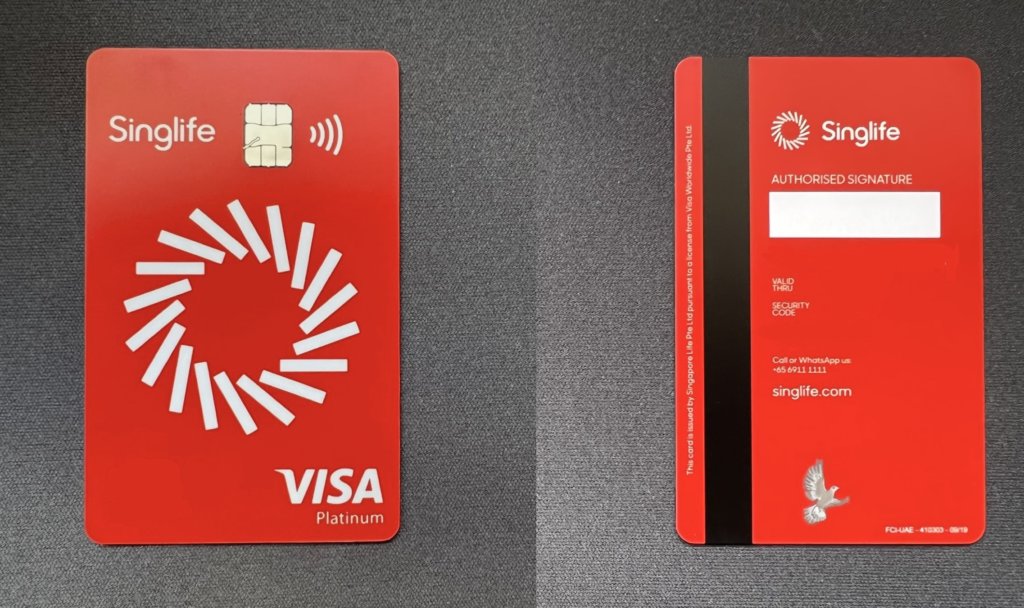 After you sign up for a Singlife account, you are prompted to order a Visa debit card which you can use to spend online or at physical stores. 
The card is coloured bright red with reflective white accents. Unlike most debit/credit cards, elements on the Singlife card are arranged vertically, with the card number, expiry and CVV on the back. I really dig this simplistic and elegant design.
This card also comes with contactless capabilities, so you can PayWave your way through all your favourite merchants and Public Transport using your Singlife account balance.
Though the card doesn't come with any headline grabbing cash back or rewards features, it charges no fees on foreign currency transactions and transactions in SGD processed overseas.
As I mentioned in my Multi-Currency card article, traditional bank debit and credit cards levy a 2.5% to 3.25% fee on foreign currency transactions, and 1% to 2.8% fee on SGD transactions processed overseas. 
The Singlife card does not charge any of the mentioned fees, making it effectively a zero-fee multi-currency card. For foreign currency transactions, the card uses Visa rates to convert the purchase into SGD before charging it to your account balance. It is unknown whether Singlife uses mid-market or live Visa rates.
Remember, you can earn an additional 0.5% p.a interest on your account balance for spending S$500 or more, so go ahead and use this for your overseas online (or physical) shopping.
Unfortunately though, the Singlife card doesn't support any mobile payment options like Apple Pay and Google Pay as of now. You'll still have to lug around the physical card to make payments. 
Because you are bringing your physical card out, you need to be extra careful not to lose it, since unauthorised funds deducted from your debit card are much harder to dispute compared to credit cards.
Insurance Benefits
If Singlife sounds too much like a bank account, here are some insurance coverage you get that differentiates itself from the latter. Again, I am not an expert or a qualified Financial Advisor, so I will simply lay out what is provided without any inputs from my end.
The first benefit is against death or terminal illness. Upon a claim for one of these events, 105% of the account balance will be paid out if the policy holder is below 61, and 101% if the policy holder is above 61. The additional 5% and 1% paid out will be subject to a cap of S$50,000.

The second benefit is for retrenchment. If a policy holder below the age of 55 is retrenched and remains unemployed for 4 months, their average card spend over 6 months will be paid out to them for the next 3 months upon filing a claim.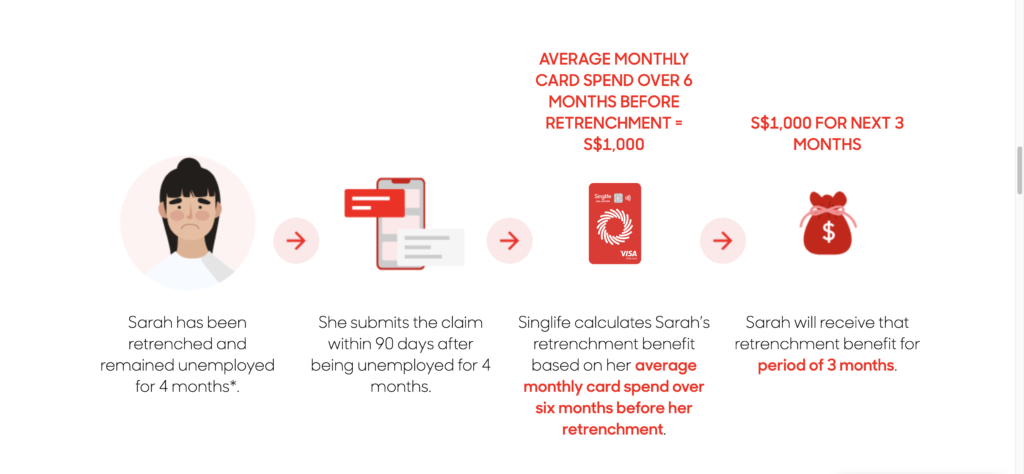 View the entire terms and conditions here.
App Experience
The Singlife app has improved dramatically after Singlife's acquisition by Aviva. The app back in 2020 and early 2021 was clunky and slow despite its slick user interface. Just look at the comments being left by disgruntled users.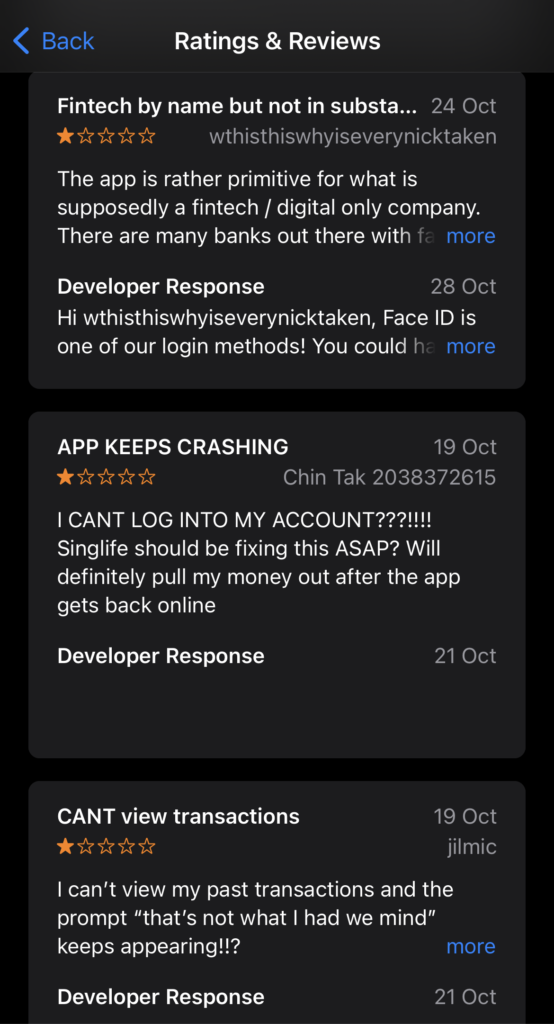 For me, I had issues with the app constantly logging me out despite enabling biometrics, and problems logging in due to server errors. It looks like Singlife took the strong feedback into consideration and revamped the entire app.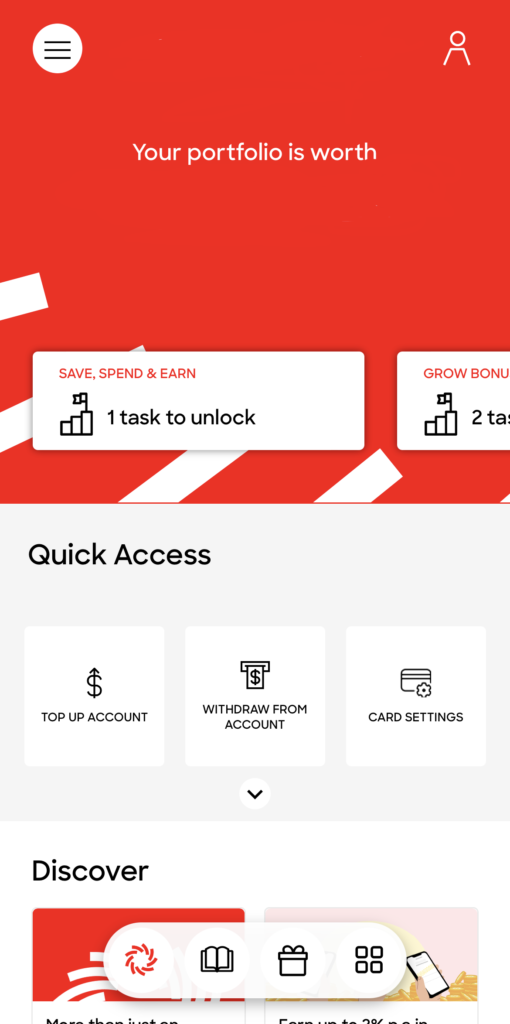 It is now speed and organised, just like how every app should be. I had no issues logging in or accessing my funds since the revamp, so the experience should be better from here on.
Competitors
Singlife isn't the only company offering ISPs. A quick search will lead you to offerings by Dash and Etiqa. Let's see how they stack up.
| | | | |
| --- | --- | --- | --- |
| | Singlife Account | Dash Pet | Tiq GIGANTIQ |
| Interest rate (%) | 1 for first S$10,000, 0.5 up to S$90,000, 0 for anything above | 1.3 for first S$10,000 (first year), 0.3 for anything above | 1 + 0.8 for first S$10,000 (first year), 1 for anything above  |
| Minimum amount to earn interest on (S$) | 500 | 50 | 50 |
| Withdrawal fee (S$) | 0 | 0.70 | 0.70 |
| Death Benefit (%) | 105 | 105 | 105 |
| Underwritten by | Singlife / Aviva | Etiqa | Etiqa |
Table of comparison between popular ISPs
As you can see from the table, Singlife remains the only major ISP that doesn't charge for withdrawals. If you withdraw from Dash Pet or Tiq GIGANTIQ once every month, the total withdrawal fees will add up to S$8.4, eroding your returns.
Singlife offers the lowest interest rate, barring the extra 0.5% p.a from campaigns, out of the 3. It also requires the highest minimum amount to earn interest on.
Conclusion
Why then am I using Singlife? The policies underwritten by Etiqa offer higher interest than Singlife, but come with withdrawal fees. Assuming you participate in the Save, Spend, Earn campaign through ways like topping up your GrabPay account, the interest rate gets bumped to 1.5% p.a.
It really depends on how much you plan on putting into an ISP, and how often you would need to withdraw to decide which policy is best for you.
My view is this: Use an ISP as a short term storage for my salary for a month, then pay off the incoming bills by withdrawing from the ISP, earning some interest in the process. 
I am effectively using my Singlife account as a "bank account" for quick and free withdrawals whenever I need to pay the bills, or need access to liquid cash.
And in terms of the company underwriting the policy, it doesn't really matter as long as they have a good track record and have a secure app. Since most of my money is locked up in investments, the withdrawal fees on my relatively small amount of money I leave in ISPs simply don't make sense. 
If you're in a similar situation as me, or just want a place to park your small amounts of cash in the short term for free flexible withdrawals, I would recommend the Singlife Account. 
Get a S$5 credit when you sign up for a Singlife Account using my referral link and order a card . Do you have any opinions on my review of the Singlife Account? Let me know in the comments below.
This article may include Referral or affiliate links that provide revenue to Tech Composition.

Derrick (Yip Hern) founded Tech Composition to provide valuable insights into the tech and finance world. He loves to scour the web for the best deals and embark on software projects during his free time, a typical geek, right?