Google Huat Pals is back again for its third successive run but with more generous rewards now than ever. This year, Google is offering users a chance to win a Pixel 7 Pro and Pixel Buds Pro on top of the usual Scratch card worth up to S$88.88. But unlike the previous years, users will be racing to collect Goodies, instead of Huat Pals for the coveted cash/gadget reward.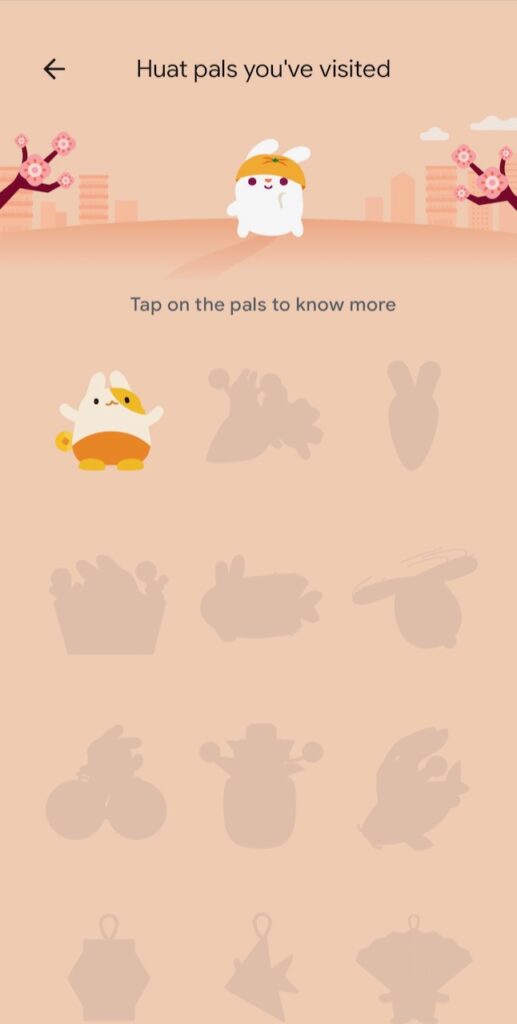 Huat Pal characters take a back seat this year as non reward-bearing collectibles to show off to your friends. They can be collected along with goodies as you complete the various tasks mentioned below. There are 28 different types of Huat Pals to collect, and they cannot be gifted to anyone unlike previous years.
There is a new mechanic to the game this year called Huat Scanner, utilising Google's Image Recognition system to detect various CNY and food items in real life to earn goodies and vouchers. I will touch more on this later, so without further ado, let's dive into the best Huat Pals 2023 tips and tricks that will get you your Golden Ingot Goodie fast. Huat Pals will end on 5 February 2023, so you better get started soon.
Make Payments Using Google Pay Via FavePay Or Corporate PayNow QR / UEN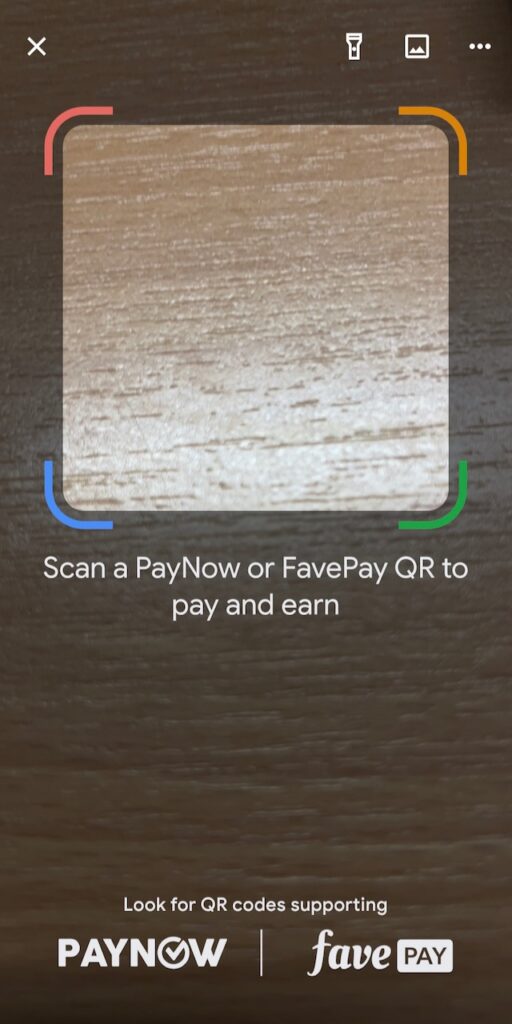 The most straightforward way to earn goodies and Huat Pals fast is by making QR payments through Google Pay. If you don't already know, Google Pay works on the PayNow and FavePay network, debiting funds from a Standard Chartered / OCBC bank account and crediting funds via PayNow to the recipient's linked bank account.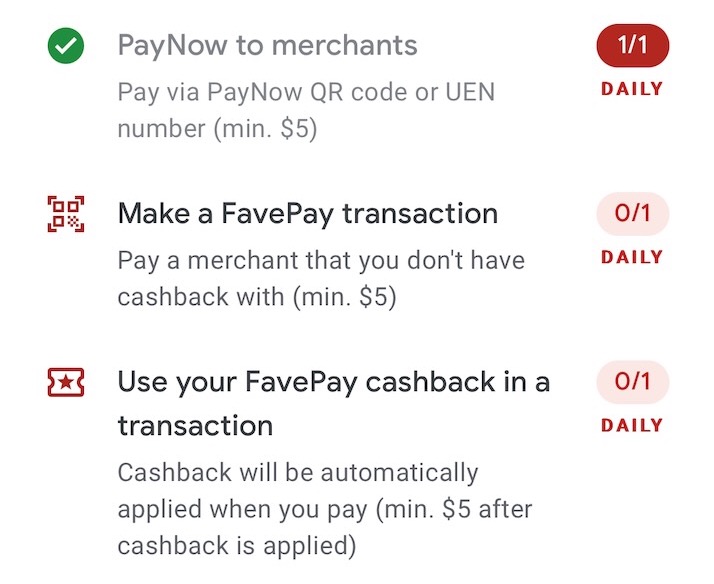 And like previous years, only payments to corporate PayNow QR codes will be counted towards the completion of the daily task. You can't just scan your friend's personal PayNow QR and call it a day. Look out for the FavePay or PayNow logo on SGQRs and make a minimum S$5 payment to earn a goodie and/or Huat Pal. You can do this once a day for each payment QR.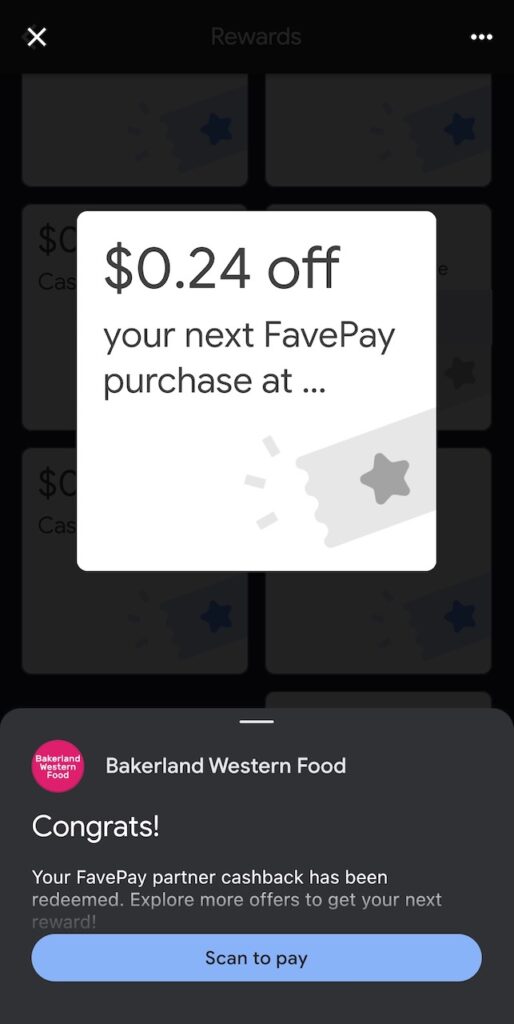 When you pay via the FavePay QR, some merchants may offer you a percentage cashback ranging from 1 to 10% in the form of a scratch card. This cashback can only be used to offset your next purchase at the same merchant and cannot be encashed. So by paying the same merchant for the second time and applying the cashback, you are able to clear the third task in the list.
But we don't really want to go out of our way to find a PayNow or FavePay QR code do we? There is a simple trick for this. Enter the YouTrip card, a multi currency e wallet that provides zero fee currency exchanges and a Master debit card to spend with. One unique feature of the YouTrip card is the ability to top up funds via PayNow. You guessed it, the QR code is a corporate issued one and it will count toward the daily PayNow payment task.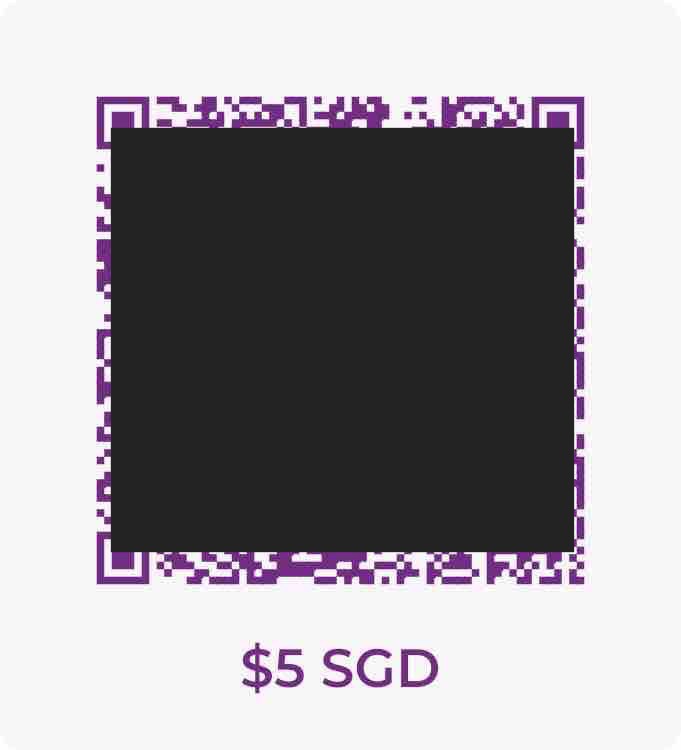 After signing up for a YouTrip account and card, simply hit top up, and choose the PayNow QR option. A unique QR code will be generated and you can save it into your gallery. Head over to Google Pay, scan this QR code from your album, and top up a minimum of S$5. The funds will be automatically reflected in your YouTrip account and can be spent with the linked Master debit card anywhere debit/credit cards are accepted. 
The YouTrip card is free to sign up, but note that you need to wait for the physical card to arrive in order to access the funds in your account. If you are interested in one, use my referral link here for a $5 bonus. Do this everyday and you'll be more likely to get your hands on that elusive Golden Ingot.
Split An Expense With At Least 2 Other Friends

Another way you can earn goodies is through splitting expenses. On Google Pay's home page, hit "Split an Expense" and choose the contacts that you want to split an expense with, followed by the amount. Huat Pal's rules dictate that the bill has to be shared with at least 2 other people, and the split amount has to be more than or equal to S$3.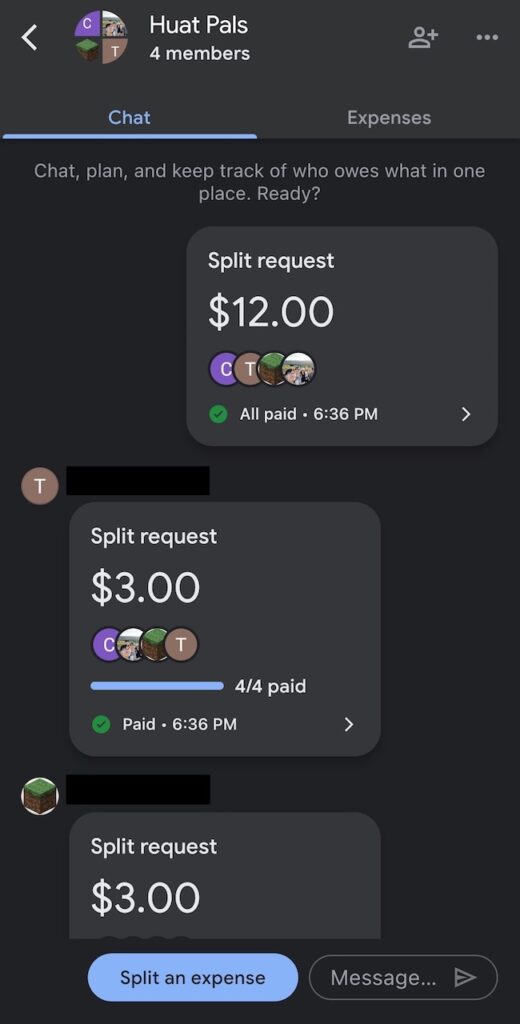 In other words, the easiest way to complete this task is by choosing 2 contacts to form a group, split a bill with, then setting S$9 as the bill amount. That way, each person will have to just pay you S$3. Note that only the person who initiated the bill split will get rewarded a goodie after all other parties have paid their share of the bill. If one person in the group did not pay their share, the initiator will not get goodies.
Similarly, this can be done once per day and people within the group can also take turns to initiate a bill split to maximise the number of goodies earned.
Book Movie Tickets Via Google Pay

Google Pay since late 2020 enabled the purchase of movie tickets from Golden Village (GV) and Shaw theatres within the app. It works exactly like how it sounds, providing a Google-styled interface to choose and purchase tickets, then checking out with a saved debit/credit card on the app.
Well, one of the reasons why this feature wasn't as popular as the others Google Pay is known for, is the presence of convenience fees. When we buy tickets online from GV or Shaw's website, we are often met with convenience fees costing up to $2.50 per transaction. Even with Google Pay's integration, these fees are still levied, and provide insufficient incentive for users to use this feature.
But in Huat Pals, you are awarded with up to 1 goody a day if you purchase a Movie ticket. Assuming that you are a normal person, you should expect to complete this task at most twice when you head to the theatres for Avatar: The Way of Water. If you are thinking of buying tickets one by one for your friend group daily, don't bother since the fixed convenience fee will still apply for every transaction.
Gift Goodies

Perhaps one of the most efficient ways to get more goodies is by giving others your excess goodies. Don't worry about accidentally giving away all of your goodies as Google Pay only allows you to gift your excess inventory. You can gift as many goodies as you want per day, but only receive a maximum of 5 goodies in return per day.
In order to successfully earn a goodie, the recipient must open their Google Pay app and enter the Huat Pals minigame. What if your social circle isn't big enough? Allow me to introduce you to Huat Pals Telegram groups. Simply send a request/gift link in that group and your 5 goodies will be made in no time.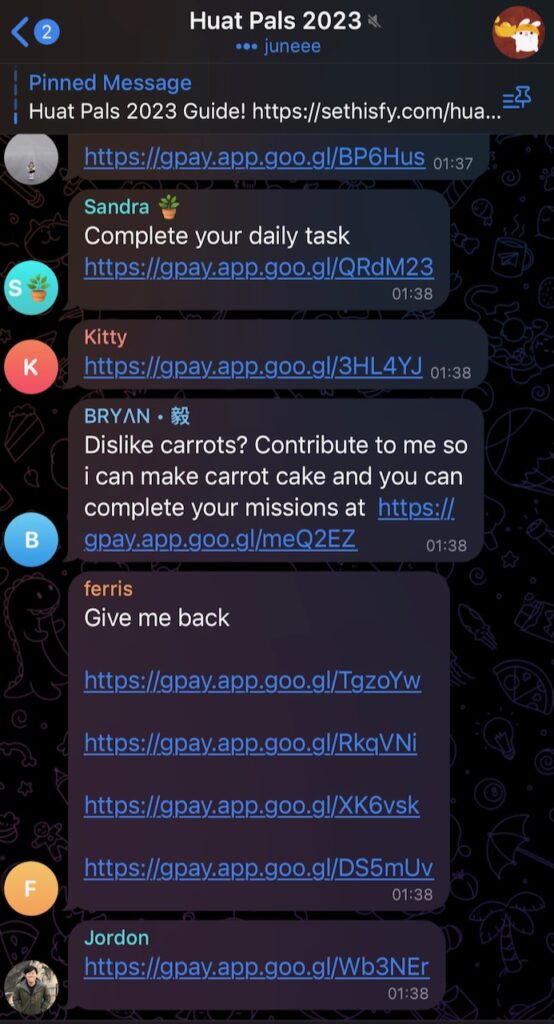 The one featured in the above image has over 8000 members and is pretty active. If you are interested, join the Telegram group here. Do this every day until 5 February for 5 goodies each day, and your chances of getting all 5 goodies will increase exponentially.
Speaking of Telegram groups, join Tech Composition's Telegram channel if you are enjoying the content you are reading. No spam, I promise.
Huat Scanner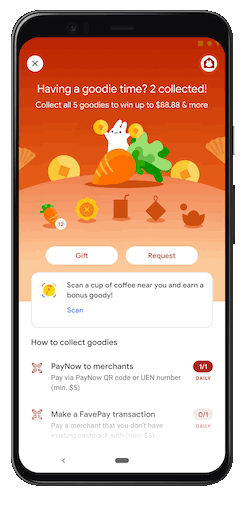 As mentioned earlier, Huat Pals this year has a new mechanic called Huat Scanner. This is an event that happens every alternate day starting 20 January 2023, and what you need to do is to follow the instructions to scan an object of Google's choosing in your surroundings. Some of these items may include red packets, oranges, pineapples, or even coffee cups.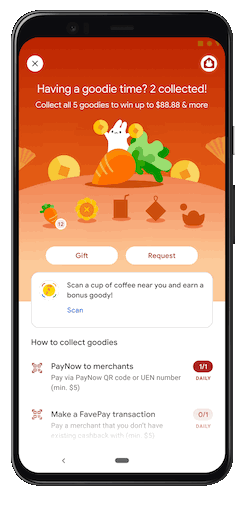 After Google Pay's Image recognition software decides that your item fits the description, a randomised reward consisting of goodies and partner vouchers will be awarded. Take note that Huat Scanner can only be accessed through the Huat Pals minigame home page. Do not confuse this scanner with the QR scanner found on the Google Pay home page.
So during your Chinese New Year visits, just remember to open up Google Pay for that chance of getting a goody through this event every 2 days.
Conclusion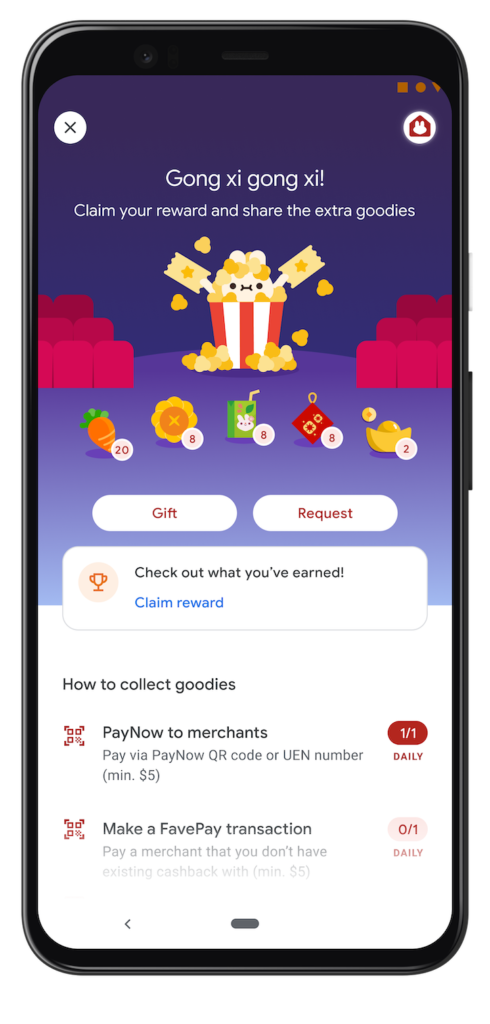 I'm sure everyone is pumped for the upsized maximum rewards of the Google Pixel 7 Pro and Pixel Buds Pro. By utilising all the tips mentioned above, I was able to complete Huat Pals last year, earning about S$8.88 in cash. Though it's not a lot, this lighthearted game of sharing goodies with one another definitely brings back the spirit of using tech during CNY.
Do you have any other tips for Huat Pals this year? Let me know in the comments below and I'll be sure to update the article with them. Until then, I wish you a Happy Chinese New Year, and good luck hunting for all 5 goodies.

Derrick (Yip Hern) founded Tech Composition to provide valuable insights into the tech and finance world. He loves to scour the web for the best deals and embark on software projects during his free time, a typical geek, right?