So, you got yourself a brand new, swanky Apple Watch, reaping all the benefits of tracking your fitness and workouts (I'm looking at you, couch potatoes). Ever lost the motivation to exercise and wondered how great it would be for someone to pay you to do so? The Singapore Health Promotion Board (HPB) did exactly that by launching LumiHealth in collaboration with Apple in October 2020. 
The programme offers up to S$380 in e-HPB vouchers which can be used at a wide variety of merchants (more on that later) that can essentially reimburse your Apple Watch purchase. Before 8 August 2022, LumiHealth was a 2 year programme, meaning if you put in enough effort in the 2 years after your sign up, you will get the full S$380 in e-HPB vouchers.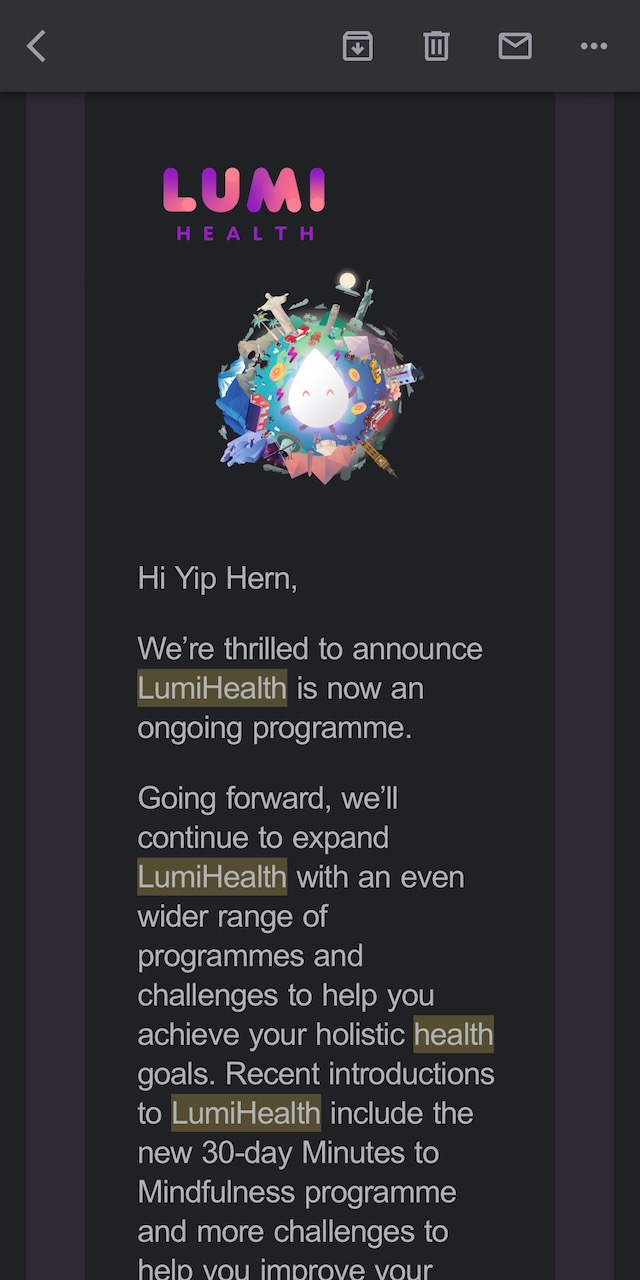 Now, there will be no rush to complete all the chapters in 2 years, but that isn't necessarily a good thing as Points awarded per chapter will be massively devalued after some point to encourage users to continue using the app beyond 2 years (more on that later).
After signing up for an account on the day of release and using it for slightly over 2 years, I made S$339.97 in e-HPB vouchers just by doing quizzes, completing exercise rings, and reading health suggestions. Here's my comprehensive 2-year LumiHealth review and guide to how exactly I did it, and how you can optimise your earnings.
About LumiHealth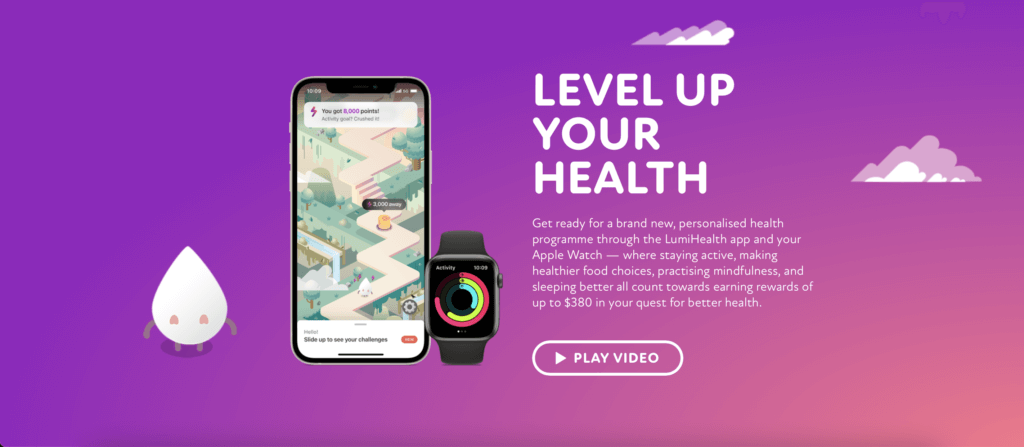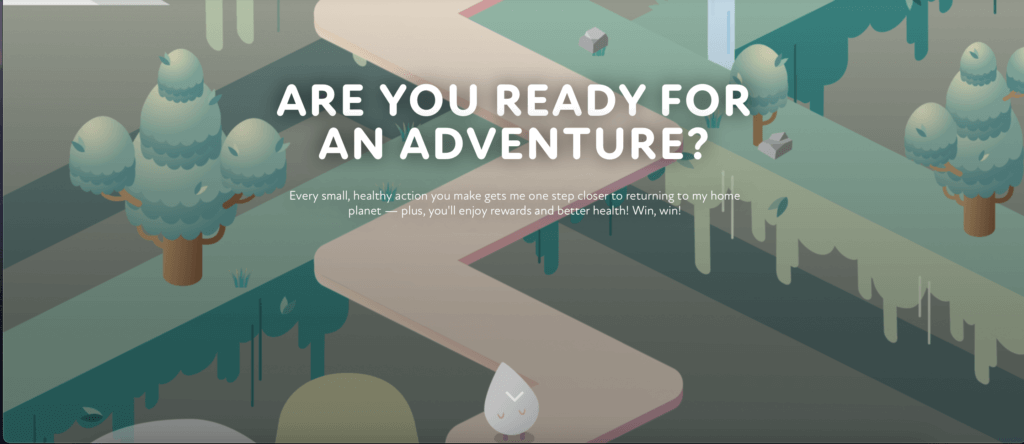 Lumihealth is a gamified method to get you moving. It teleports you into Lu's (the mascot) world, where every challenge or survey you complete awards you Points. Points allow Lu to progress on the map in order to return to its home planet. Coins are collected along the way at each milestone, where 300 coins equals to S$1.
A variable number of coins are collected for each milestone, ranging from 100 to over 2000. Most coins can be found at the last milestone of each chapter. We can only earn coins as long as you use the app, up to a limit of 114,000 coins, or S$380.
Note that only Singapore citizens and Permanent residents above the age of 17 with SingPass are eligible to sign up.
My Progress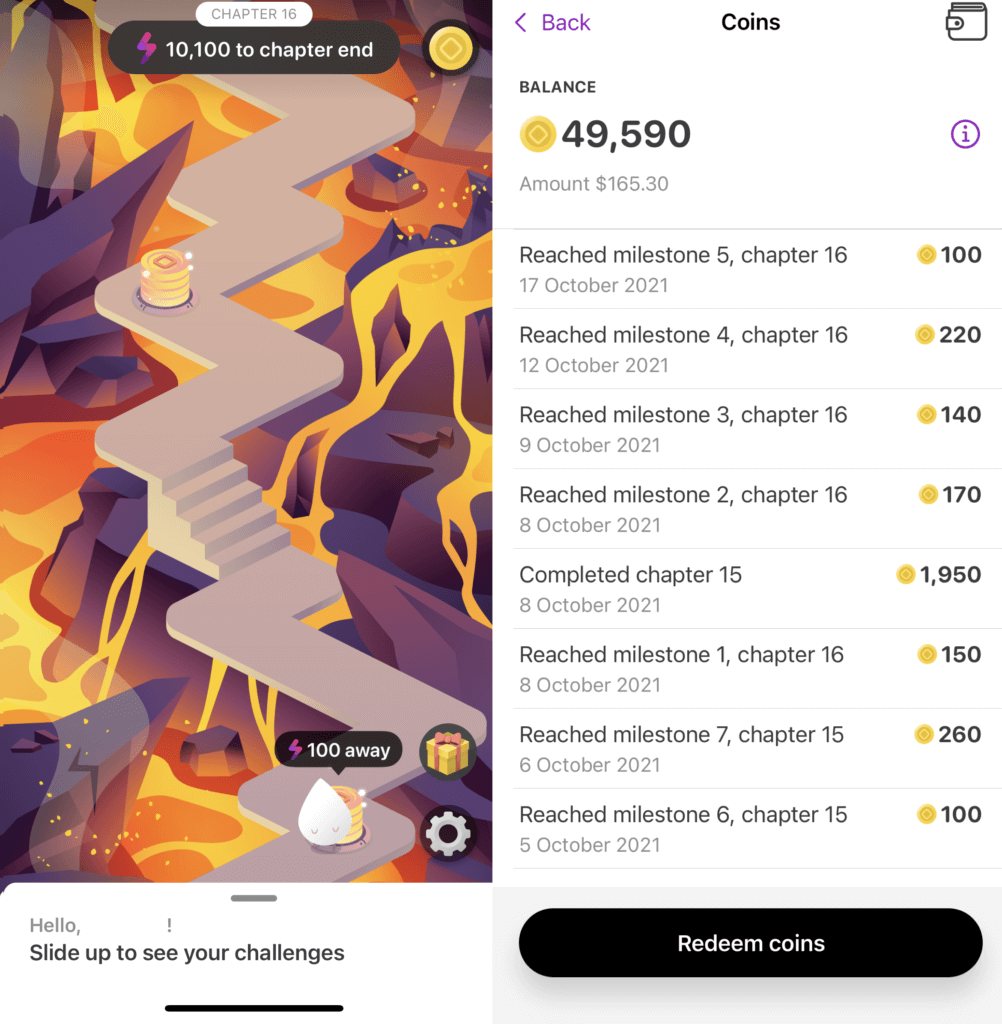 When I initially wrote this article in October 2021, I had 49,590 coins before any redemption, equivalent to S$165.30. But as of October 2022, I have 101,289 coins, most of which were redeemed for e-HPB vouchers.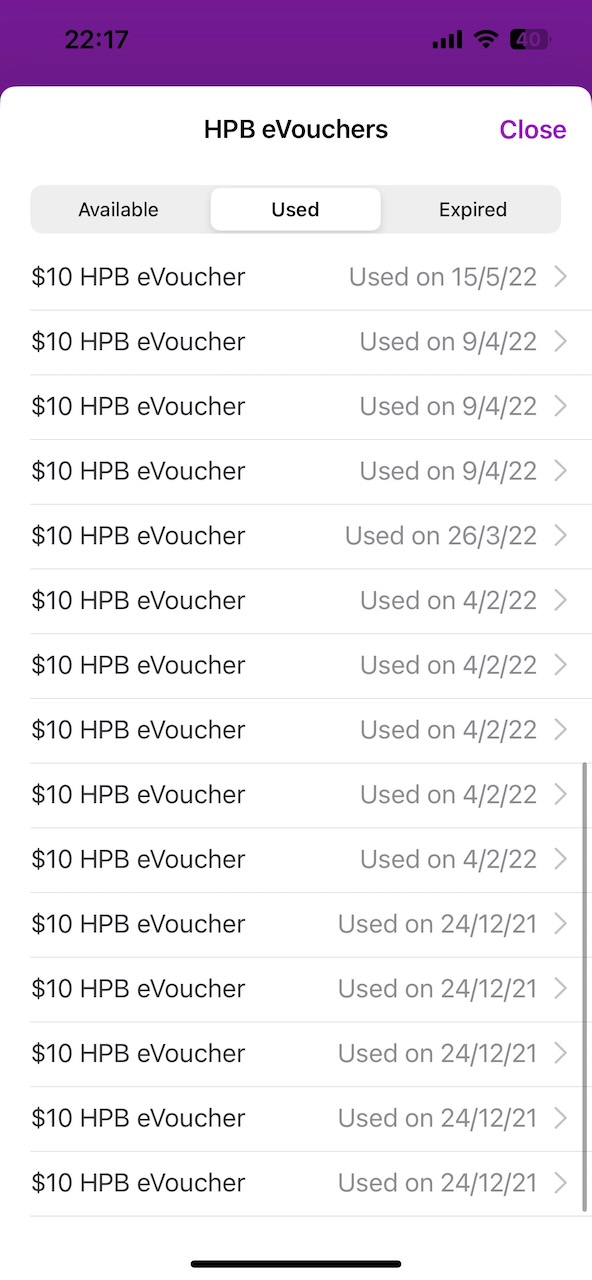 Just to recap:
Complete challenges and goals for Points.
Points advance Lumi on the map to collect coins at the milestones of each Chapter.
After a certain number of milestones, Lumi will advance to the next chapter.
Most coins can be found at the final milestone of each Chapter.
300 coins = S$1 in e-HPB vouchers.
Got it? Ok. There are 4 main ways you can earn Points: Activity challenges, Wellness challenges, Just For You challenges and Surveys. These activities can only be completed using the official Workouts app on the Apple Watch. Knowing that, Let's dive in.
Activity Challenge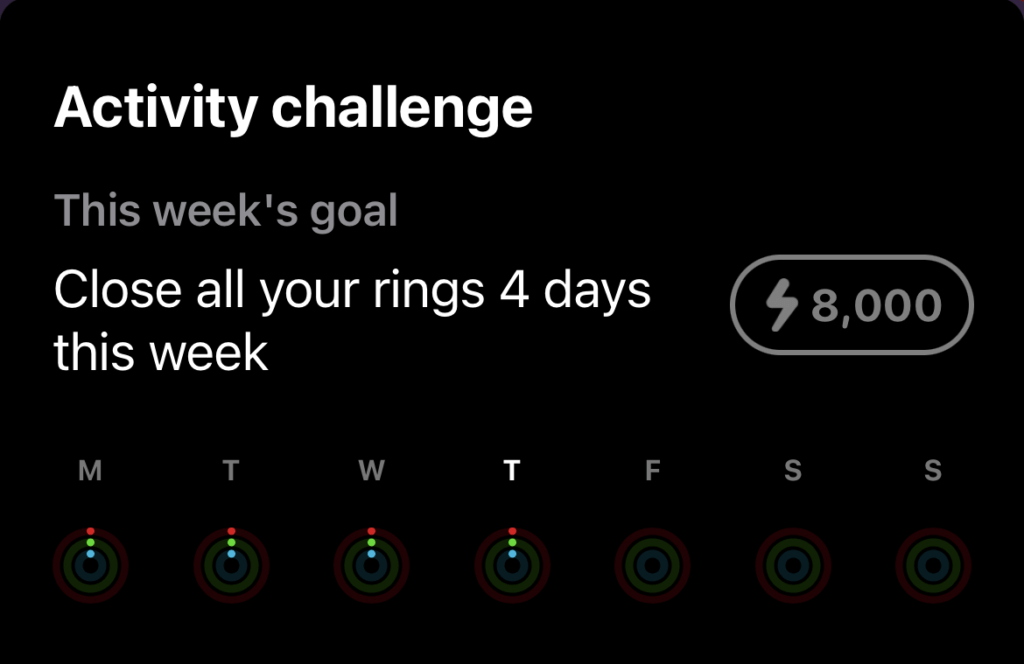 Activity Challenges are simple, close X number of rings during the week and get 8000 LumiPoints. You can set the goals for ring in the Apple Watch Activity App. Nope, you just can't set 10 Kcal as your Move goal, 1 minute as your Exercise goal and 1 hour for your Stand goal to game the system.
The minimum Move goal is variable depending on the calories you burn when wearing your Apple Watch, usually ranging from 200 to 500 Kcal. The minimum Exercise and Stand goals are 30 minutes and 12 hours respectively.
Everytime you close a ring, you get a 100 Points bonus, on top of the 8000 Points you can get after accomplishing the goal.
To ensure that you are not stagnating in your exercises, the number of days you have to close all 3 rings increases as you complete more Activity Challenges. It ranges from 1 day a week to 5 days a week. The reward for doing so remains at 8000 Points however.
Activity challenges are where you obtain the most Points, so make sure to complete them frequently in order to obtain coins quickly.
Wellness Challenges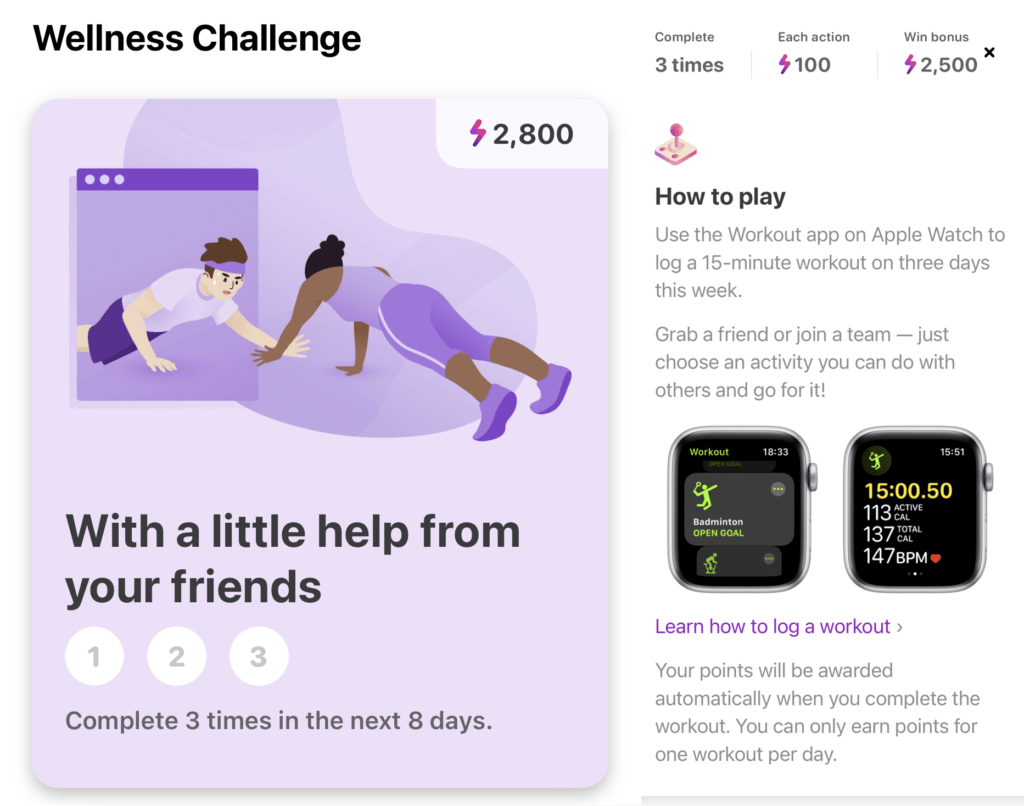 Next, Wellness Challenges give you a choice of 3 activities, and reward you with 2000 to 2800 LumiPoints, depending on how difficult the activities are. You can only participate in 1 Wellness Challenge at a time, with new Wellness Challenges refreshing every time you complete 1.
Wellness Challenges that give lower points are typically ones that get you to change your lifestyle habits, such as consuming less sugar, consuming more whole grain foods, or devoting time to think positively. These challenges require you to check into LumiHealth daily for X number of days to confirm that you have completed those actions. Again, you are given 100 LumiPoints after each confirmation.
Wellness Challenges that give higher points are ones that require you to move, such as completing 15, 20, or 30 minute workouts of any kind, or specific workouts for X number of days a week.
And no, you can't always choose easy Wellness Challenges. After LumiHealth detects that you have been completing too many easy challenges in a roll, they will only offer you harder challenges to choose from in the next refresh.
Wellness challenges are always available to select and complete. So, completing them all the time definitely helps in maximising the number of coins earned.
Just for you actions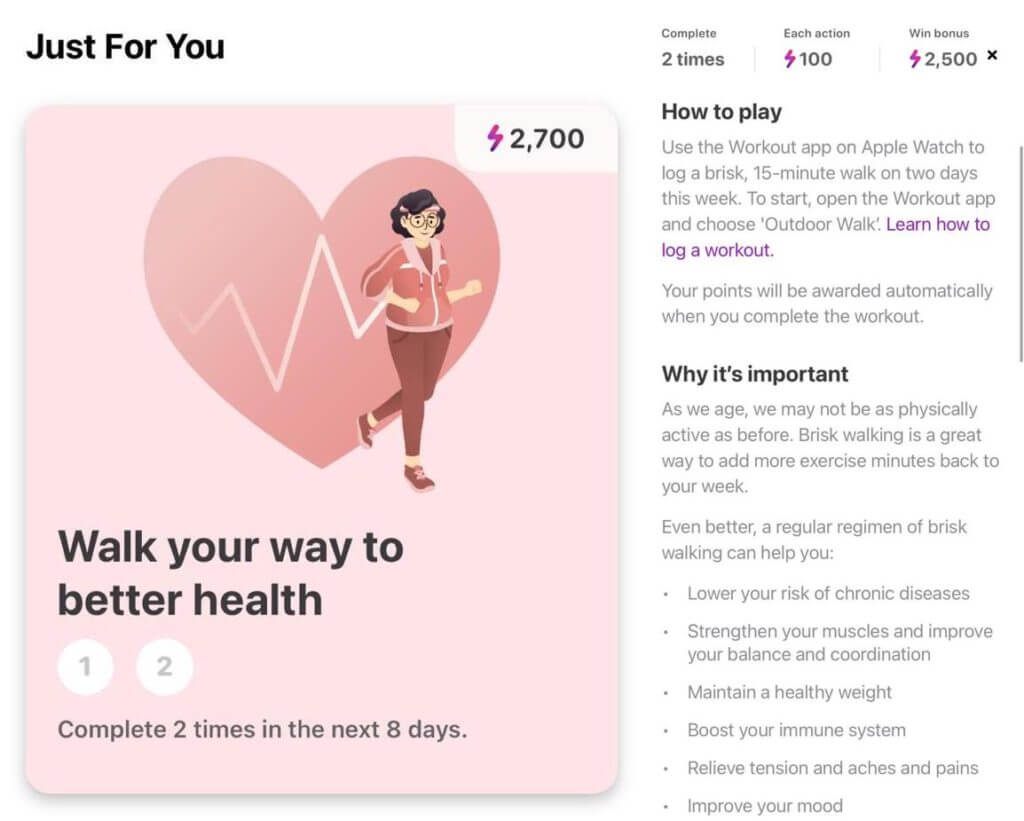 Just For You Actions are offered to users to complete from time to time, depending on LumiHealth's monitoring of your activity and actions. Some activities that you can expect to be offered are completing your Stand Goal, completing an outdoor walk, or completing 5 minute Breathe sessions on your Apple Watch for X number of days. These challenges usually offer about 2500 to 2800 LumiPoints. 
Some of these actions may overlap with your chosen Wellness Challenge, so it is a nice bonus to have for the same activities completed.
Answer This Surveys
Surveys are also offered to users to complete from time to time, depending on the current health situation in Singapore and the time of year. Some surveys you can expect to do are ones such as reading and doing a quiz on the benefits of Flu jabs, good quality masks, or washing hands regularly. These challenges usually offer about 2800 LumiPoints.
These quizzes are especially relevant in this current health climate, in which misinformation is rife. And hey it gives you LumiPoints for reading up on useful information, win-win.
Ad-Hoc Programmes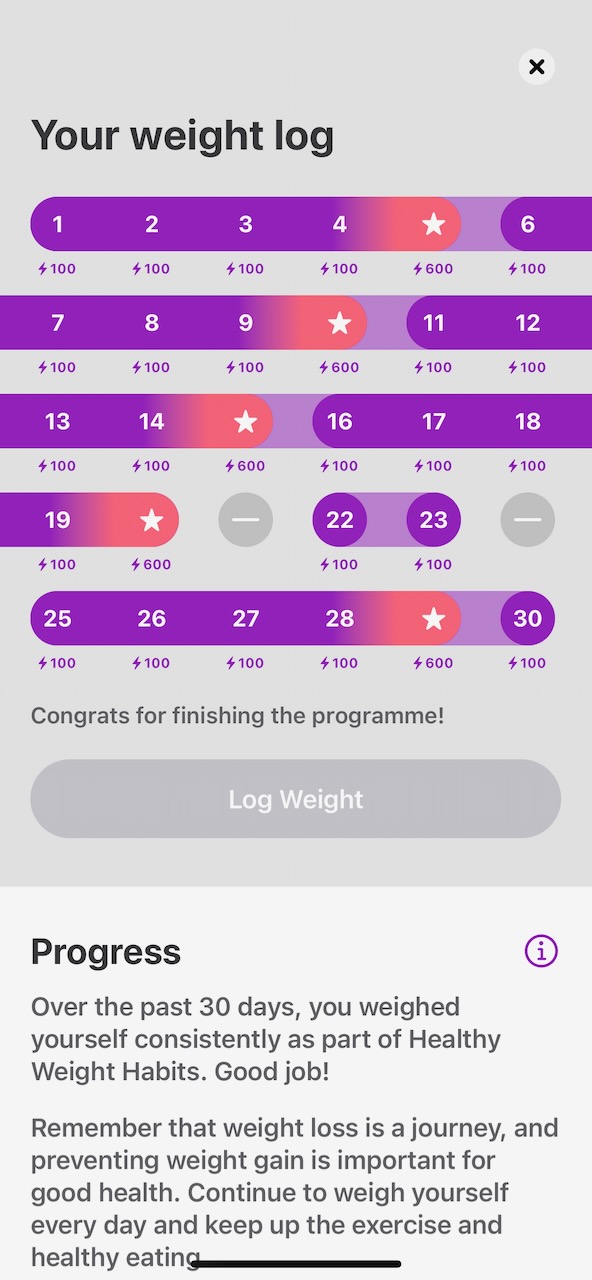 Other than the 4 main categories, LumiHealth as of 2022 offers up ad-hoc programmes to users to gain extra Points. One of the programmes offered to me is Healthy Weight Habits. It awards you 100 Points for every day you log your weight into the app, with a 500 point bonus every time you complete 5 consecutive days of weight logging.
As Healthy Weight Habits is offered for only 3 months , that's up to 18,000 Points extra that you can earn.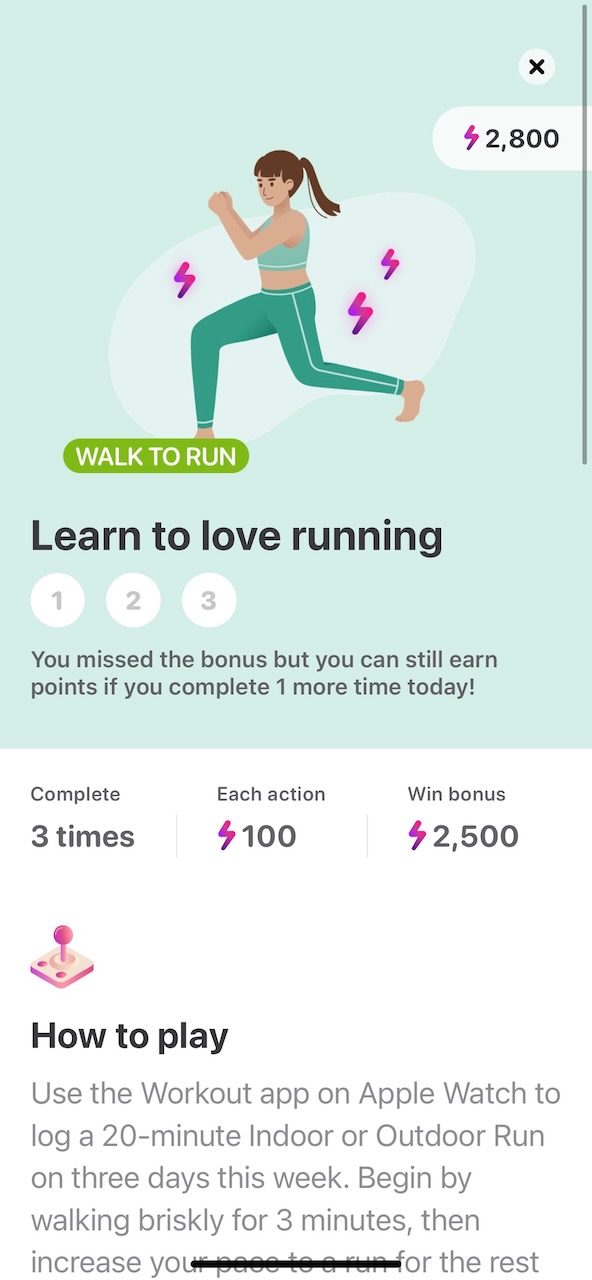 Another ad-hoc programme is Walk To Run. It is a recurring series of challenges with increasing difficulty, aimed at encouraging you to pick up the habit of running. You can expect challenges like "Do a 20 minute Outdoor/Indoor walk for 3 times this week" or "Run for 15 minutes once this week".
Points for this ad-hoc programme will be awarded in a similar fashion to Wellness Challenges, so it's around 2800 Points per challenge.
What's cool about ad-hoc programmes is that they can be completed in conjunction with other programmes and challenges. In my challenges dashboard, I have Healthy Weight Habits, Walk To Run, a Wellness Challenge, and the Activity challenge, a total of 4 concurrent challenges that can be completed for Points.
I would highly recommend taking up these ad-hoc programmes when they are offered to you since they are quite low effort to complete.
A Further Analysis Into Coins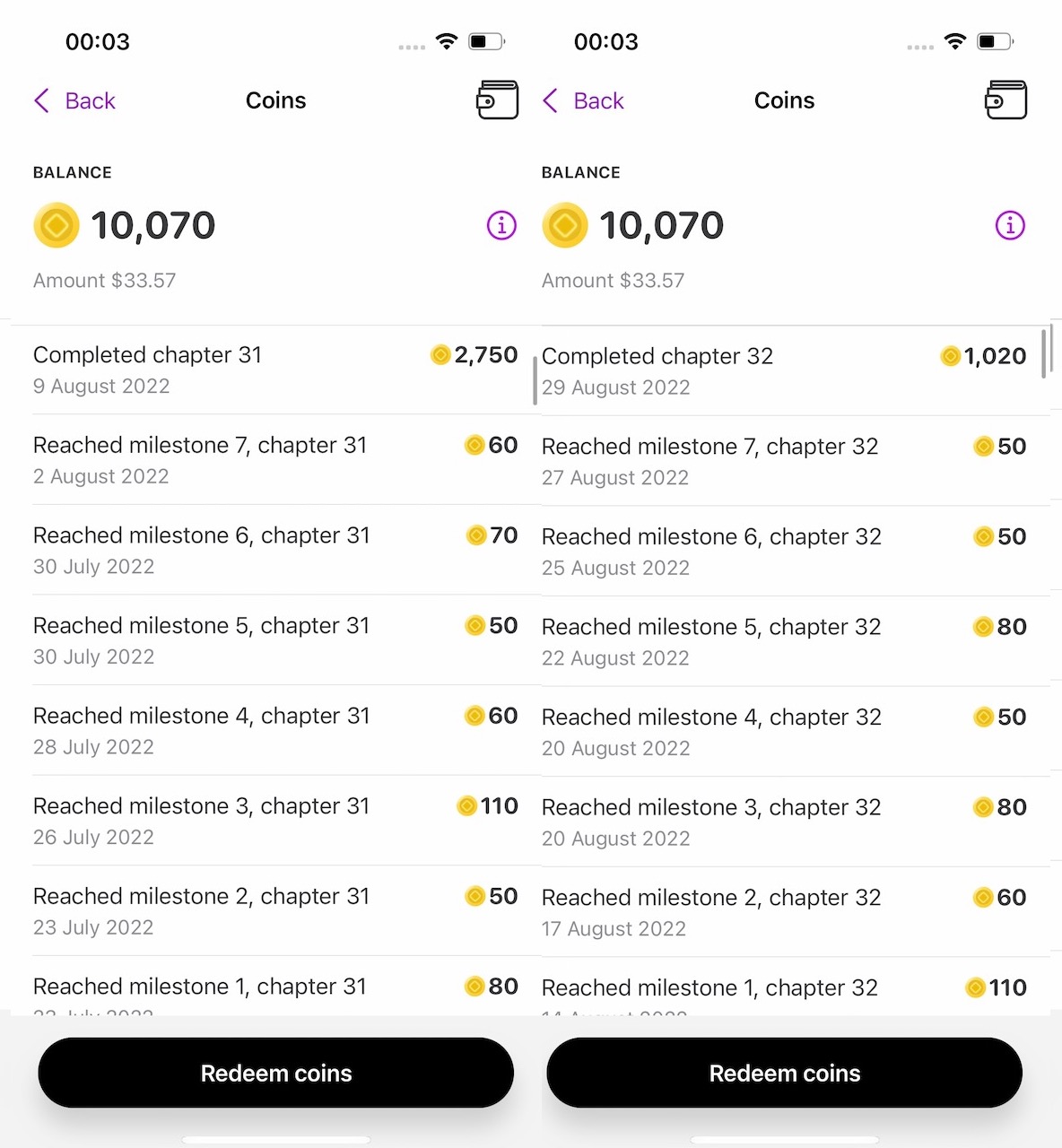 Remember at the beginning when I mentioned about the implications of LumiHealth being extended beyond a 2 year programme? It turns out that after Chapter 32, the coins awarded at the final milestone will be 1020 or lesser.
Chapter
Total Coins Awarded
Coins Awarded at Final Milestone
Coin Value
Cumulative Coin Value
1
3200
1250
$10.67
$10.67
2
3250
1300
$10.83
$21.50
3
3300
1350
$11.00
$32.50
4
3350
1400
$11.17
$43.67
5
3400
1450
$11.33
$55.00
6
3450
1500
$11.50
$66.50
7
3500
1550
$11.67
$78.17
8
3550
1600
$11.83
$90.00
9
3600
1650
$12.00
$102.00
10
3650
1700
$12.17
$114.17
11
3700
1750
$12.33
$126.50
12
3750
1800
$12.50
$139.00
13
2870
1850
$9.57
$148.57
14
2920
1900
$9.73
$158.30
15
2970
1950
$9.90
$168.20
16
3020
2000
$10.07
$178.27
17
3070
2050
$10.23
$188.50
18

2850

2100
$9.50
$198.00
19
2630
2150
$8.77
$206.77
20
2680
2200
$8.93
$215.70
21
2730
2250
$9.10
$224.80
22
2780
2300
$9.27
$234.07
23
2830
2350
$9.43
$243.50
24
2880
2400
$9.60
$253.10
25
2930
2450
$9.77
$262.87
26
2980
2500
$9.93
$272.80
27
3030
2550
$10.10
$282.90
28
3080
2600
$10.27
$293.17
29
3130
2650
$10.43
$303.60
30
3180
2700
$10.60
$314.20
31
(8 August 2022)
3230
2750
$10.77
$324.97
32

1500

1020
$5.00
$329.97
33
1500
1020
$5.00
$334.97
34

1500

1020
$5.00
$339.97
Table of Coins Progress in LumiHealth
If you realise from the table above, the final milestone coin award from Chapter 1 to 31 has been increasing by 50 consistently, from 1250 to 2750. You could imagine my horror when i realised that I was awarded a paltry total of 1500 coins upon completing chapter 32 after 8 August.
The final milestone award at chapter 32 was only 1020, even lesser than the one at chapter 1. The email notifying me about the extension of the programme came on 8 August, so I figured the colossal 53.5% drop in awarded coins is attributed to that.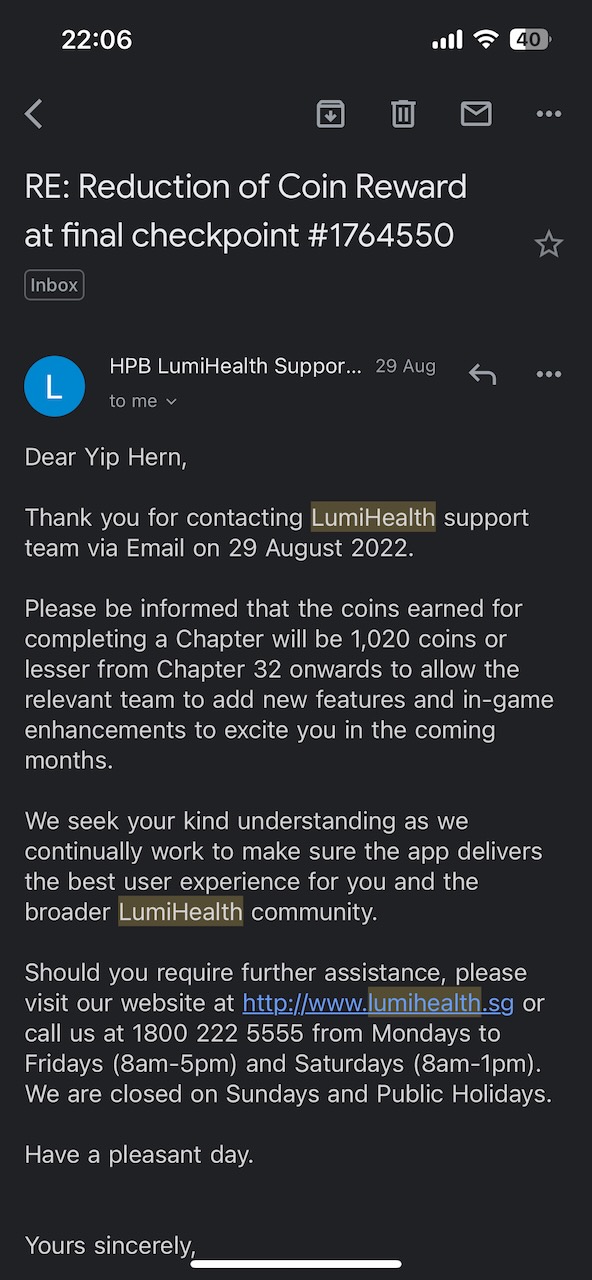 Turns out in order to keep people in the programme beyond 2 years, the total amount of coins awarded looks to be capped at 1500 per chapter, from chapter 32 onwards. What this translates to is: Upon earning 97491 coins or S$324.97 worth of coins, the last S$55.03 available to you will be increasingly hard to earn.
For long term users like me, this massive drop in coins awarded is a huge turn off. Having being previously awarded around S$10 per chapter, the fixed S$5 earned now looks really sad. I wish LumiHealth gave the users the option to extend the programme indefinitely and take a cut in future coin rewards, or continue earning increasing amounts of coins, albeit with a deadline.
Sure, the cutting of coin rewards doesn't happen until chapter 32 and earning S$5 per chapter instead of S$10 is not the worst thing in the world. But it keeps popping up at the back of my head whenever I'm deciding whether to complete a LumiHealth challenge or not.
e-HPB vouchers, method of redemption and merchants
Now, e-HPB vouchers. Despite its name, the vouchers offer quite a variety of participating merchants as shown in the table below. For the full list of merchants, visit here.
| | | |
| --- | --- | --- |
| Convenience Stores and Supermarkets | Food and Beverage | Lifestyle and Shopping |
| 7-Eleven | Liho (the irony) | iStudio |
| Giant | Swensens | Kallang Wave |
Table of Merchant examples
To redeem the HPB vouchers, simply head over to the coins page as shown below and toggle how many HPB vouchers you would like. Note that you can only redeem 5 HPB vouchers at a time on the app.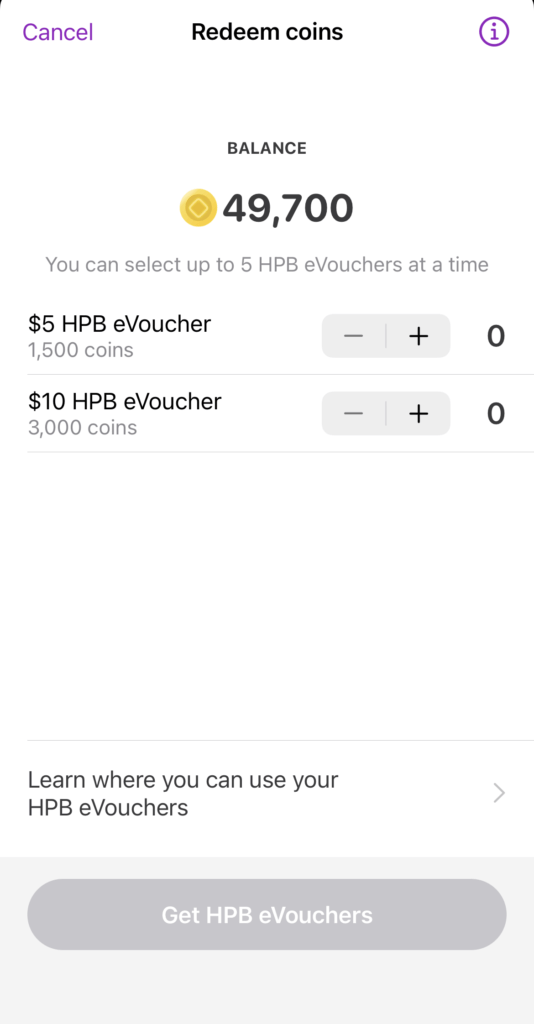 With the exception of mall vouchers, namely Hilion, Kallang Wave, and Sembawang Shopping Centre, HPB vouchers are used during payment to offset the bill. Simply click use on your voucher and show the cashier your barcode that expires in 120 seconds.
If you would like to use your HPB vouchers at malls, you would first have to exchange the HPB vouchers for the respective mall vouchers at their customer service centres. The denomination of mall vouchers would be in S$5 and S$10.
Accumulation speed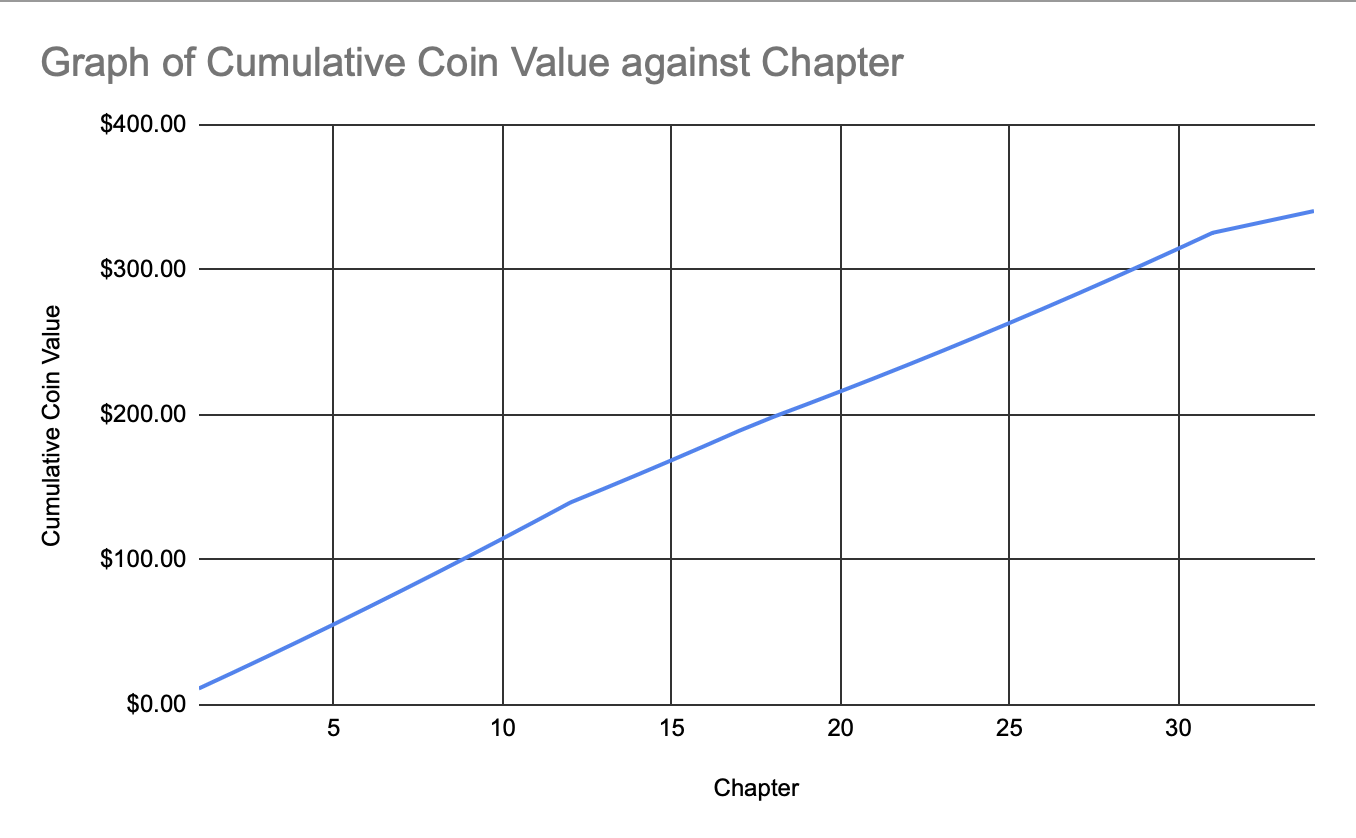 The speed in which you can complete each chapter is totally up to you. For me, the fastest I took to complete a chapter was 13 days, from 26 Sep to 8 Oct, earning 3120 coins. The number of coins you earn from each chapter increases by 50.
So taking 13 days as a rough guide, earning about 3120 coins, and by virtue of being approximately in the midpoint of the program, it works out to 240 coins per day, with a maximum of 114,000 coins to be obtained.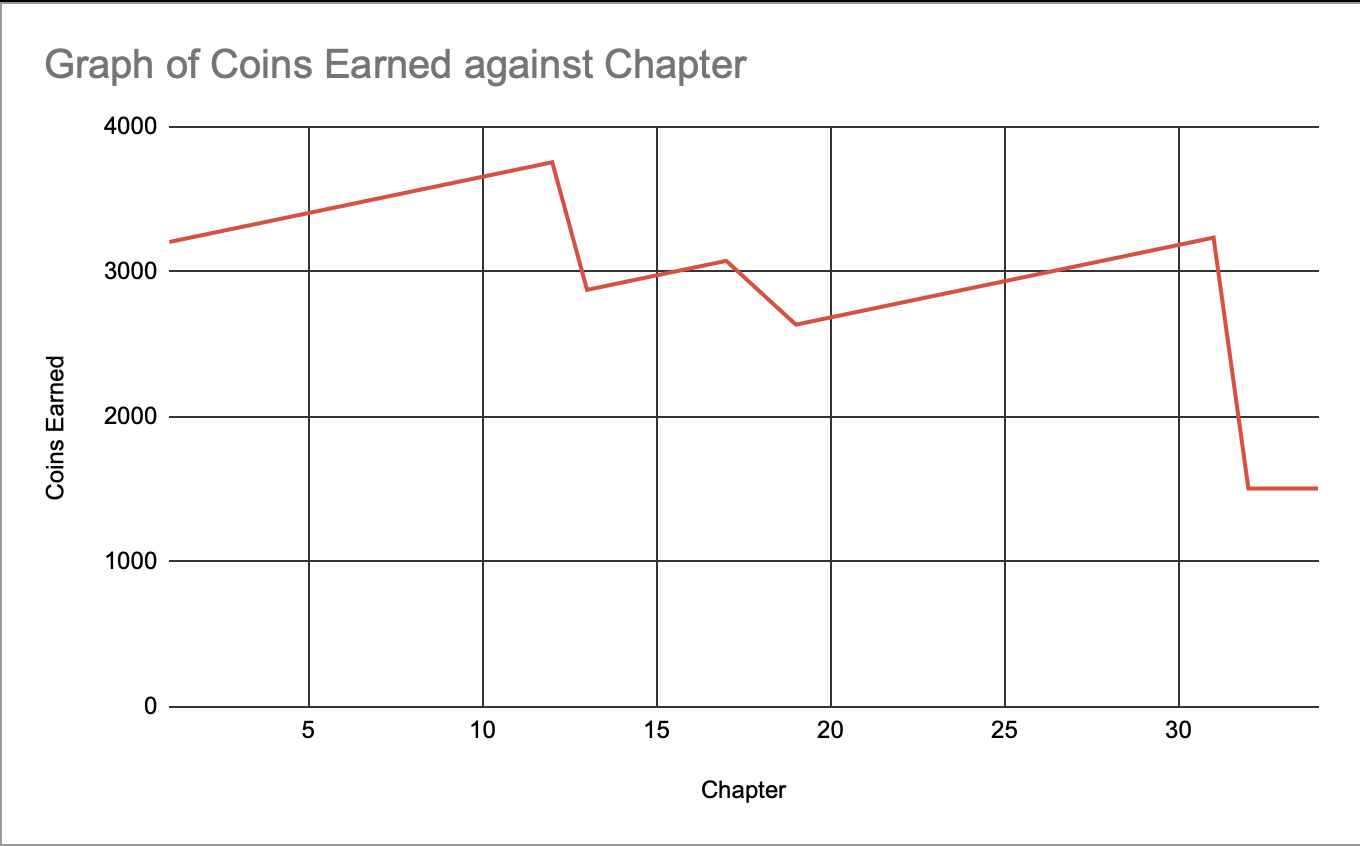 Thus, If you really want to grind it out and complete every Challenge as soon as it is offered until Chapter 31, you will take roughly 97491 / 240 = 406.21 days, or 1 year, 1 month, and 11 days.
From chapter 32, your accumulation speed will roughly be halved, and you need to take another (11400 – 97491) / 120 = 137.6 days, or 4 months and 18 days to earn all 114,000 coins worth S$380.
Value proposition
Apple Watches in Singapore cost between $299 to $599 (base model), and the value you get from LumiHealth varies. The table below describes the value proposition of LumiHealth vis-a-vis the cost of each model.
| | | | |
| --- | --- | --- | --- |
| | Series 3 | SE | Series 8 |
| Cost (S$) | 299 | 419 | 599 |
| Max value of HPB vouchers that can be earned (S$) | 380 | 380 | 380 |
| Overall cost (S$) | – 81 | 39 | 219 |
Table of value comparison
As you can see, you are basically getting an Apple Watch for free and S$81 in HPB vouchers if you own a Series 3. If you already own an Apple Watch and are a Singapore resident above 17, it is a no-brainer to join LumiHealth, even if you may not get the full S$380.
If you are considering getting an Apple Watch but the price seems too unapproachable, joining LumiHealth and completing those activitiescan serve as a discount to your purchase.
Thoughts
While everything I discussed sounds great, LumiHealth isn't perfect. The app is a little buggy and sluggish despite its modern design. There are issues sometimes when trying to load new Wellness challenges, having the app not sync to health data. The support system makes up for it though.
There is a direct line to LumiHealth to describe your issues over the phone and a quick responding email service. Having read my review, what do you think? Leave your comments below and I'll check them out.
referral link
If you would like to join LumiHealth, you may use my referral link here for a 2,000 LumiPoints head start in your journey.
This article may include Referral or affiliate links that provide revenue to Tech Composition.
Get the latest in Tech with a Singaporean take, right on Telegram.
Subscribe

Derrick (Yip Hern) founded Tech Composition to provide valuable insights into the tech and finance world. He loves to scour the web for the best deals and embark on software projects during his free time, a typical geek, right?