Netflix in mid 2022 lost 1 million subscribers for the first time in 10 years. It then managed to gain 7.6 million subscribers at the end of the year. A similar story repeats for Disney+, where they lost 2.4 million subscribers in 2022, reversing the trend set by Netflix. So what on earth is happening to the streaming scene worldwide?
Turns out, consumers have much more choices than they did just a few years back: Disney+, Prime Video, HBO Go, Viu, Apple TV+, and the list goes on. It came at a point where replicating Netflix's business model was technologically simple: Get sufficient bandwidth on a scalable cloud Computing Provider, host original content on them, and profit.
This gave impetus to major content producers and licence holders like Disney and HBO to pull most of their content from Netflix, where they were getting paid cents on the dollar. By coming up with their very own streaming service, they could pocket much more of that S$19.99 subscription.
This is the streaming war, the intense bidding for consumer dollars by the means of monopolising content access. Let's take a look at how it is panning out in Singapore, and how these streaming services stack up.
Pricing
| | | | |
| --- | --- | --- | --- |
| | Single Profile (S$) | 2 Profiles (S$) | 3+ Profiles (S$) |
| Netflix | 12.98 (1 concurrent stream) | 17.48 (2 concurrent streams) | 21.98 (4 profiles, 4 concurrent streams) |
| Disney + | – | – | 11.98 (7 profiles, 4 concurrent streams) |
| Amazon Prime Video | – | – | 2.99 (6 profiles, 3 concurrent streams) |
| HBO Go | – | – | 13.98 (5 profiles, 2 concurrent streams) |
Table Of Pricing Of Major Streaming Services In Singapore
The most expensive service of them all is Netflix, the incumbent. Its single profile plan (S$12.98) costs more than the 7 profile Disney+ (S$11.98) while limiting streaming quality at just HD. The cheapest service is the 6 profile Amazon Prime Video (S$2.99), which comes with free shipping on Amazon Singapore, Gaming perks, and early access to sales.
With Netflix's competitors largely undercutting them by such a huge margin, it wouldn't be a surprise to see an exodus of subscribers from Netflix. But pricing isn't the full equation for consumers to decide whether to jump ship or not. Content quality and availability arguably play a larger role in shaping this decision. So let's look at each service's flagship offerings.
Netflix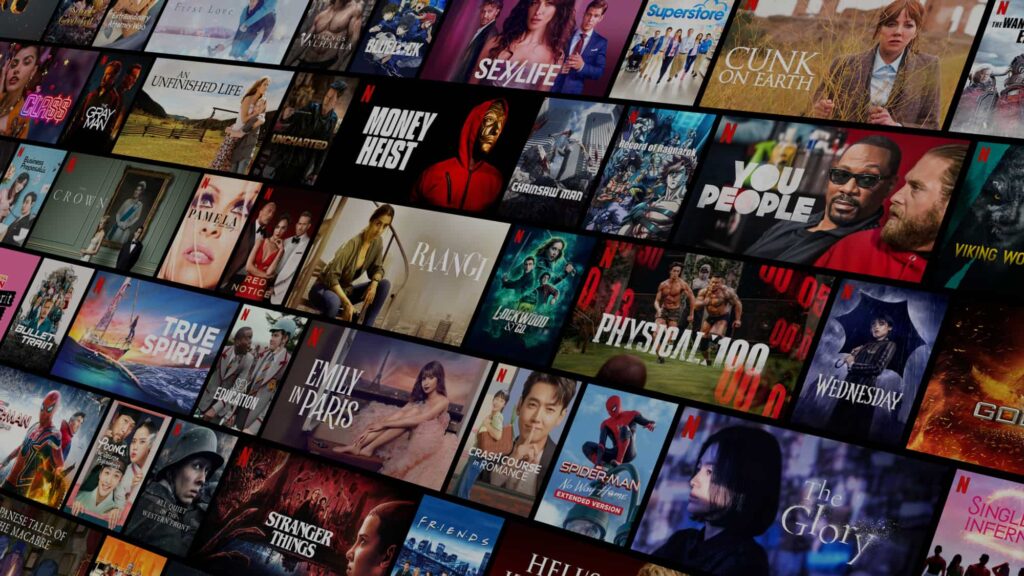 The main draw of Netflix is the fact that it has the largest library of films and movies, despite studios pulling content from the platform. It is also home to original smash hits like Squid Game, Bridgeton, Stranger Things and Bridgeton. But this comes at a premium. Netflix at the end of 2021 raised its prices by S$1 to S$2, becoming the most expensive streaming service in Singapore.
Their lower tier plans that cost S$12.98 and S$17.48 respectively limit the streaming quality at HD (720p) and Full HD (1080p), which just looks inferior when compared to the Ultra HD (2160p) on the S$21.98 Premium plan. There are no complaints with the video and audio quality from the Premium plan, what you should expect from paying S$22 a month. 
Over these few years, Singaporean favourites like Modern Family, The Office, Prison Break, How I Met Your Mother (HIMYM), and the entire Marvel franchise have been removed from Netflix by the competition. To watch all these shows, you'd have to subscribe to both Disney+ and Prime Video, bummer.
If the high price and the steady decline in non-original content wasn't enough to drive customers away, then the currently trialled crackdown on password sharing should. In Canada, users sharing a Premium account (with 4 profiles) are not able to stream their shows if the system detects that they are not in the same location as the primary account holder.
The only way to fix this is to pay Netflix CAD$8 per user that wants to watch from a different location. I'm not sure how Netflix would distinguish between different locations in a small country in Singapore, but man, imagine paying S$8 extra on top of the original S$6 you are paying? No thanks.
As the crackdown on password sharing hasn't reached our shores yet, I'm still undecided whether to cancel my subscription or not. I'll continue catching up on my favourite Netflix Originals like Singles Inferno and You. If you don't watch original shows like these, then you may want to look somewhere else.
Disney+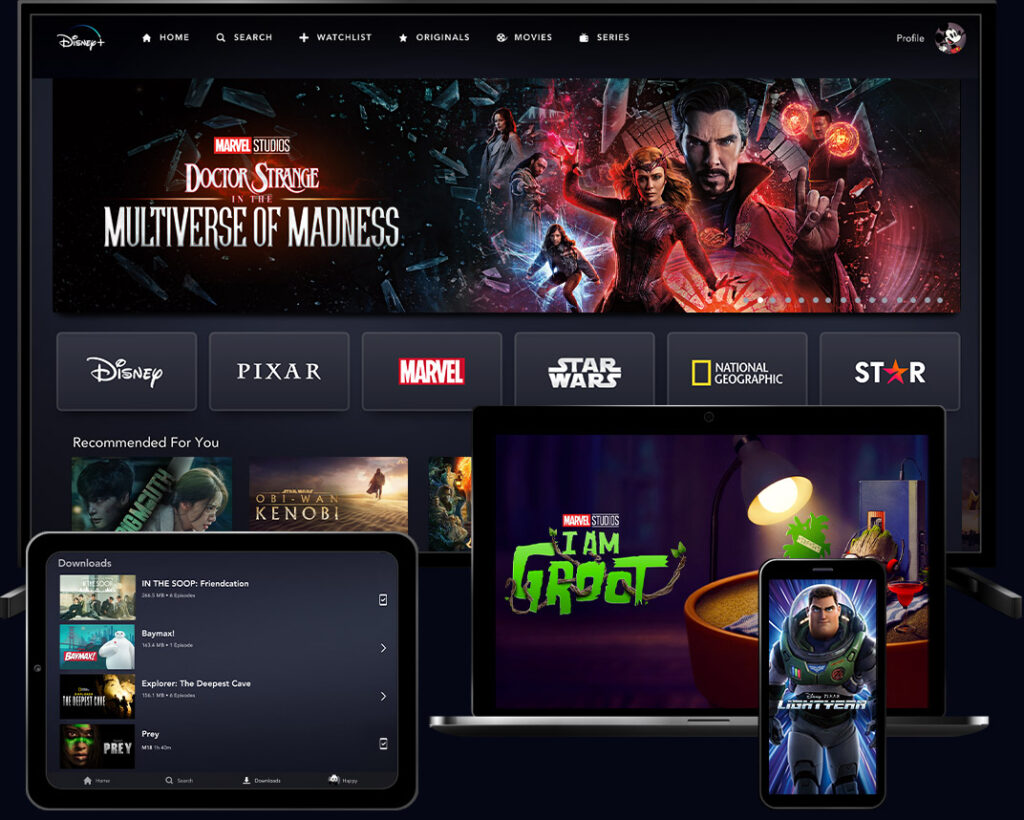 Remember when I said that the Marvel franchise, HIMYM and Modern Family were removed from Netflix? They had to go somewhere right? Enter Disney+, the company holding one of the most influential amounts of streaming rights in the world. Disney owns Pixar, Marvel, Star Wars, National geographic, and Star, and even other streaming services like Hulu and ESPN (not available in Singapore).
Combined, Disney has more streaming subscribers than Netflix as of 2022, and it's Netflix's strongest competitor. Disney+ charges nearly half of what Netflix does: S$11.98 for an account with up to 7 profiles and no limitation on streaming quality. This price goes even lower when you pay for 12 months at one go at S$119.88, or S$9.99 a month. Talk about value.
Subscribers of Disney+ have the benefit of streaming new Disney movies that were shown at cinemas, as soon as they're made available for the platform. This usually ranges between a few weeks to a few months, but during the COVID-19 period, Disney made the extreme move of streaming Black Widow in both Cinemas and on Disney+ at the same time. 
With no announcements about the crackdown of password sharing and a much lower monthly fee, Disney+ looks to be the next best competitor for Netflix subscribers to jump to. However, this attractive price point might not last for too long. In its aggressive push to gain subscribers, Disney is losing US$1.5 billion per quarter by maintaining this price.
If you miss the classics that were removed from Netflix and want the quickest access to Disney movies after their initial release, all at a lower cost, Disney+ is the right platform for you.
HBO Go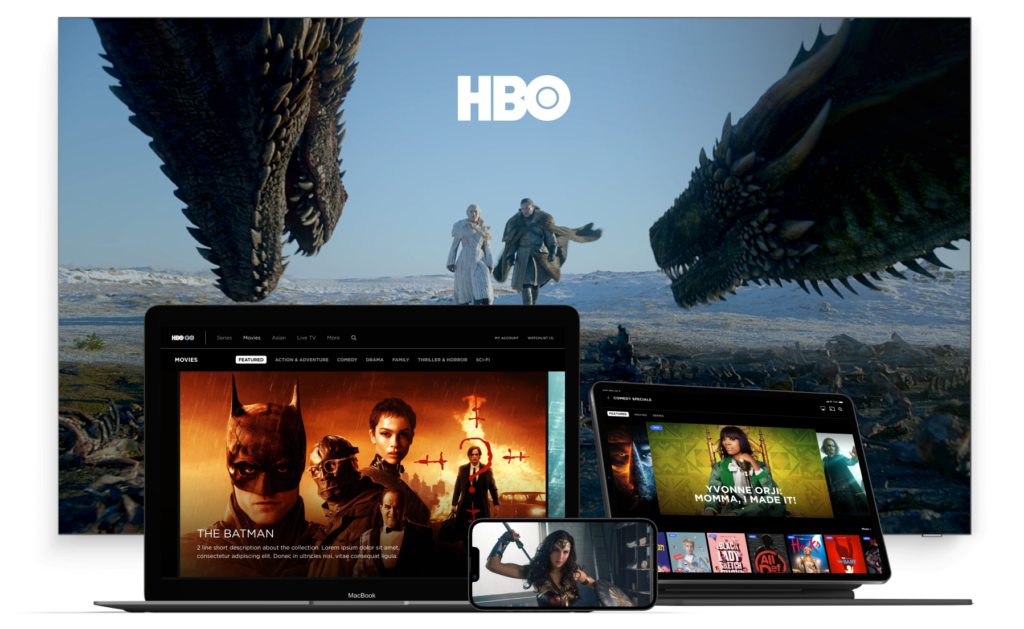 HBO, like Disney, owns a pretty sizable amount of streaming rights to the most popular series like Game of Thrones, Euphoria, The Last of Us, Rick and Morty and much more. In its offering of HBO Go to Singaporean customers, it offers users 3 ways to subscribe: Through a telco, through MeWatch or directly on HBO go Asia's website.
HBO Go offers a single plan for its subscribers, offering up to 5 profiles. But there is a catch. This plan is not designed for sharing beyond 2 people as its FAQ page states that it allows a maximum concurrent stream of 2 devices. What will the other 3 people do when 2 are already streaming their shows? Beats me.
Like Disney+, HBO Go gives users a slight discount when they pay upfront. Going at S$35.98 for 3 months, it brings the monthly cost down to just S$9.99. There is no limitation on the streaming quality as well.
It doesn't seem like HBO Go is offering more concurrent streams in Singapore anytime soon, so there is little need to fear about a surcharge brought about by password sharing. If you like content from the DCU, action films like Top Gun: Maverick and the Fast and Furious franchise, you can definitely give HBO Go a try. Just take note of the 2-concurrent stream limitation.
Amazon Prime Video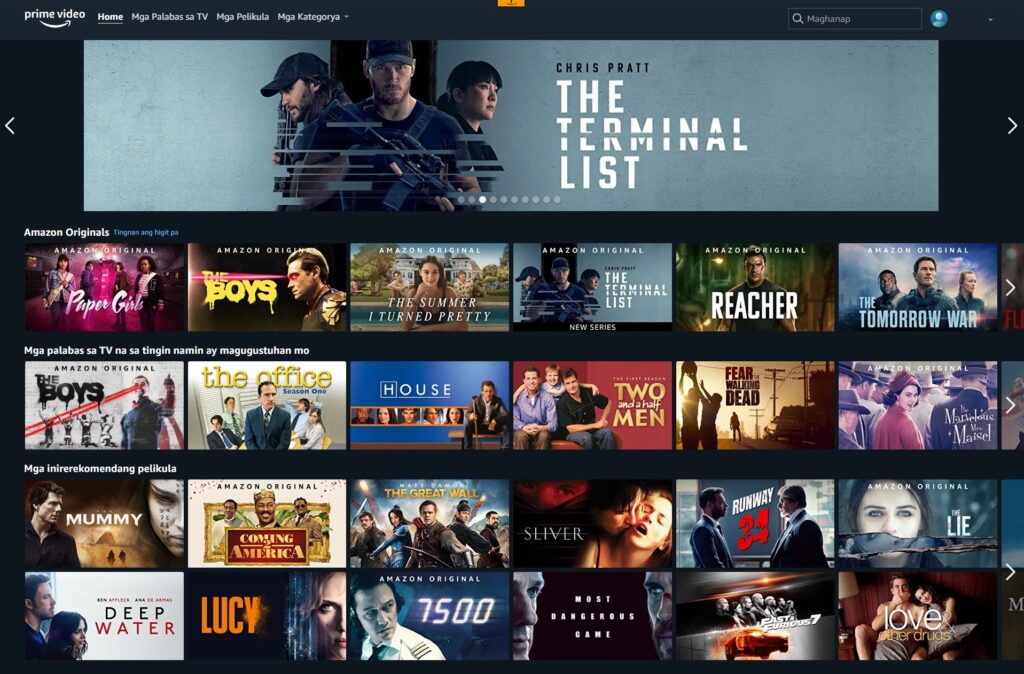 Amazon Prime video doesn't bear the bells and whistles like most of its competitors that offer blockbuster series, superhero franchise, or timeless classics. It doesn't own as many streaming rights as Disney or HBO, but what it managed to do is to strike exclusive deals to host all time favourites like The Office and House.
Like Netflix, Prime Video also comes out with its own popular original series such as The Lord of the Rings: The Rings of Power, Reacher, The Legend of Vox Machina. When compared to its competitors, the amount of content on Prime Video may seem lacking, and Amazon knows that.
It offers Prime Video as part of a S$2.99 Amazon Prime subscription that comes with free shipping and other perks on Amazon. It's an excellent value for money, especially if you shop often on Amazon. If you already have an Amazon Prime subscription, then hey, Prime Video is technically a free service for you, so why not try it out?
It offers up to 6 profiles, but only 3 concurrent streams, something to take note of.
If you are sceptical about the amount of content being offered on Prime Video, then rest assured that it remains probably the only service that offers a free 30 day trial before you commit to anything. Who knows, you may go down the rabbit hole bingeing Amazon Originals.
Conclusion
The content streaming market today is starting to break into factions and no longer offering much content that spans across multiple studios. 
All these apps cater to different viewing demographics and it's perfectly capitalist to do so. For a viewer that wants to watch content from all 3 apps, they would have to subscribe to all 3 apps every month, everybody wins.
But most of us are not as rich as said person, and will probably commit to 1, at most 2 streaming apps shared with our friends. For me, I'm still subscribed to a Premium plan on Netflix with 3 other friends for the binge worthy Netflix Originals, and I may consider getting Disney+ to rewatch Modern Family and HIMYM.
That's until Netflix's Password Sharing Rule comes into play in Singapore at least.
In sum, get Netflix for the frequently updated originals content library, Disney+ for Marvel, Pixar, and Star, HBO Go for DCU, Game of Thrones, Rick and Morty, and Prime Video for Lord of the Rings and the niche series that cannot be found elsewhere.
What are you currently subscribed to and what is your plan once Netflix's password sharing policy kicks in? Let me know in the comments.

Derrick (Yip Hern) founded Tech Composition to provide valuable insights into the tech and finance world. He loves to scour the web for the best deals and embark on software projects during his free time, a typical geek, right?