Remember our Prime Minister's story about QR payments during his National Day Rally speech in 2017 that kick-started local QR payments? Here is a recap:
When Manpower Minister Lim Swee Say was queueing up to buy chestnuts at a roadside hawker stall in Shanghai a few years ago, he saw all the people ahead of him wave their handphones, take their chestnuts and leave without paying any cash.

He thought it was a special offer that required them to show their phone, and declined to participate, offering to pay the full price for his order in cash.

But it turned out the people were using WeChat Pay to scan the hawker's QR code, and Mr Lim felt "suaku", or like a country bumpkin.

Excerpt from Straits Times
Fast forward to 2018, it was clear that we are no longer "country bumpkins" to QR payments. More and more payment processors came along, as well as the number of QR codes that have to be plastered onto different stalls. 
All of a sudden, we had a smorgasbord of QR payment options which confused many, prompting the government to unify all of those services with a single SGQR code.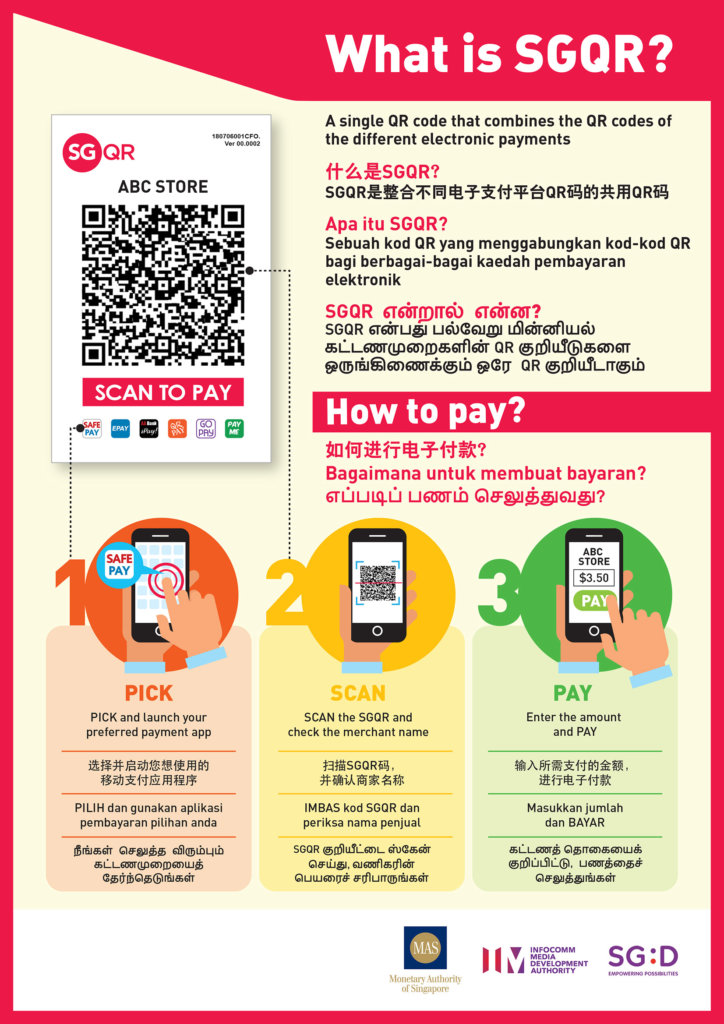 What are QR Payments?
So, what are QR payments and why use them? For people living under a rock, QR codes are simply 2 dimensional barcodes that contain embedded data. Upon scanning them using the respective service providers' apps, you will be directed to pay the merchant.
Why QR Payments?
Cashless payments like QR payments bring many benefits. For example, the efficiency of transactions is greatly improved as it allows you to make payment while the merchant is preparing your item without having to collect cash and fumble for loose change. 
Another one is hygiene, which has become especially important now because of COVID. Our notes and coins have been exchanged between god knows how many hands, and are reportedly more dirty than toilet seats. And we don't ever wash or clean our money, unless you are a germaphobe.
But wait, if credit cards existed decades ago, why weren't they accepted everywhere for convenience? Well, credit card payments are expensive for the merchants, and small-time ones aren't exactly willing to take a 3% cut from their transaction, on top of monthly terminal fees.
That's why you don't see hawker centres and food courts accepting credit/debit cards for the longest time. These high fees go toward consumers' card rewards like miles and cashback. Think about it, the merchant is indirectly paying you to use your credit card and it is unfair in some ways.
QR payments fix those issues. QR payments don't usually offer rewards, which mean low to no transaction fees for the merchants. Furthermore, all the hardware this type of payment needs is a QR sticker that is usually provided for free by the service provider.
How to Use QR Payments
All the consumer needs is a steady internet connection and a supported QR payment service accepted by the merchant to start paying like the chestnut buyers in China.
There is a catch though. Each merchant has its own unique permutation of supported QR payment services. Some for example accept PayLah but not Grabpay and vice versa. This requires consumers to have multiple apps to ensure that QR payments work anywhere.
QR payment services can be categorised into 3 types. Bank linked, E-wallet linked, and Credit card linked. Let's break them down.
Bank Linked Payment Services
To understand how bank linked QR payment services work, we must first know what PayNow is. PayNow is a cross-bank payment service introduced by the Association of Banks in Singapore. 
It allows consumers to send money across different bank accounts instantly just by entering a phone, identification, or business registration number. You would have to link your bank account to any of these identifiers to start receiving funds.
PayNow from banking apps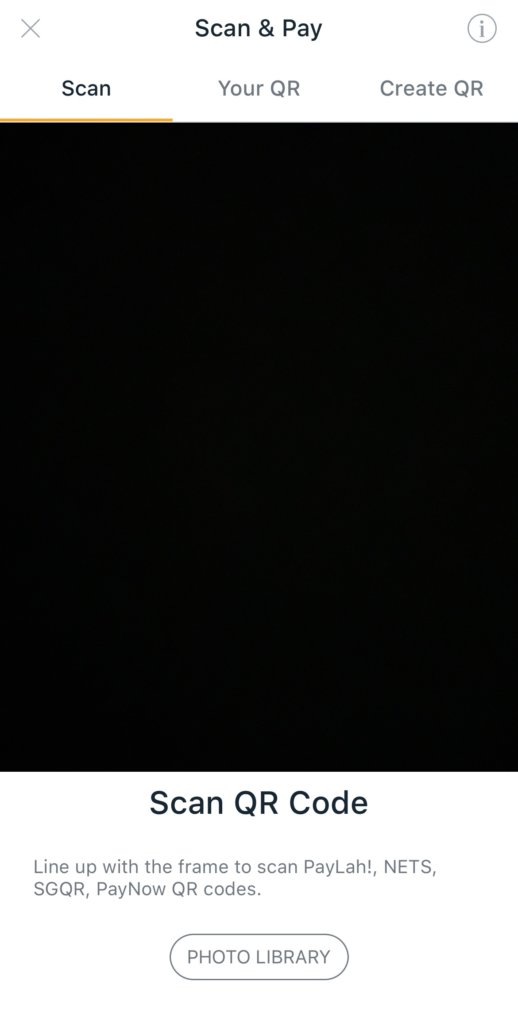 | | |
| --- | --- |
| Has its own QR code | Yes |
| Compatibility with PayNow QR | Yes |
| Ability to hold funds | Yes |
| Support for auto debiting | NA |
| Requirement for top up | NA |
| Rewards for transactions | No |
Table of features for PayNow from banking apps
PayNow is a service, not an app, so apps from the different banks have to bake in a PayNow supported QR scanner. In order to use PayNow, simply log onto your banking app and scan a PayNow QR code or PayNow supported SGQR.
Alternate banking apps (DBS PayLah/ OCBC PayAnyone/ UOB Mighty)

| | |
| --- | --- |
| Has its own QR code | Yes |
| Compatibility with PayNow QR | Yes |
| Ability to hold funds | Yes |
| Support for auto debiting | Yes |
| Requirement for top up | Depends |
| Rewards for transactions | No |
Table of features for alternate banking apps
This is where things get confusing. On top of the basic PayNow QR functionality local banks offer in their apps, DBS, OCBC, and UOB decide to launch their own separate payment apps. 
In order to get funds into these wallets, you either top up manually using the respective banks' accounts or set up auto debiting. The support for different QR codes is a little complex, so let me lay them out below.
| | | | | |
| --- | --- | --- | --- | --- |
| | PayNow QR | PayLah QR | PayAnyone QR | UOB Mighty QR |
| Payment with PayNow (Scan to pay from any banking app) | Yes | Only from DBS/POSB app | Only from OCBC app | Only from UOB Mighty app  |
| Payment with PayLah | Yes | Yes | No | No |
| Payment with PayAnyone | Yes | No | Yes | No |
| Payment with UOB Mighty | Yes | No | No | Yes |
Table of QR compatibility with different apps
Rule of thumb, when you see a bank's logo on the SGQR, use the bank's app for payment. The saving grace is that this trio of QR codes are supported by most SGQRs. So you ought to have at least one of these methods. 
These apps don't offer any rewards for transactions, but sometimes hold campaigns to earn cashback. You can check their respective websites for such events.
Google Pay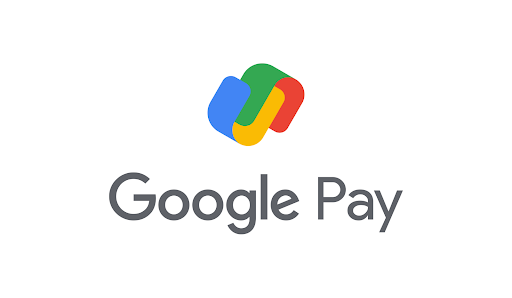 | | |
| --- | --- |
| Has its own QR code | No |
| Compatibility with PayNow QR | Yes |
| Ability to hold funds | No |
| Support for auto debiting | Yes |
| Requirement for top up | NA |
| Rewards for transactions | Sometimes |
Table of features for Google Pay
Google Pay adds another layer of complexity in this space, as if it wasn't confusing enough. Google Pay is not an e-wallet, but a middleman for QR transactions using PayNow.
Google Pay's QR function, not to be mixed up with its NFC function, debits funds from either your Paylah, OCBC or Standard Chartered account to facilitate payments. The way you use Google Pay at merchants is by scanning either a PayNow or FavePay (more on that later) QR code.
Google Pay also supports the receiving of funds by sending them to your PayNow registered bank account linked to your number. This is also where you receive your cashback.
Under Google Pay's current rewards structure in November 2021, you can receive a scratch card that is worth up to S$10 cashback, once a week for making an in-store payment of S$3 or more.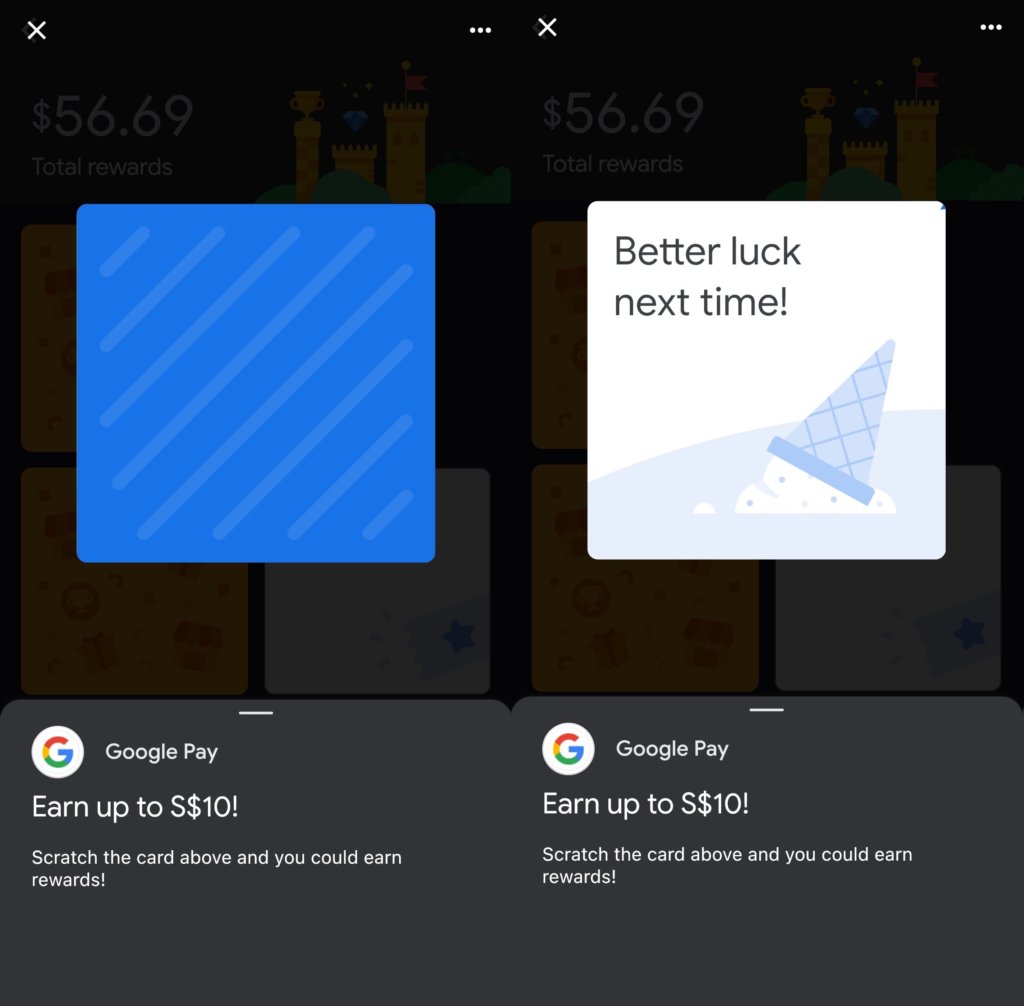 Yeah, the promise is getting up to S$10, but it is possible to get nothing. Most of the scratch cards I get range from S$0.10 to S$0.40, better than nothing I guess.
If you like the idea of scratch cards, feel free to join Google Pay with the referral link here for a $3 bonus.
E-wallet linked services
Moving on, e-wallet linked services. These are your fintech firms that heavily promote their services and offer much greater rewards than bank linked payment services. I'll be going over the popular services most people know about, namely GrabPay, FavePay, and EZ-Link.
GrabPay

Update: From 14 October onwards,

1) QR transactions via the GrabPay Wallet will no longer reward you any GrabRewards Points. Instead, you will stand a randomised chance to win 25,000 GrabRewards Points.

2) GrabPay Card transactions will only reward you with 0.3% back in GrabRewards Points at F&B outlets. No GrabRewards Points will be awarded for everything else.

3) GrabRewards Points awarded for spending at Grab Services using the GrabPay Wallet remains the same.
| | |
| --- | --- |
| Has its own QR code | Yes |
| Compatibility with PayNow QR | No |
| Ability to hold funds | Yes |
| Support for auto debiting | No |
| Requirement for top up | Yes |
| Rewards for transactions | No |
Table of features for GrabPay
GrabPay was launched in 2017 to complement their whole suite of services, including ride hailing and food delivery. In order to perform payments, you would have to top up your GrabPay wallet, unlike the bank-linked methods which can directly debit from your account.
GrabPay remains one of the only few QR payment services that offer reward points for each transaction. The amount of GrabRewards points awarded depend on your Grab membership tier, ranging from 3 points in Member/Silver to 6 points in Platinum.
By taking the GrabRewards points needed for a S$5 Grab ride voucher (2500 points), we can calculate the percentage cashback for each tier. 
Anyway, there are 3 methods of top up for the GrabPay wallet: Credit/Debit card, Bank transfer (FAST or PayNow) and Auto top up (S$10 minimum) using a UOB bank account.
One thing to take note is that while most cards used for top ups don't incur fees, Visa credit cards used for top ups below S$400 incur a S$1 fee. Another is while auto top ups can be set for credit/debit cards, a minimum amount of S$10 is required.
FavePay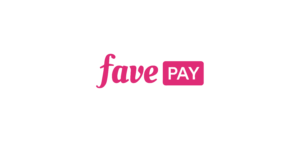 | | |
| --- | --- |
| Has its own QR code | Yes |
| Compatibility with PayNow QR | No |
| Ability to hold funds | No |
| Support for auto debiting | No |
| Requirement for top up | No |
| Rewards for transactions | Yes |
Table of features for FavePay
FavePay was also launched in 2017 to provide payment solutions for merchants. It works in a different way from GrabPay though. Instead of providing GrabRewards points that can be redeemed for multiple products, they offer cashback specific to each merchant for every transaction.
This means that cashback earned from for example at Gong Cha can only be redeemed at Gong Cha the next time you transact with them. Cashback percentages differ for each merchant, and are usually set between 2.5% to 5%. 
The way FavePay works is that you link a credit/debit card to your Fave account, and Fave would debit the required amount from your card, abolishing the need for top ups.
The unique thing about Fave is that instead of vying for market share with its competitors, it actively embraces them.
Fave currently allows its QR code for Google Pay users to use, and even continues providing cashback in the form of Google Pay scratch cards (still locked to each merchant, of course.
They also allow GrabPay wallets to be linked to Fave accounts as a payment method. No, you will no longer be able to earn GrabRewards points from this as of 2021, RIP.
EZ-Link

| | |
| --- | --- |
| Has its own QR code | Yes |
| Compatibility with PayNow QR | No |
| Ability to hold funds | Yes |
| Support for auto debiting | No |
| Requirement for top up | No |
| Rewards for transactions | Yes |
Table of features for EZ-Link Wallet
E-wallets have been all the hype in recent years, so much so that even EZ-Link, the service providing us with transport cards, decided to operate one themselves. 
The way it works is simple, top up via a debit/card and start using it like you would for GrabPay and FavePay. Every S$0.10 spent using the EZ-Link wallet yields you 1 reward point. 
Based on our analysis on the EZ-Link article, each point is worth S$0.0011, which works out to a 1.1% cashback, keeping in mind the very limited redemption options.
Unlike GrabPay with its Visa credit card top up fee, EZ-Link does not levy such charges for its top ups.
All these rewards from e-wallets sound great to obtain, but we have to keep in mind that these payment services by and large are less ubiquitous on SGQRs when compared to bank linked ones.
Credit card linked services (Amex Pay)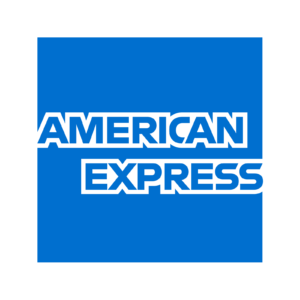 | | |
| --- | --- |
| Has its own QR code | Yes |
| Compatibility with PayNow QR | No |
| Ability to hold funds | No |
| Support for auto debiting | Yes |
| Requirement for top up | No |
| Rewards for transactions | Yes |
Table of features for AMEX Pay
Next, we got an entire class of payment service that seems unusual at first glance. Why would a bank offer the same credit card rewards to its customers despite taking a lower cut from merchants? A promotional campaign? I'm not sure.
The only bank offering this radical service is American Express. It works exactly like how you would use credit cards, make a payment and pay the bill at the end of the month. But instead of tapping your card at a terminal, you use the Amex app to scan the merchant's QR code and that's it.
The quantum of rewards you can earn depends on which credit card you select for the transaction, which can be a 1.5% cashback, or some miles for your travel using the VTLs.
It is the simplest QR payment method to use if you have an AMEX card and app, as you need not worry about top ups and fees.
Which Is The Best Method?
So that was a mouthful and it all boils down to this. Which is the best QR payment method to use when you pay? Let's crown them in 2 categories: Best Value and Most Practical.
Best Value
The best value you can get from your QR payment is undoubtedly from Amex Pay, but the uncertainty of whether the rewards would remain and the sore lack of acceptance quickly diminish its potential benefits.
Most Practical
The most practical QR payment method is using the Bank linked payment apps (PayLah, PayAnyone, Mighty). Given its ubiquitous presence in SGQRs, it is wise to have one of these apps for digital payments.
Rankings
To ensure you get the most out of your QR payments, refer to this list of payment services, and strike them off one by one if it is not accepted by the merchant or used by you.
Amex Pay
FavePay
Google Pay
EZ-Link Wallet
Bank linked payment methods (PayLah, PayAnyone, Mighty)
PayNow using banking apps
This article may include Referral or affiliate links that provide revenue to Tech Composition.

Derrick (Yip Hern) founded Tech Composition to provide valuable insights into the tech and finance world. He loves to scour the web for the best deals and embark on software projects during his free time, a typical geek, right?