Food Delivery has become a mainstay in our lives ever since it was popularised by FoodPanda, GrabFood and Deliveroo. While regular free delivery promotions have become scarce after the cash burning among the big 3 firms ceased, we could only hope for sporadic Free Delivery Promotions.
Remember when GrabFood used to offer weekly S$1 mains included with free delivery? Or when FoodPanda didn't have a minimum order? Yeah, those were good times. 
Now that the competition for market share amongst the companies have stagnated, they are seeking to establish loyalty with consumers.
To keep consumers coming back for more, the best way is to offer a monthly subscription filled with exclusive promotions that lock them into the ecosystem. Case in point: Free Delivery Vouchers on Grab Unlimited require you to use GrabPay for payment (which requires a top up).
All 3 major Food Delivery platforms offer subscription plans, namely Grab Unlimited, PandaPro, and Deliveroo Plus. They come with effectively unlimited free food delivery vouchers with various minimum spends. Some plans such as PandaPro and Deliveroo Plus even offer dine-in discount vouchers.
With Grab and FoodPanda are offering their subscriptions services at an introductory price of S$0.01 and $0.10 per month for 2 months respectively, let's break down the 3 main Delivery Subscription services and see how they stack up against one another.
Overview
Grab Unlimited
PandaPro
Deliveroo Plus (Silver / Gold)
Introductory Promotion (Limited Time)
S$0.01/month for 2 months, reverts to regular price afterwards
S$0.10/month for 2 months, reverts to regular price afterwards
14 Day free trial, charged at regular price afterwards
Price Per Month (S$)
7.99
7.99 (billed monthly) / 4.99 (billed half yearly) / 3.99 (billed annually)
6.90 (Silver) / 12.90 (Gold)
Free Delivery 
99 X S$4 off Food Delivery Vouchers (min spend S$15)
30 X S$4 off Teatime Delivery Vouchers (no min spend)
Unlimited Free Delivery only at selected restaurants, minimum spend applies
Unlimited S$5 off Food Delivery (min spend S$38 for Silver, S$18 for Gold)
Self Pick Up Vouchers
30 X 20% off Self Pick Up (No min spend)
Unlimited 25% off Self Pick Up (no min spend)
–
Dine In Discounts
–
1 for 1 deals and up to 30% off bill
–
Table Of Comparison Between Delivery Subscription Plans
As you can see, the prices of the plans are fairly similar, barring Deliveroo's Gold subscription tier. Foodpanda charges a lower monthly fee if you pay the subscription costs upfront, which will lower your cost if you're an avid user of Food Delivery platforms.
Deliveroo Plus is a head scratcher though: It offers the least benefits at its Gold tier while charging S$12.90 per month. It is almost as if they aren't trying to compete with their main competitors. The minimum spend of S$18 is also much higher than the rest.
Pricing aside, let's dive into the analysis of what each category of benefits entail.
Free Delivery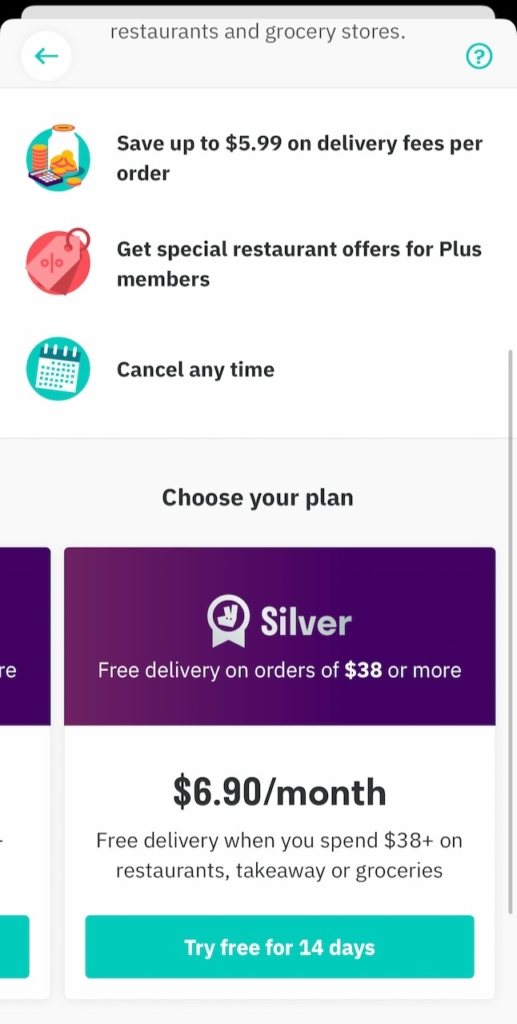 Delivery prices on all 3 platforms usually range from S$3 to S$7 depending on demand and distance. For restaurants that offer island-wide delivery, this cost can balloon all the way to the tune of S$22. As logical companies, they wouldn't subsidise the delivery fee regardless of the cost right?
Therefore, "Free Delivery" marketed by these companies are actually just discount vouchers, capped at usually S$5. FoodPanda is more restrictive in this regard since Free Delivery is only applied to a select set of merchants, at their own discretion.
GrabFood and Deliveroo allow Free Delivery promotion codes to be used on all merchants on their platform, with applicable minimum spends. Grab has a monthly limit of 99 Free Deliveries, but no one should technically come close to using them all.
If I were to pick the service with the most practical Free Delivery usability, it would be Grab Unlimited. At just S$7.99 per month, the subscription allows you to spend just S$15 for free delivery, compared to the S$18 with Deliveroo Plus while being usable at more merchants than PandaPro.
Self Pick Up Discounts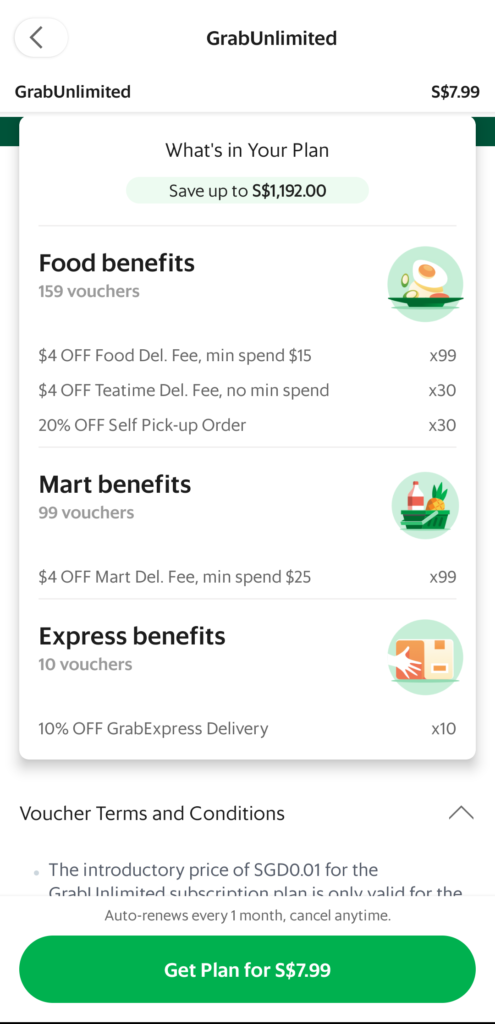 If you don't already know, Delivery platforms like GrabFood, FoodPanda, and Deliveroo levy a 20-30% fee on restaurants on their platform. In order to turn a profit, these restaurants usually mark up their menu prices by that amount, passing the fee to the customers.
Part of the 20 – 30% fee is used by Delivery platforms to supplement the income of the delivery riders. You can't possibly think that the $3 – 4 you pay is enough for the people who deliver food to you right? So for self pick up orders, these platforms are able to provide a slight discount on your order, since the delivery rider is out of the picture.
Remember, most merchants mark up their menu prices anyway, so the 20% and 25% off may not even offset the inflated price. Buying it directly from the store may be cheaper in that case. But there are some rare instances where merchants like Shake Shack offer the same prices on the delivery platform as their store, so it's worth comparing to see if self pick up is actually cheaper.
Grab Unlimited and PandaPro offer 20% and 25% off self pick up orders respectively while Deliveroo Plus does not. Grab Unlimited's self pick up offer is capped at 30 orders, while PandaPro's does not have any limit.
For me, if I were considering ordering a nearby takeout, and the prices of the food items on these platforms after discount are similar to buying from the store, I would rather order through the delivery app. 
One, I can save time queuing and waiting for my food to be prepared. Two, I can use my credit card, which might not directly be accepted by the merchant, to pay for my food and earn some rewards in the process. 
Foodpanda's PandaPro is the winner in this section since it offers 5% more discount than Grab Unlimited while having no cap.
Dine-in Discounts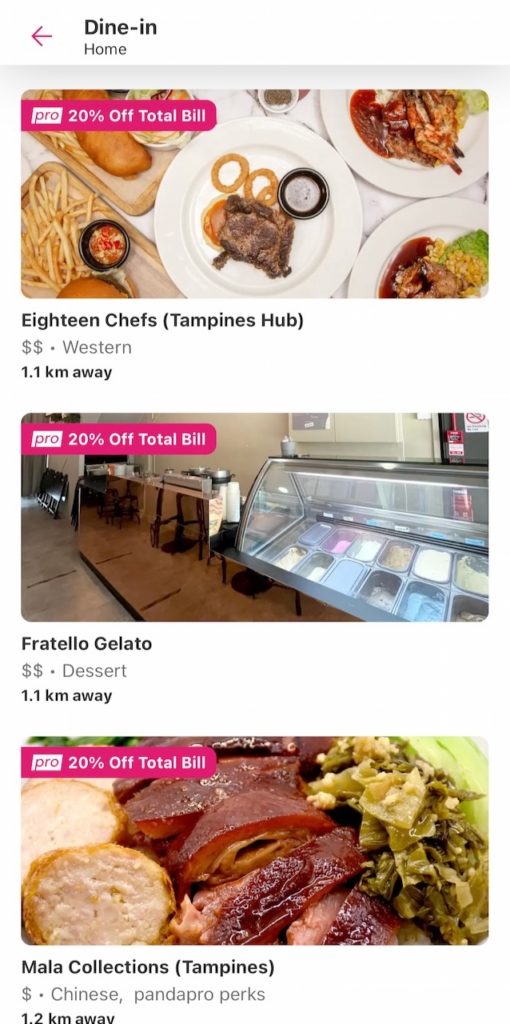 Offering Dine-in discounts is a little unorthodox for a food delivery platform since their entire business model is based around, well, food delivery. It works a little like Chope, working with restaurants to offer discounts on the dine in bill.
This service is only offered by FoodPanda on its PandaPro subscription, giving about 15% to 25% off the total bill (only on ala carte items). Most restaurants participating in this program are mostly small-name ones or largely less frequented by people. Though some chains like Big Fish Small Fish and Eighteen chefs can also be found.
Unlike Self Pick Up Discounts, the menu prices when dining in at the restaurant won't be inflated since you are not ordering through Foodpanda. So by redeeming the 15% to 25% offer, you are receiving an actual discount on the bill, sweet.
Foodpanda is the only platform that offers this service and it's a really great value-add to the PandaPro subscription.
Conclusion
So after looking at the benefits of the subscription service that all 3 food delivery platforms offer, it is clear that you should only consider Foodpanda's PandaPro or GrabFood Grab Unlimited. Deliveroo Plus simply doesn't hold a handle against the other two with its high minimum spend and lack of self pick up offers.
Now is it worth it to get a food delivery subscription? Let's analyse the use cases and overall value gained per month, assuming you:
Order a S$20 food delivery once a week
Order a S$10 self pick up order once every 2 weeks on a merchant that marks up their menu by 20%
Grab Unlimited
PandaPro
Deliveroo Plus
Savings on Delivery (4 times) (S$)
4 * 4 = 16
4 * 4 (assuming average delivery cost is S$4) = 16
0  (Silver) (since minimum order of S$38 is not met)
4 * 5 = 20 (Gold)
Savings on Self Pick Up (2 times) (S$)
(25% – 25%) * 10 * 2 = 0
(25% – 20%) * 10 *2 = 4
0 
Subscription cost (S$)
7.99
7.99 (billed monthly) / 4.99 (billed half yearly) / 3.99 (billed annually)
6.90 (Silver) / 12.90 (Gold)
Net Value (S$)
16 – 7.99 = 8.01
20 – 3.99 = 16.01 (billed annually)
20 – 4.99 = 15.01 (billed half yearly)
20 – 7.99 = 12.01 (billed monthly)
0 – 6.90 = -6.90 (Silver)
20 – 12.90 = 7.10 (Gold)
In general, making just 2 food delivery orders per month that have S$4 delivery fees will make your subscription worthwhile. If you are on Deliveroo Plus Gold, it will take 3.5 orders to break even.
My pick would easily be PandaPro despite its secretive whitelisting of free delivery merchants, since it offers the lowest price when billed annually and has higher discounts on self pick up orders. The availability of dine-in discounts is the cherry on top.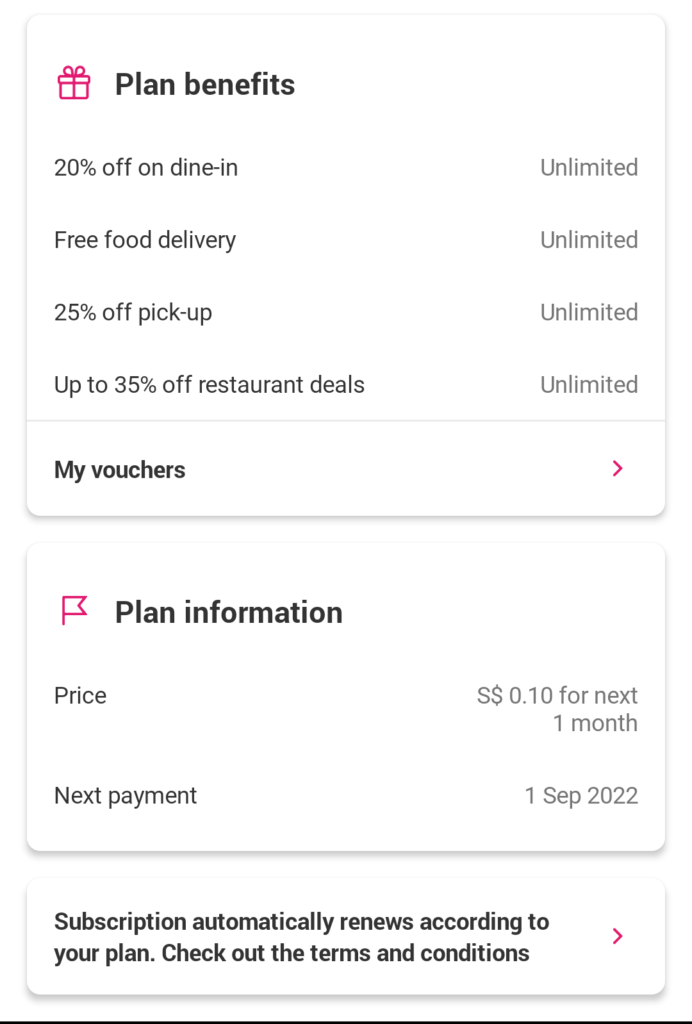 Assuming you always order food delivery on PandaPro's select list of free delivery merchants, the value proposition will be closer to the one represented in the table. If your favourite merchants are not in the list, you may want to consider Grab Unlimited. 
What do you think of my analysis of the Singapore Food Delivery Subscriptions in 2022? Let me know if you have anything to add on, in the comments below.
Get the latest in Tech with a Singaporean take, right on Telegram.
Subscribe

Derrick (Yip Hern) founded Tech Composition to provide valuable insights into the tech and finance world. He loves to scour the web for the best deals and embark on software projects during his free time, a typical geek, right?