AirTag is Apple's item tracker introduced about a year ago. The concept is simple: Attach an AirTag to anything you want to track, and use the Find My app to locate it. AirTags themselves do not contain any GPS, so they piggyback off nearby iOS devices to broadcast their location. If you haven't read my review on them, check it out here.
In Tech-dense Singapore, there are bound to be at least hundreds of thousands of iOS devices all around the island accurately broadcasting the exact location of AirTags. 
You can start to see the issue of this reality: Anyone can get a coin-sized S$45 AirTag and slip it into someone's bag, purse or pocket. Because the location updates so frequently, it can be used for nefarious purposes like stalking.
Apple has introduced a few safety features to combat this problem, including a legal warning in iOS 15.4 stating that the Apple ID linked to the AirTag will be shared with authorities if needed.
Let's break down the 4 features you can take advantage of to prevent being stalked with AirTags.
Get Accustomed To AirTag sounds
When an unknown AirTag is found near you, a series of chimes will start to play, prompting you to find it. Make sure you know what this sounds like. Here's a video by Apple explaining what each sound stands for:
Prior to Apple's statement in February 2022, the "Find My" chime was played to warn users of an unknown AirTag. But now, Apple has adjusted the tone sequence to use more the loudest tones to facilitate easier discovery.
Once you hear this chime, immediately follow the sound, look for the rogue AirTag. Do these. Tap any NFC enabled phone on the AirTag to launch a webpage that shows the serial number and the last 4 digits of the owner's phone number. 
If the AirTag is marked as lost by the owner, they might provide their contact details for you to return their item. If no contact details are provided and the AirTag is not attached to any belongings, you can assume that the AirTag is used for stalking purposes. Follow the prompt in order to physically disable it.
However, these chimes are only played after a certain amount of time the AirTag has been separated from the owner. This duration is decided by Apple's own algorithm that takes into account owner home location, owner distance from AirTag and et cetera. Apple intends to improve this to alert victims quicker.
Disable AirTags physically
AirTags are powered by common CR2032 watch batteries that can be replaced any time they run out of battery. Apple makes it really simple to do this: Grip the AirTag with your two thumbs on the shiny side of the AirTag, twist anti-clockwise and the cover pops out.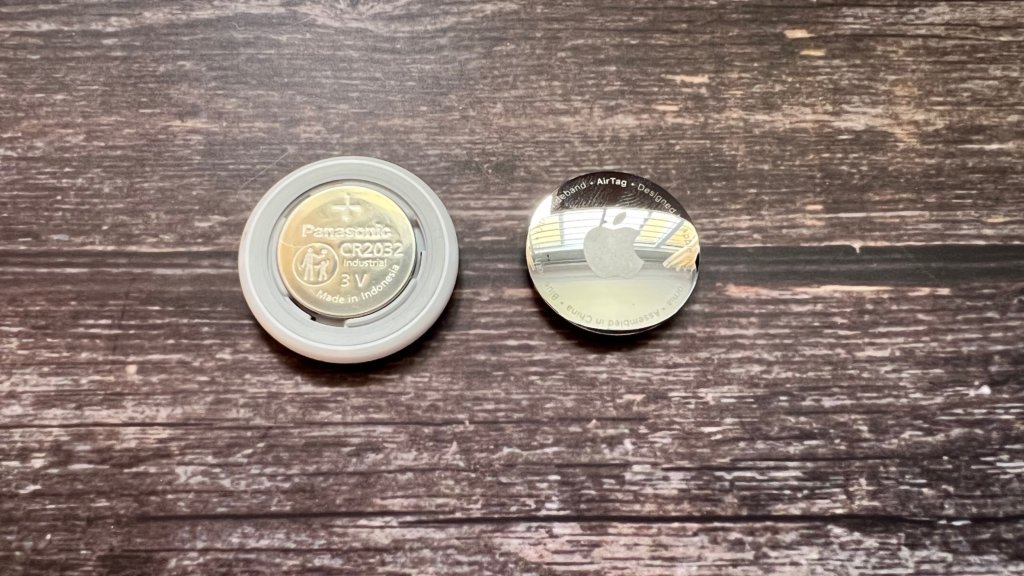 If you ever notice an unknown AirTag following you, simply follow the same steps as if you were changing the battery, just without replacing the old battery with a new one. The watch battery is the only power source for AirTags, so removing it will cease all functionality, including tracking capabilities.
Pay attention to notifications on iOS
Of course, using chimes as a warning is not sufficient, especially in loud environments. Apple took this into account, and sends notifications to your iOS devices if an unknown AirTag is following you.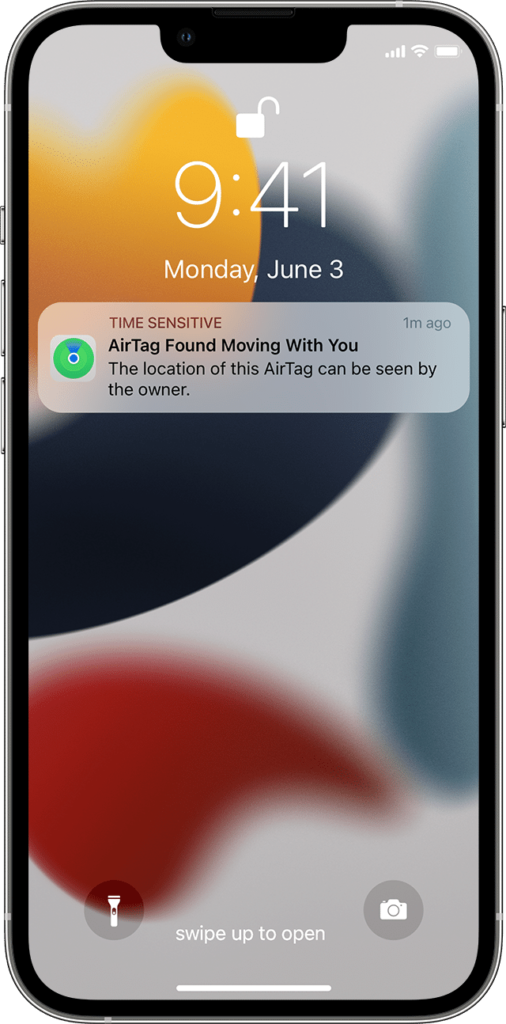 From that notification, you can play a sound on the AirTag in order to search for it. One thing to take note is that the speakers on AirTags can be tampered with in order to avoid detection.
Until Apple's plans to introduce precision finding for iPhone 11 and above to look for these AirTags is implemented, the only way to find these AirTags flagged by our devices is to blindly search for them.
After you find the AirTag, immediately tap an NFC enabled phone on it to record the serial number, then disable it. You may choose to report this incident to the Police and provide the serial number. Apple will cooperate with the authorities to reveal the Apple ID linked to the malicious AirTag.
Use tracker Detect On Android
Android devices are clearly not in the Find My network, so the "Unknown AirTag found moving with you" notification will not appear on Android devices. Sure, chimes on the malignant AirTag will start sounding, prompting you to find the AirTag.
But if you miss out on this chime, or are stalked with a modified AirTag, there is little recourse to your situation. Thankfully, Apple released Tracker Detect, an app on Android to detect AirTags around you.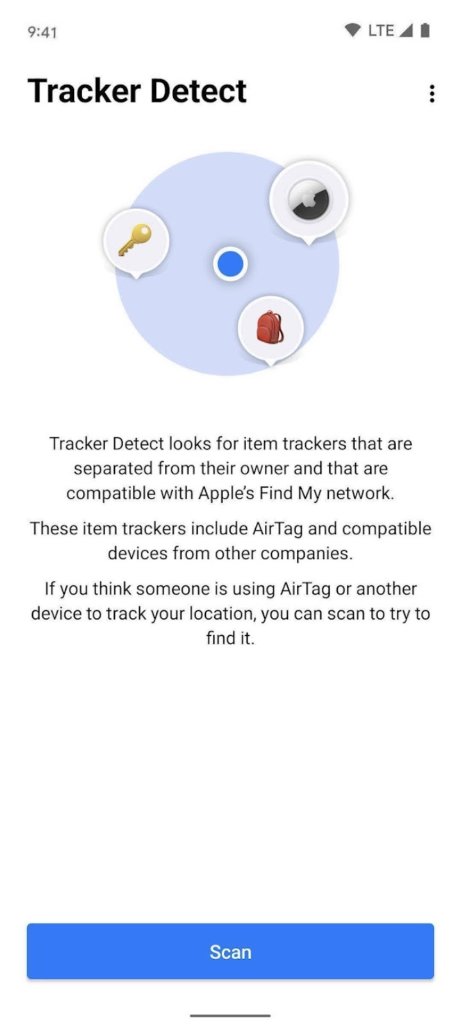 Once an unknown AirTag is detected, there will be an option to play a sound and view details about it.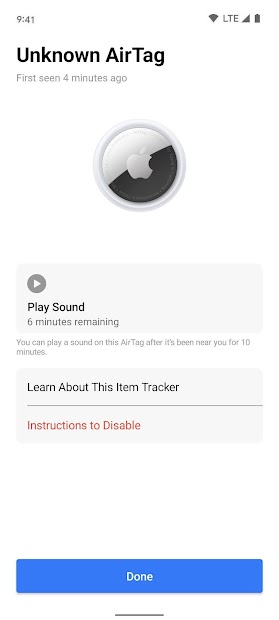 The app is very limited though. There is no option for this app to run in the background unlike Apple's own Find My notification service. Reviews on the Play Store also mention that the range for detecting unknown AirTags is quite low. 
Unless you already suspect yourself being stalked by someone, there is no logical reason why anyone would run this app on a regular basis. But I guess it is still something Android users can use to combat AirTag stalking.
Conclusion
AirTag is very well the most extensive Item Tracker out there due to the vast Global Find My network. An American Youtuber sent an AirTag to North Korea, managing to track it all the way to even airports in Germany, South Korea, and Beijing. 
With AirTags working so well, it is no surprise that Apple is stepping in to introduce additional security measures to combat rising AirTag crimes. The aim remains clear though: Allow users to find AirTags easily and conveniently, disable them, and report to the authorities.
Remember, AirTags like all things, can be used for various goals you may never know about. Stay vigilant in spotting suspicious items on your belongings and remember how to disable AirTags physically. 
Are there any more tips you would like to offer in the fight against AirTag stalking? Let me know in the comments below.

Derrick (Yip Hern) founded Tech Composition to provide valuable insights into the tech and finance world. He loves to scour the web for the best deals and embark on software projects during his free time, a typical geek, right?