Ever since COVID-19 happened, apps like Zoom, Google Meets, Microsoft Teams, and Cisco WebEx have exploded in popularity. We were forced to work from home and attend endless video conferences. Everyone wants to look their best on camera, but you realise that your tiny 720p laptop webcam simply doesn't cut it.
It's quite bizarre to see how our smartphone cameras are advancing so much in image quality while webcams on the newest laptops are still capturing video that looks like it came out of a 6 year old phone. The only fix for this problem is to get a good external webcam.
But what makes a good webcam? Resolution? Sensor size? Or even AI upscaling features? Well, it largely depends on your needs and budget. For most people that only use them for video conferencing, a decent 1080p webcam will do just the trick. 
For professionals who need higher resolution images for recording and granular control over colour and image, they can start looking for a higher end webcam that shoots video higher than 1080p. The fact is, this search for a good webcam is very much still needed given how virtual meetings and interviews are the new normal.
So when Dell approached us to review their S$175 1440p Dell Pro Webcam (WB5023), we were excited to see how it lives up to its claim as a high quality professional Zoom and Microsoft Teams certified webcam. My experience using this webcam was pretty decent. Let's dive into the details.
The Dell Pro Webcam was provided by Dell Singapore. Dell Singapore was not provided a draft of this article, and all opinions are independent. Read our Editorial Policy here.
Unboxing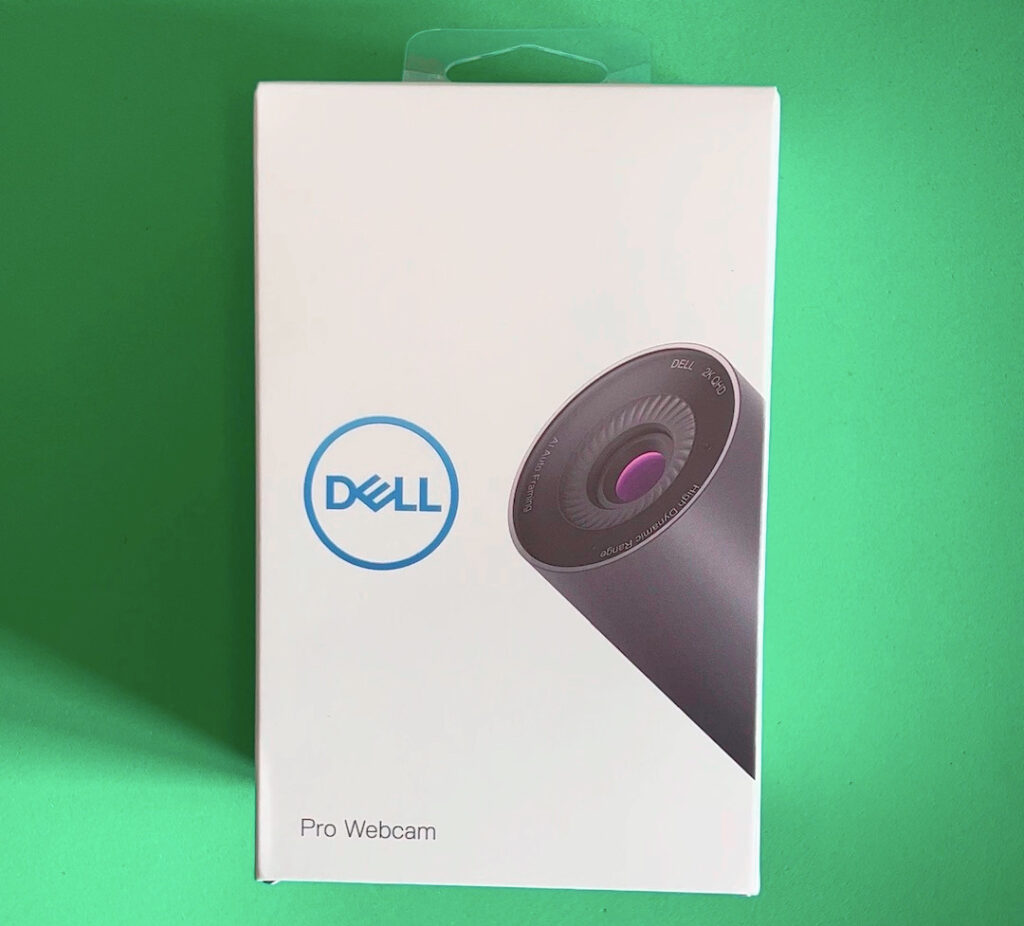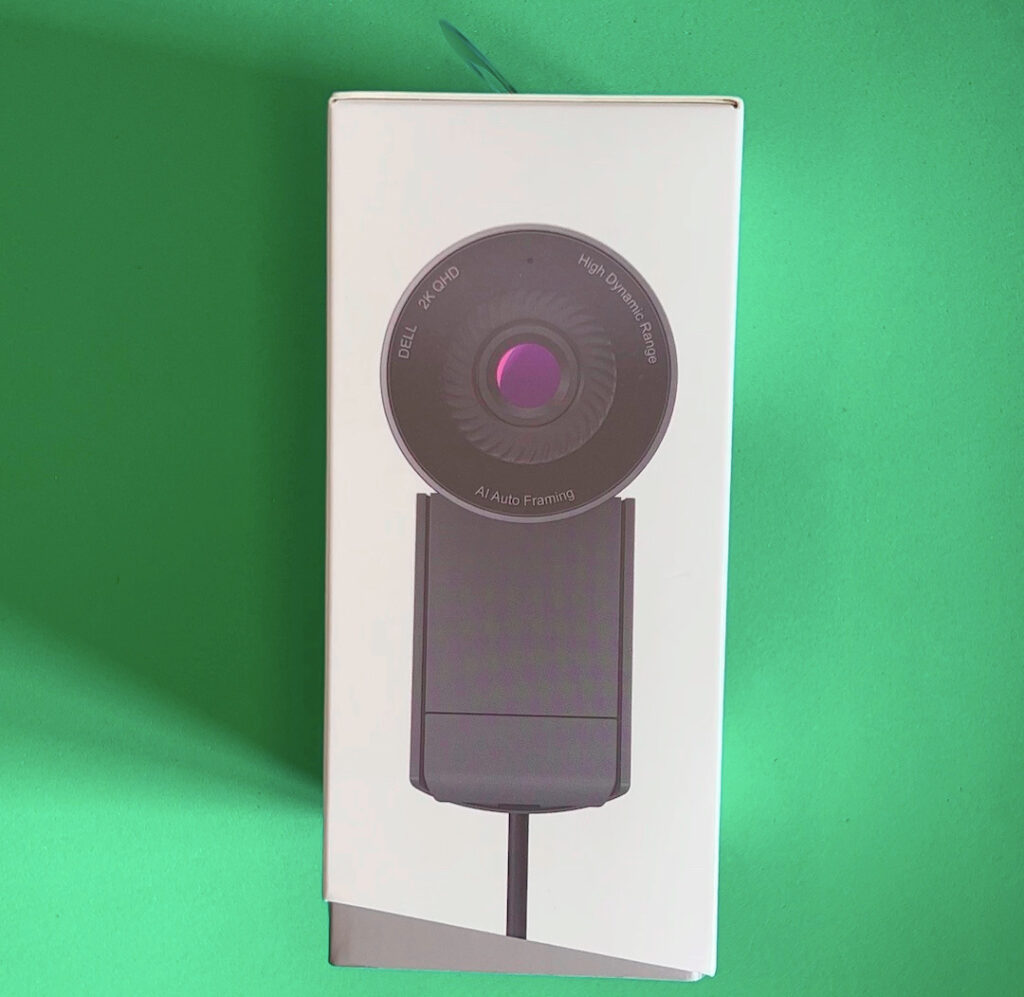 The webcam came in a small box and had a minimalist design to it like other Dell devices. The side of the box provided a front look at the webcam in its full glory.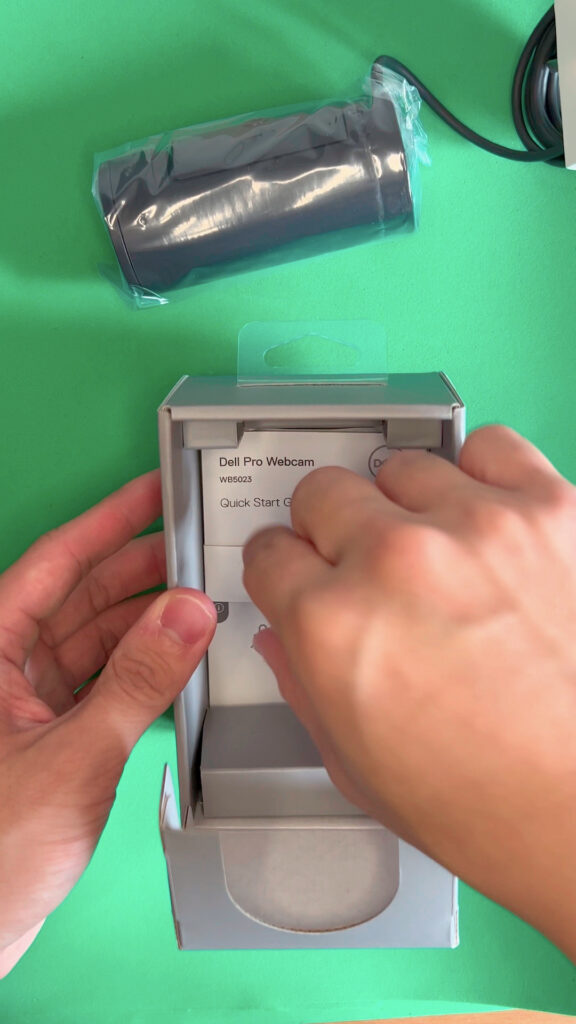 Inside the box, there was the device itself, as well as a quick start guide on how to connect the webcam and adjust the mounting clip to your computer.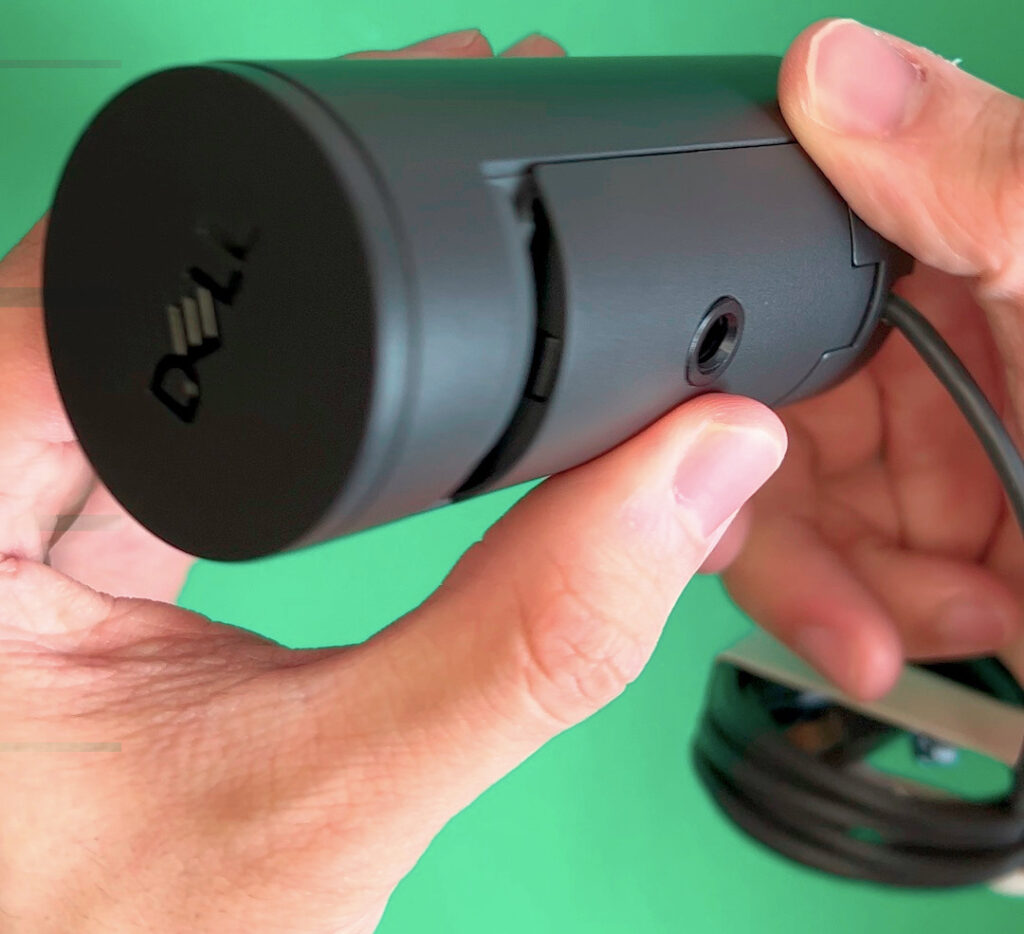 The Dell Pro Webcam is shaped like a cylinder, which is quite peculiar for webcams that are usually shaped like rectangles. The body has a diameter of 4.4cm, and a length of 9.2cm. It protrudes out pretty substantially when you mount it onto your laptop or display.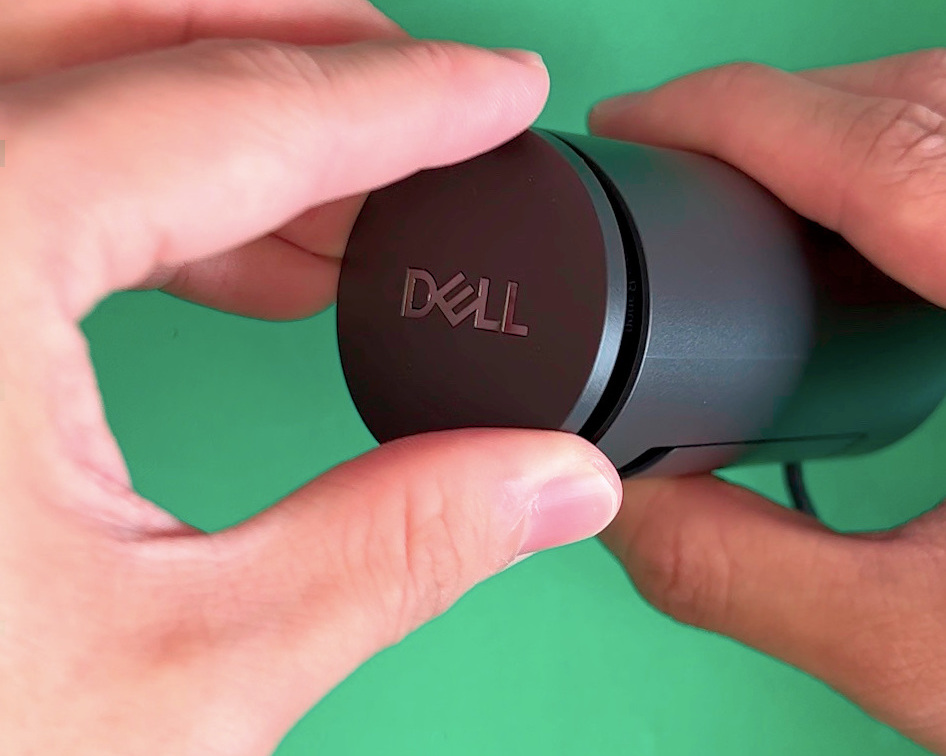 Ever been paranoid about someone spying on you through your webcam? It's a perfectly legitimate concern given how bad actors can remotely activate your webcam on your compromised machine without you knowing. And yes, they can disable the light indicator, leaving you none the wiser. 
Heck, even Mark Zuckerberg puts tape over his laptop webcam due to security concerns. Luckily for the Dell Pro Webcam, it comes with a magnetic shutter cap that can be stored (also magnetically) on the back of the device. There will be no need to take extreme measures like taping the lens.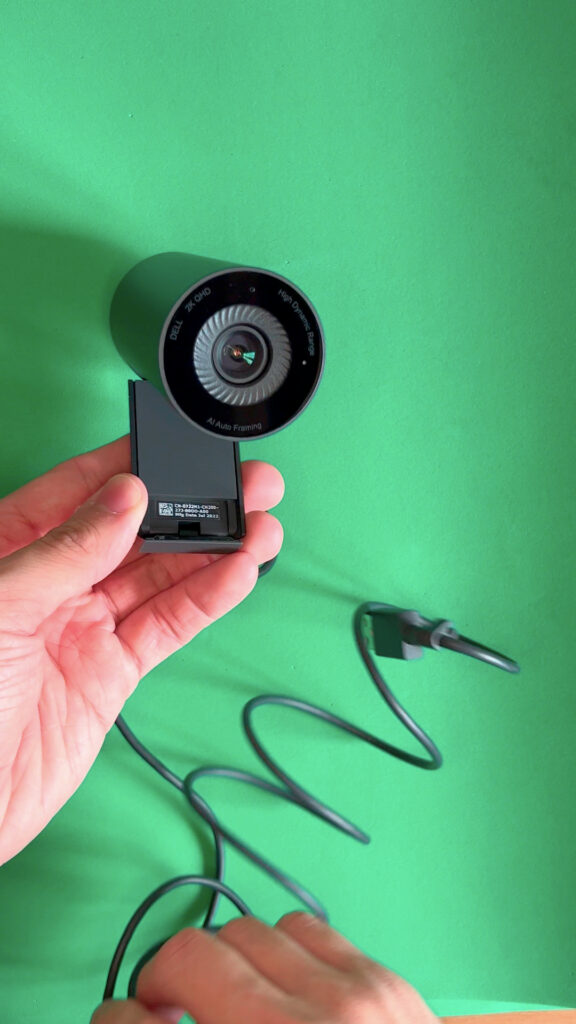 Removing the shutter cap reveals a pretty large f2.0 aperture lens with up to 4X digital zoom. It is a single lens, so telephoto zoom is definitely out of the question. The top of the frame houses a single noise cancellation mic that can pick up audio from up to 3 metres  away.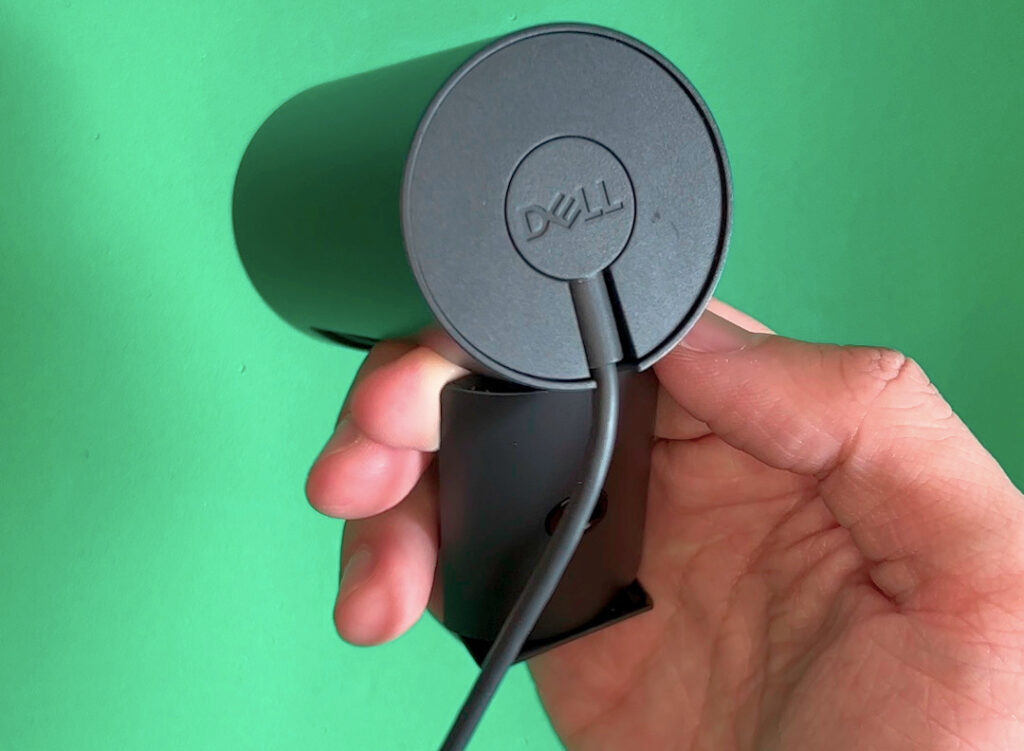 The back of the webcam is attached to a non removable USB A cable, and it is strategically done so to keep the surface flat for when you stow away your magnetic shutter cap.
Set Up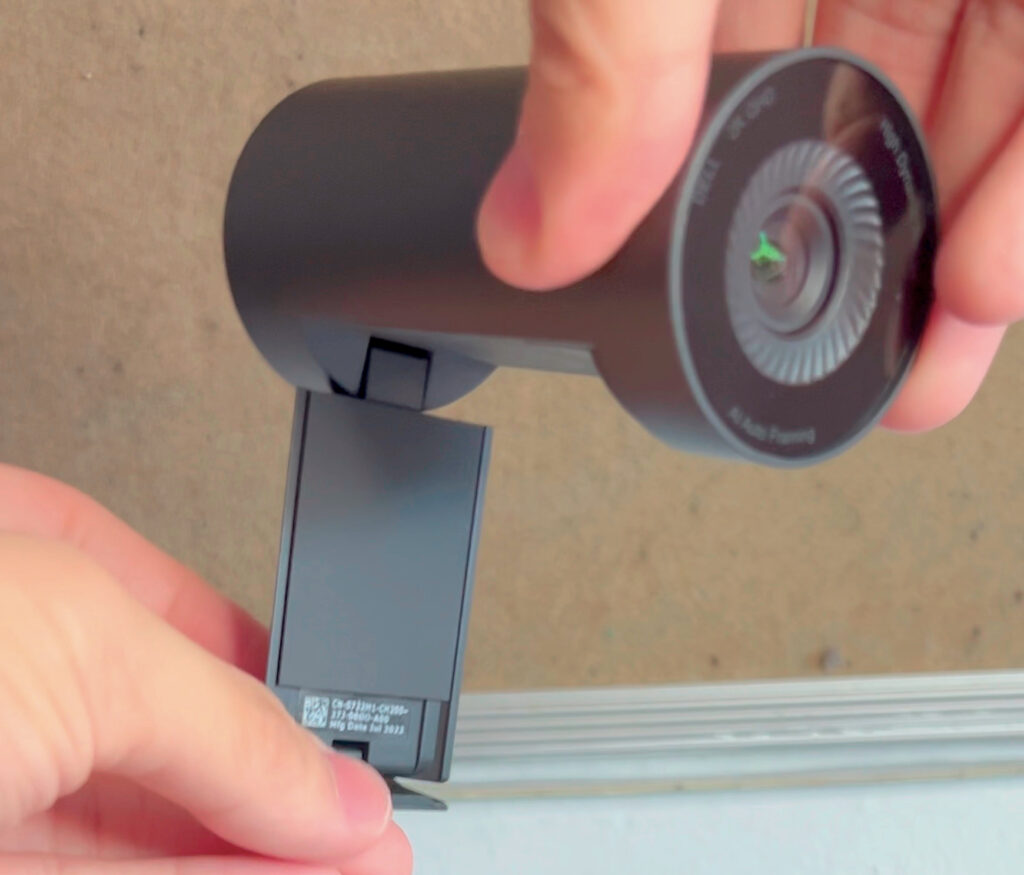 Setting up the Dell Webcam Pro was really easy, just dislodge the mounting clip, bend it into shape and place the webcam onto any display. What I like about this webcam is the large gap it has, allowing it to mount even the thickest of displays. Using it on my 3cm thick Dell 2422HE display still gave about 5 cm of allowance.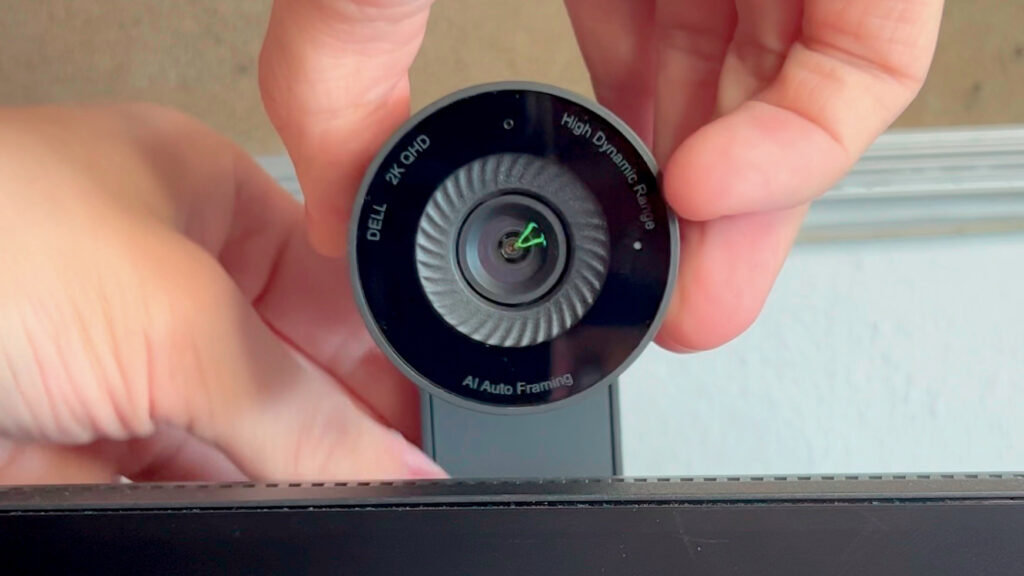 The inner side of the mounting clip is rubberised, giving the friction it needs to secure properly. You can even adjust the angle of capture by adjusting the mounting clip.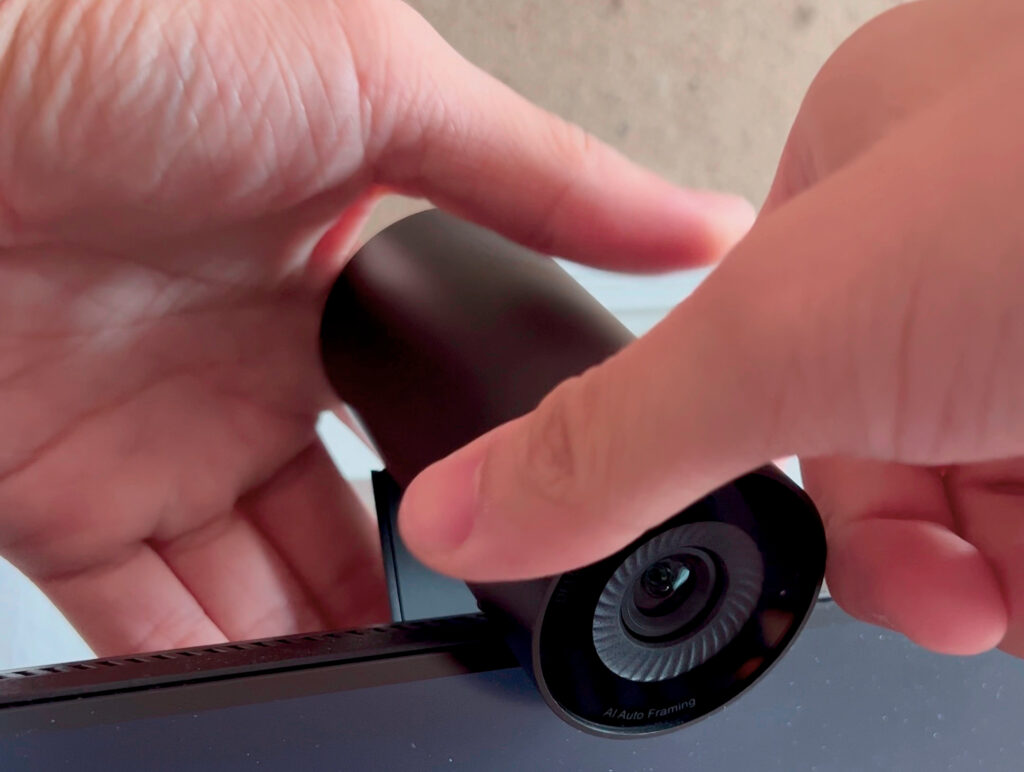 After mounting the webcam, simply plug the USB A cable into your computer and start using the webcam as per normal, no setup needed if you only need basic video.
In order to use the microphone, and enable HDR, you will need to install the Dell Display And Peripheral Manager (DDPM) on your computer, and keep it running while you use the webcam.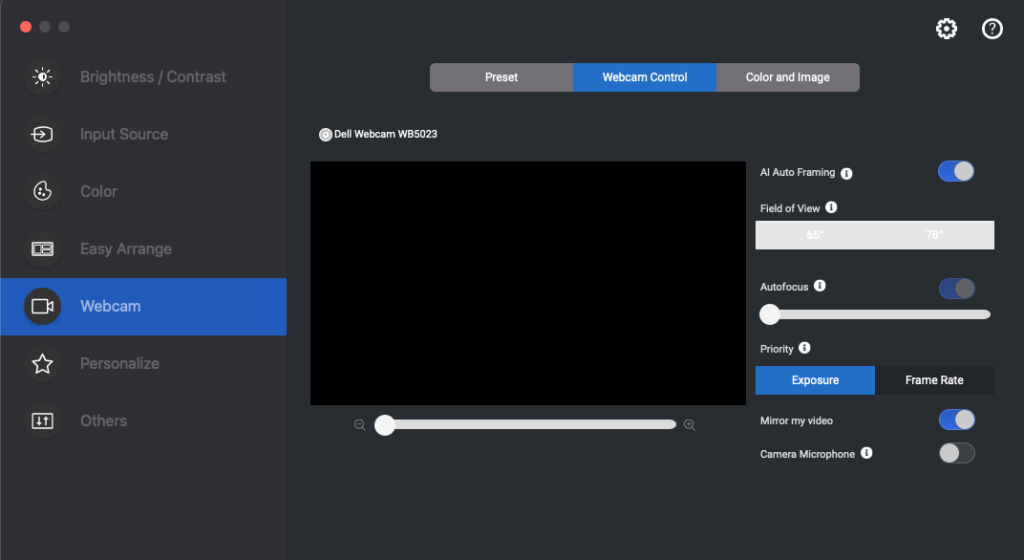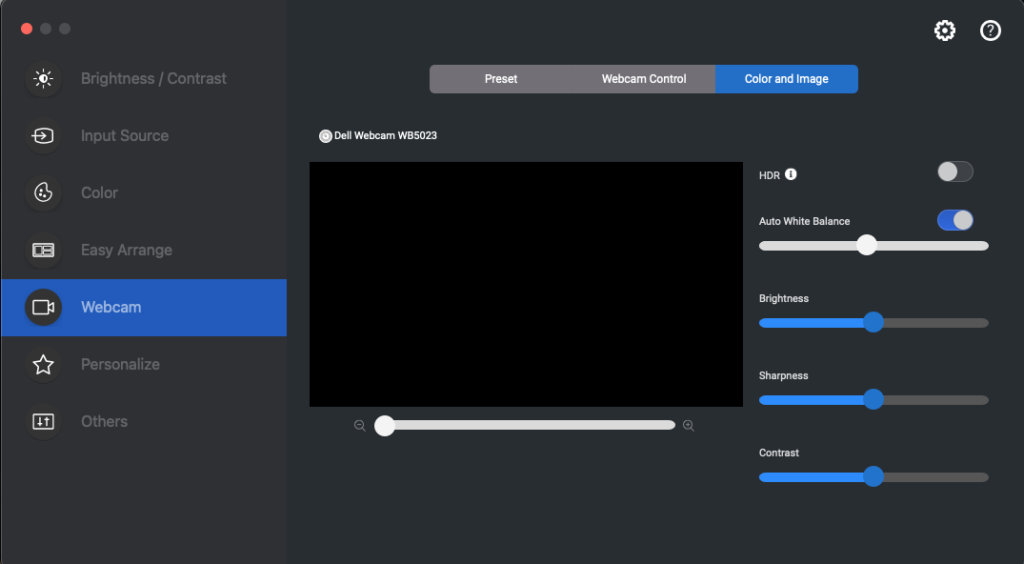 In the app, you get a plethora of configuration options: Field of View, Focus Distance, Exposure Priority, and Colour Presets. Though it's not as feature rich as Logitech's Capture app that comes with filters and broadcasting tools, it is mostly sufficient for most professional video needs.
Video + Audio Quality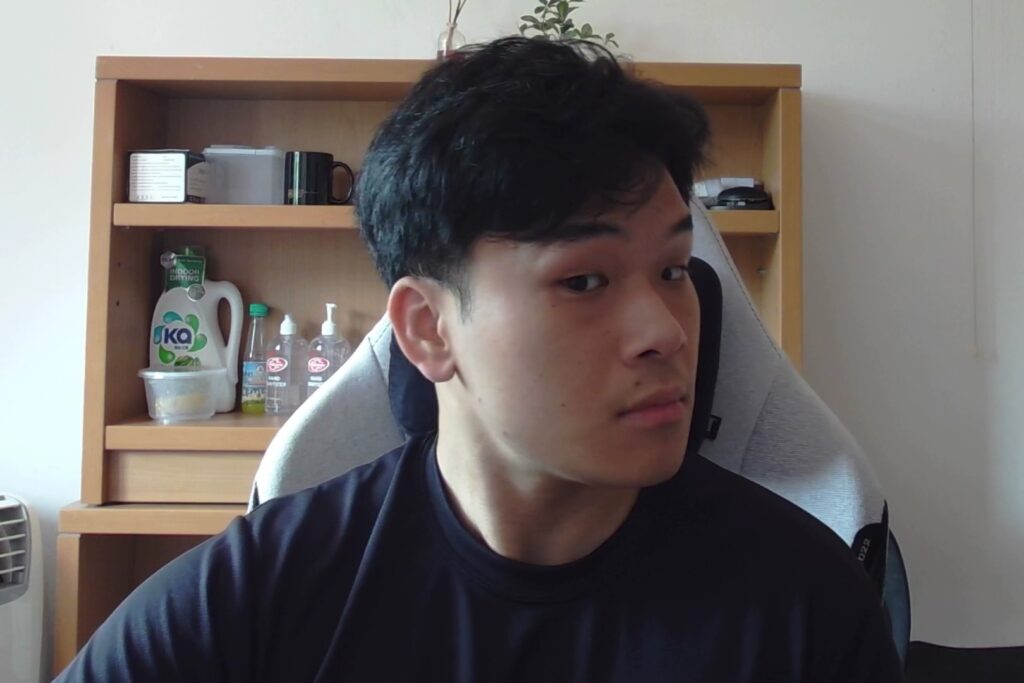 Of course, when you are splurging S$175 on a 1440p webcam, you will expect nothing short of premium performance right? Compared to my previous 1080p Logitech C922 webcam, the quality on the Pro Webcam was noticeably better. With sufficient light, the webcam captured pretty sharp videos on the default settings.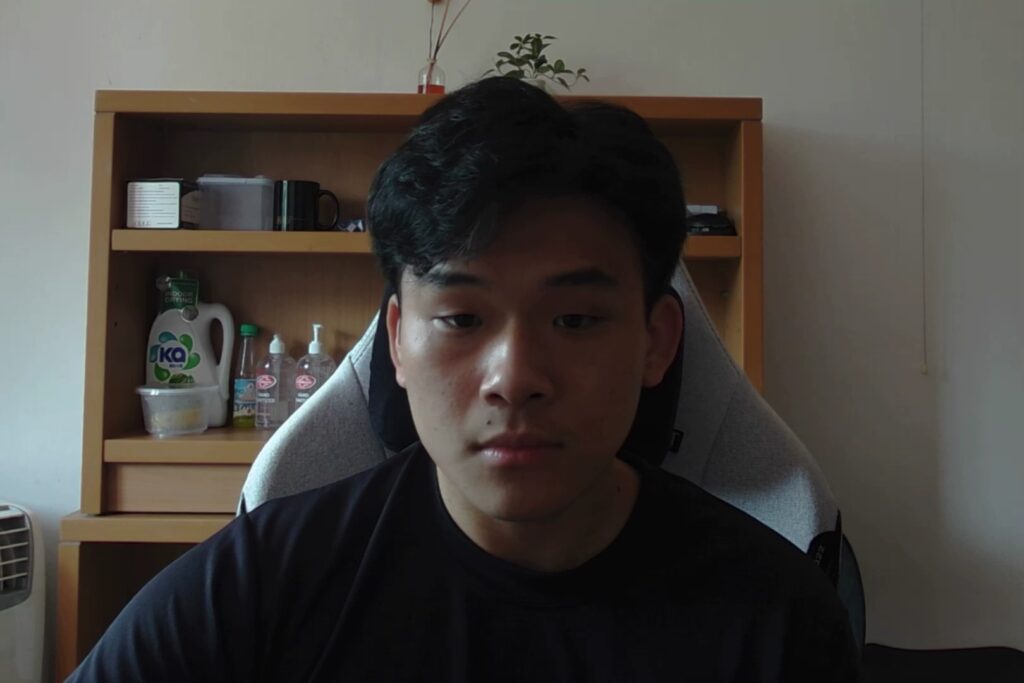 However when I flipped the HDR on, everything captured got much darker for some reason. My guess is that there was too much light provided for HDR to work properly, given how it worked in my low light testing.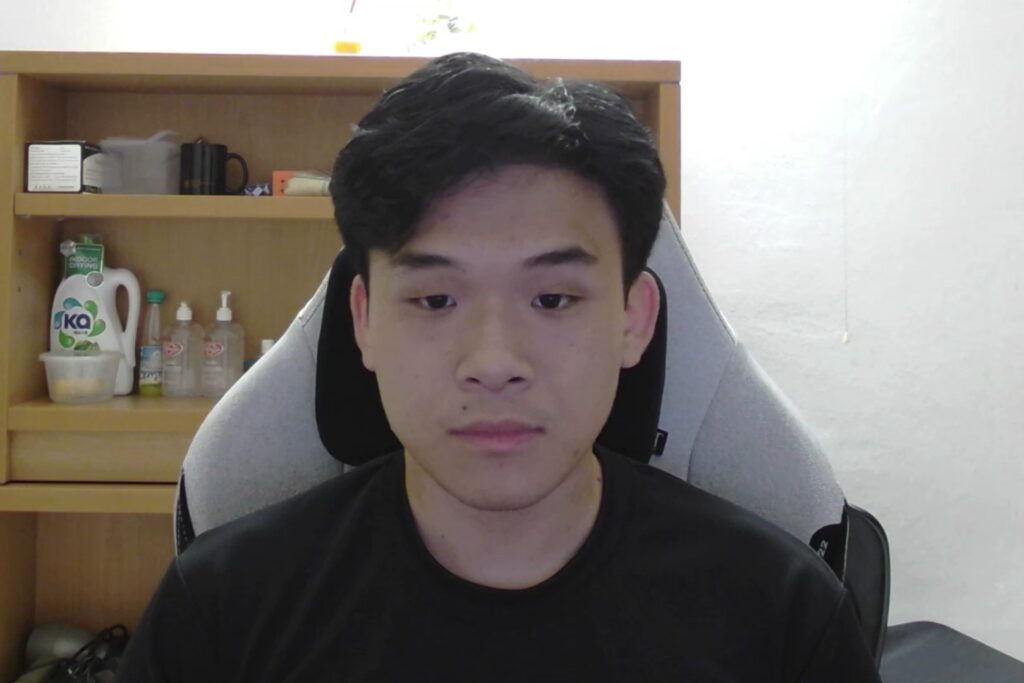 In low light conditions, the Dell Pro webcam held on to its high quality imagery pretty well with the default settings, though it started to pick up image noise from the surroundings.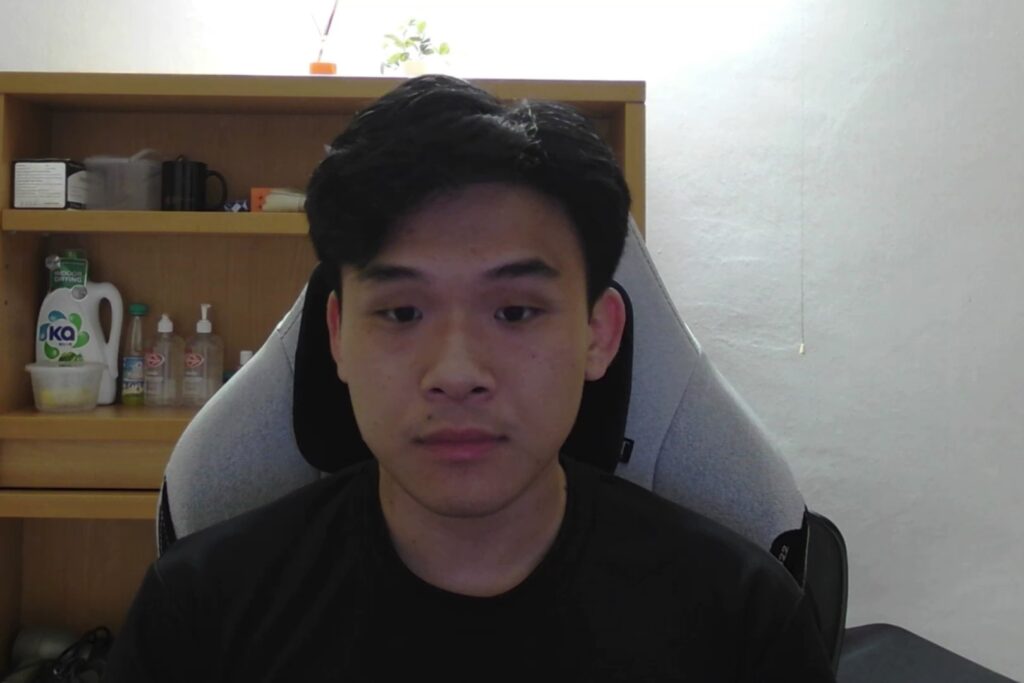 Once I switched on HDR at the same low light conditions, everything looked warmer without the large drop in brightness noticed in my day testing. My skin tone looked much more natural, and it was still a pretty sharp image.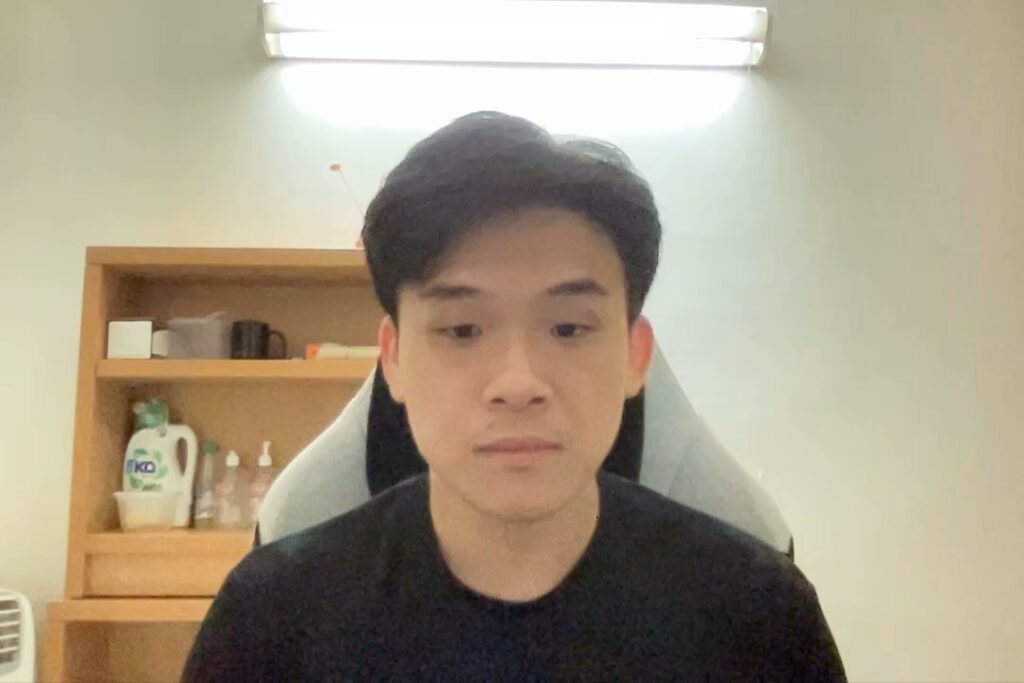 To give you some context on how harsh the lighting condition was, this is the video quality from my 720p M1 MacBook Air webcam. This photo looks very pixelated and the focus was all over the place. It quite literally is a night and day difference.
The webcam uses advanced Image Signal Processing to eliminate motion blur, balance harsh lighting and colour, and I would say it's doing a pretty good job at that.
The microphone on the webcam is quite good, but it is slightly worse than the one on my M1 MacBook Air. But hey, the microphone on the MacBook Air is already one of the better ones out there, so if you're confident that this mic beats your computer's, by all means switch to it.
Dell claims that their mic comes with noise reduction capabilities, so I had to test it out by recording an audio segment with my ceiling fan turned on. The result is fine, as wind noises made their way into the microphone, making speech a little distorted at times.
Overall, the mic on the Dell Pro Webcam isn't here to replace your dedicated studio quality mic. It works pretty well with little background noise, but there is still some room for improvement in terms of noise reduction abilities.
AI Autoframing
Ever since Apple launched their Center Stage feature on their iPad Pro in 2021, the world was amazed at how a stationary camera can seemingly track your movements and keep you in frame. The logic is simple: use a wide angle capture, then in real time, crop out a section of it that includes you.
It seems like Dell is trying to replicate this feature, but it largely falls flat when compared to what the iPhone or iPad does with Center Stage. It takes about 3 seconds for the webcam to crop into a new frame compared to Apple's 0.5 seconds, and it is way too long. 
I've checked with Dell regarding this feature, thinking that it might be a software bug. But they told me that it was intended to take about 3 seconds to reframe the subject. This is definitely something to take note of.
Conclusion
Remember how I said in the beginning that you only need a 1080p webcam for video conferencing apps? There's a good reason for that. Video conferencing is very resource intensive, and requires large amounts of videos to be streamed in real time. 
That's why Zoom caps its maximum video resolution at 720p for basic plans, and 1080p for business plans, Google Meets caps video at 720p, and Microsoft Teams at 1080p. Anything extra detail captured above 1080p will be compressed before it is streamed.
So who can take advantage of a 1440p webcam like the Dell Pro Webcam then? Well, content creators on live streaming services like Twitch or Youtube Gaming that allow high quality videos can benefit from the better picture quality for one. Professionals that want to film picture-in-picture videos for internal instructional purposes can also use this webcam to elevate the quality of their material.
Plus, 1440p (2K) sits in kind of a sweet spot between 1080p and 2160p (4K). It looks better than 1080p, but does not hog as much storage or internet bandwidth as 4K video. 
After 2 weeks of using the Dell Pro Webcam, I would say that it sticks true to its target audience: Professionals that want slightly more out than regular 1080p webcams. 
The DDPM enables precise calibrating of image quality, the ability to shoot in HDR, and the ability to adjust field of view, either manually or through AI Autofocusing, though this needs to be much faster.
The inclusion of a magnetic shutter cap also helps address webcam privacy issues people may have. I mean, the spot at the back of the webcam to magnetically stow away the cap? That's quite genius. 
Going at S$175, the Dell Pro Webcam is definitely not cheap. But if you are looking for a premium well rounded 2K webcam for all possible streaming and video needs, it is a pretty good choice.

Derrick (Yip Hern) founded Tech Composition to provide valuable insights into the tech and finance world. He loves to scour the web for the best deals and embark on software projects during his free time, a typical geek, right?