The Nothing Ear (stick) is Nothing's second foray into the wireless earphone space after previously releasing the Nothing Ear (1). The S$199 Ear (1) introduced the world to transparent design earbuds that were quite capable in the audio and Active Noise Cancellation (ANC) department albeit having a somewhat bulky case.
Even when compared to other ANC earbuds like the S$299 Pixel Buds Pro released this year, the Ear (1) has a significant enough price difference that it was an acceptable lower cost alternative. 
The Nothing Ear (stick) released a month ago isn't meant to be an upgrade to the Ear (1), but rather a variant of the Ear series. Other than the completely redesigned rotating case, and the now non-silicone tipped earbuds, the design remains largely the same. 
But here's the catch, the S$169 Ear (stick) surprisingly doesn't come with ANC, which is quite weird considering it costs only S$30 less than its cousin. Using these earbuds for 2 weeks definitely has its quirks, so let me share my experience with you.
Nothing Ear (stick) was provided by Nothing Singapore as a review unit. No remuneration in any form was provided. Nothing Singapore was not provided a draft of this article, and all opinions are independent. Read our Editorial Policy here.
Unboxing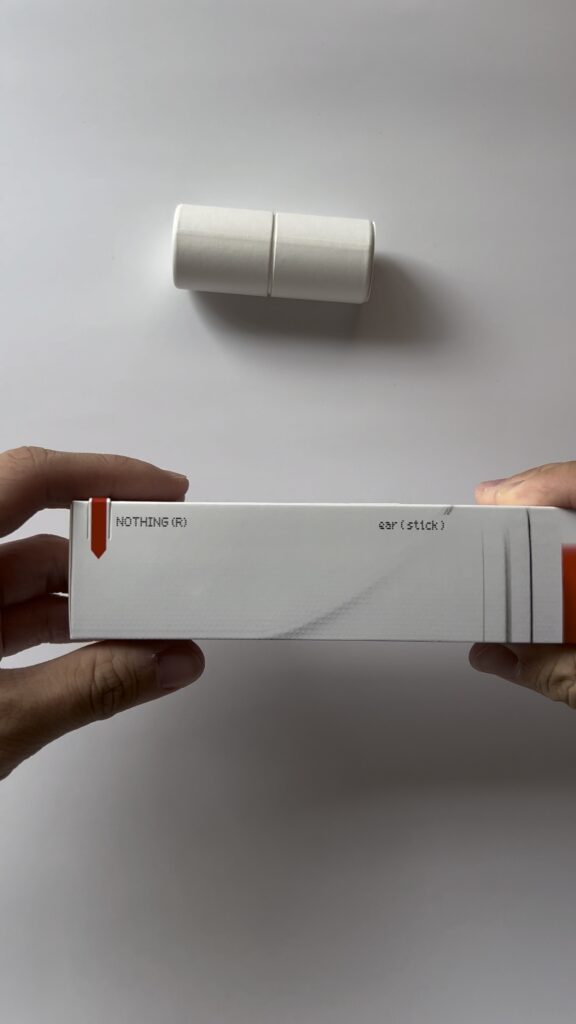 The Nothing Ear (stick) came in a long rectangular case, departing from the usual boxy design of other wireless earphones. This box design features pull tabs on both ends, giving access to the pill shaped plastic accessories case and the charging case separately.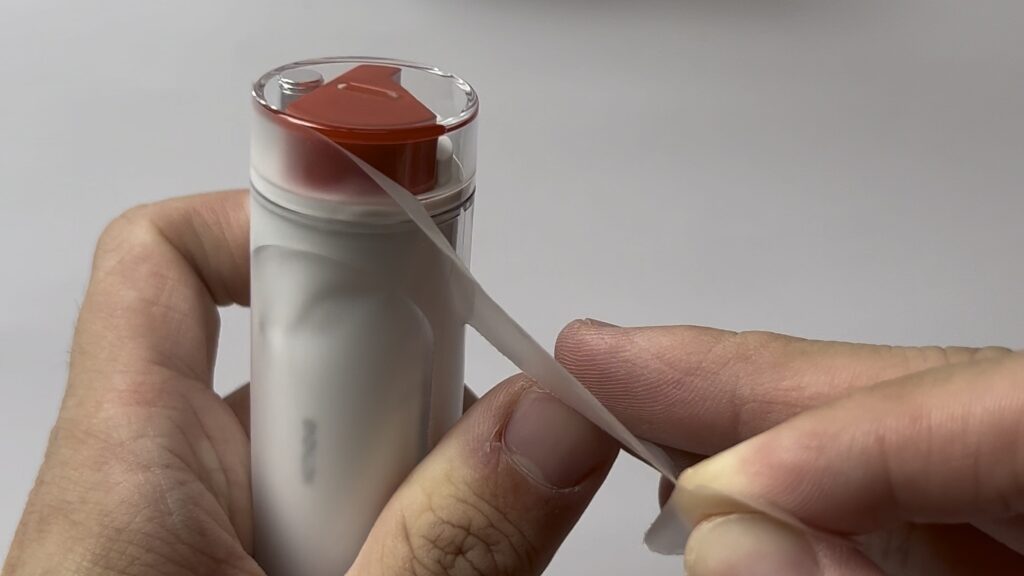 The cylindrical shaped charging case was wrapped in translucent paper and was quite satisfying to peel off. The accessories case (shown in the background) contained a short single USB C to C cable and some instruction manuals.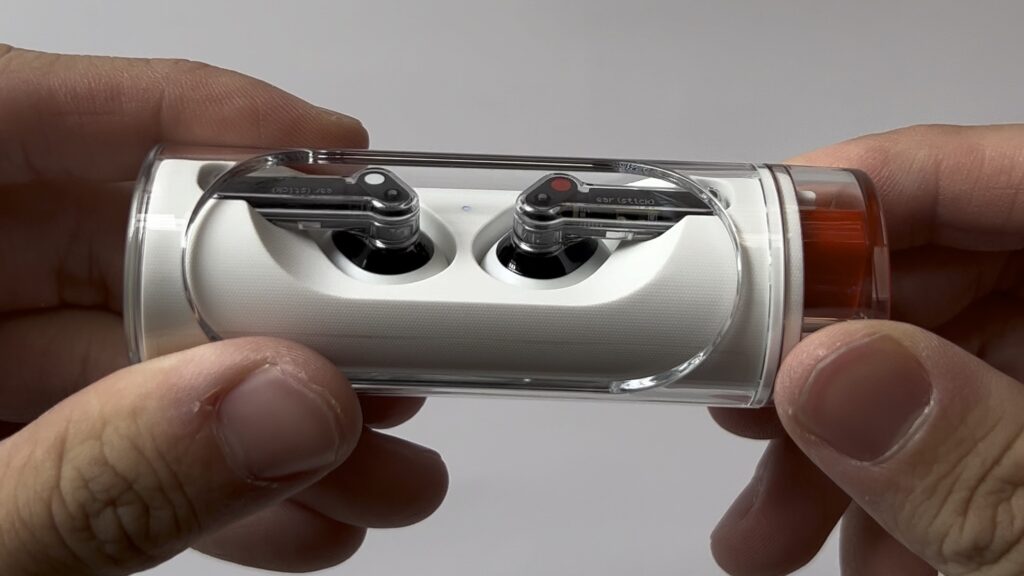 The lipstick shaped case features a transparent outer layer for protection, and an inner magnetic holder for the earbuds. How do you access the earbuds? Well, just turn the red knob on the right of the case in any direction to rotate the holder accordingly.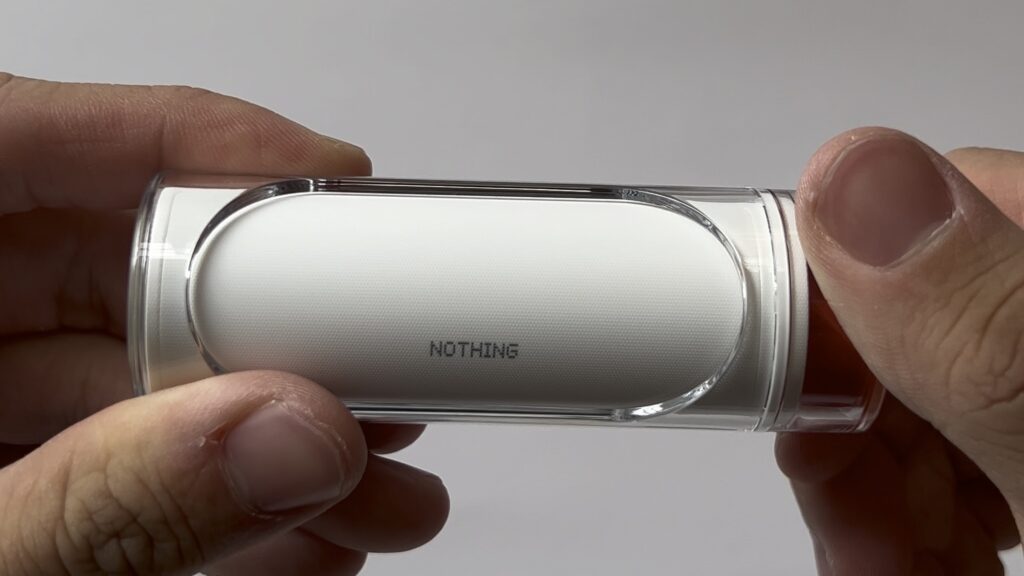 Turn the knob until the bottom of the inner holder matches the gap on the exterior to hide the earbuds, and turn it upright to connect them to your devices. The turning mechanism is buttery smooth and gives a satisfying click when locked in its open and closed positions.
The mechanism likes to stay either fully closed or fully open, so partially turning the case open will not really be feasible. Besides, you don't want dust and dirt to get into the case right?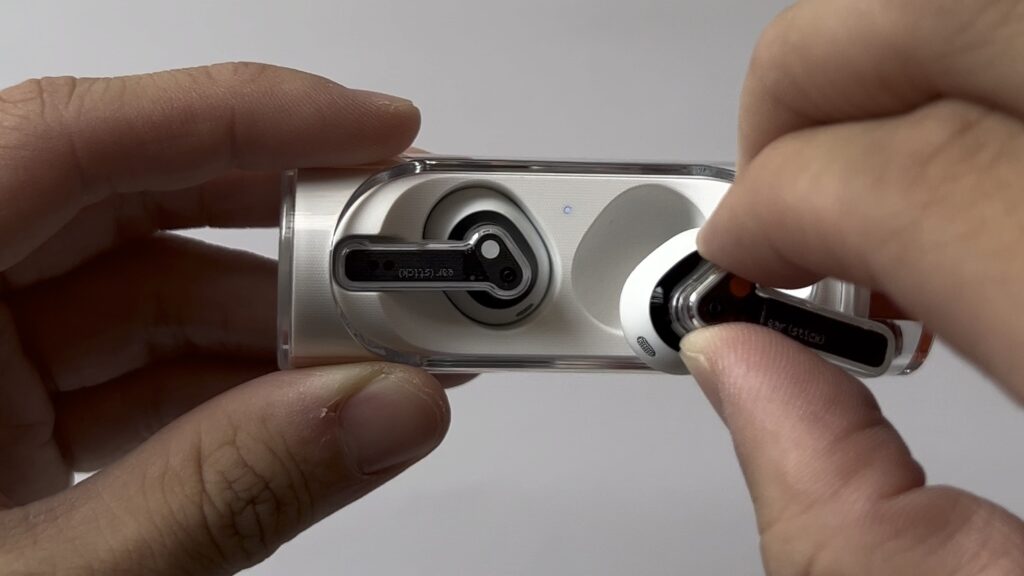 Just like the Ear (1) and most wireless earbuds out there, the earbuds charge via magnetic pins found on the case, and snap into place securely even when rotated upside down.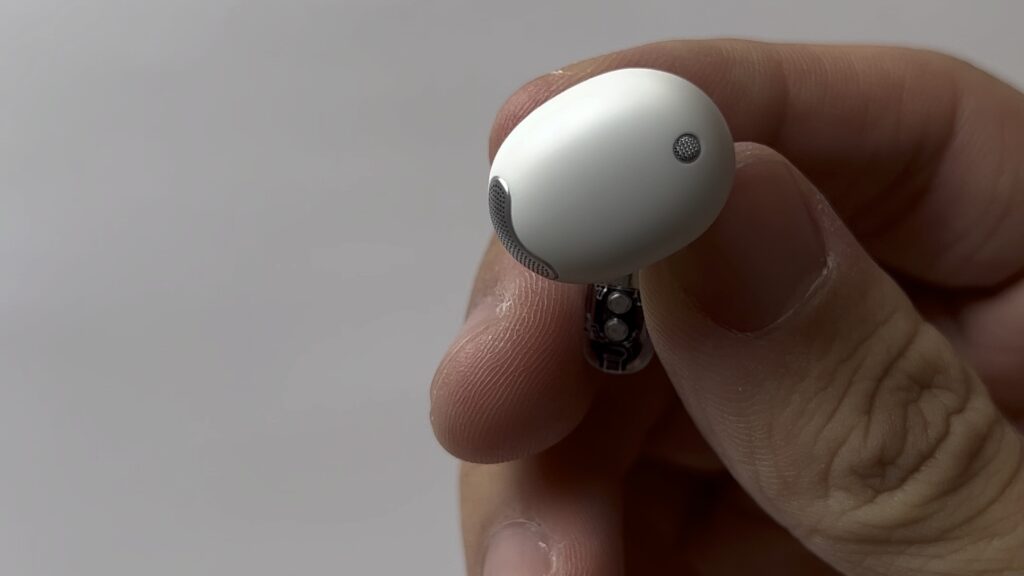 As mentioned earlier, the Nothing Ear (stick) does not have silicone ear tips like the Ear (1), and sports a non intrusive half in-ear design like the 1st and 3rd generation AirPods. The speaker is optimally placed to direct audio into your ears and the microphone on each side picks up audio for dynamic EQ adjustments (more on that later).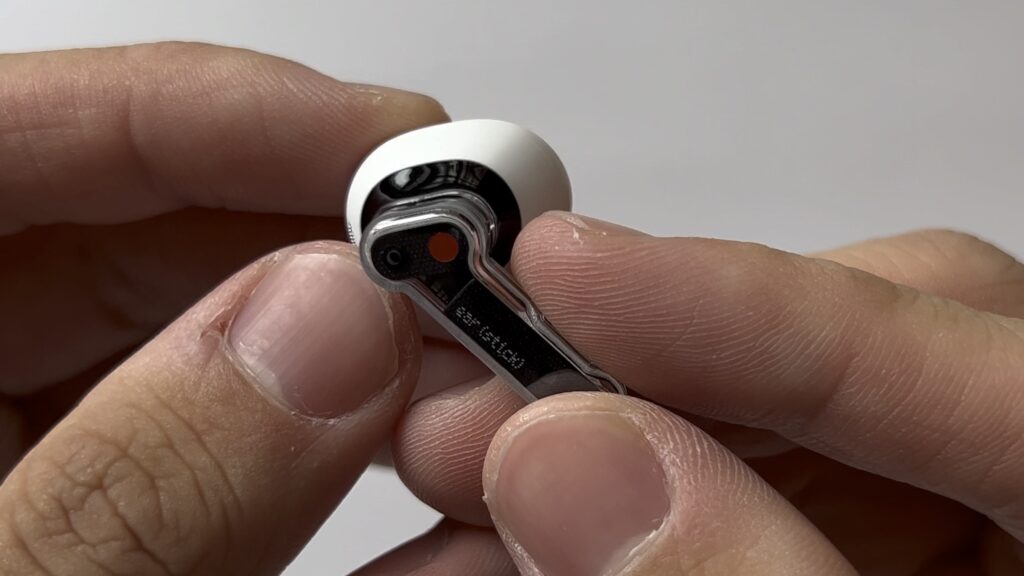 The red accent and white accents on the corner of each earbud are used to distinguish between the right and left earbuds respectively, and it's quite a nice touch.
Specs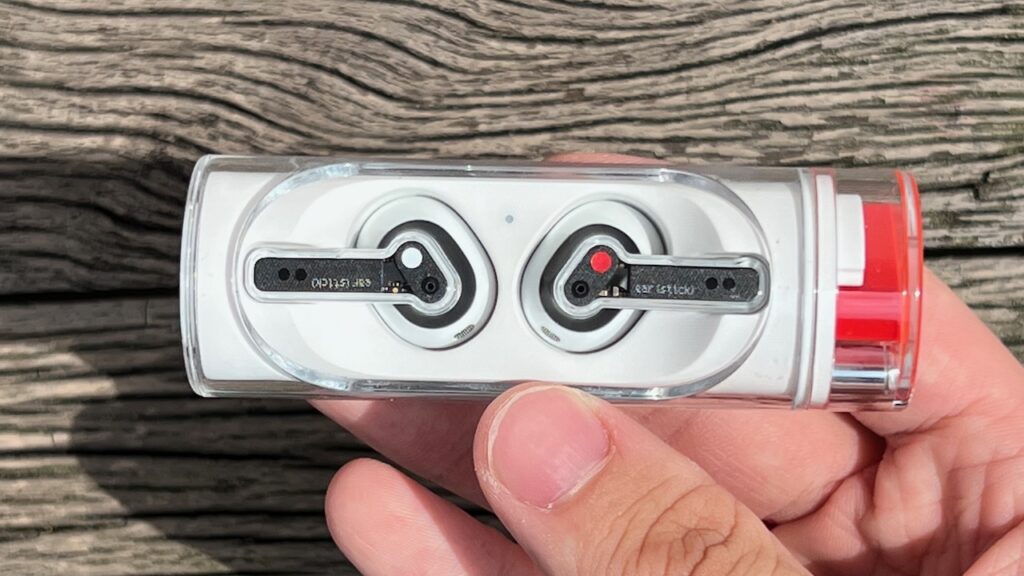 As mentioned earlier, the Nothing Ear (stick) doesn't come equipped with ANC, but let's take a look at what's inside these uniquely designed earbuds.
| | |
| --- | --- |
| Charging Case Dimensions (H x W x D) (mm) | 87.1 x 29.8 x 29.8 |
| Charging Case Weight (g) | 46.3 |
| Earbud Dimensions | 29.8 x 18.8 x 18.4 |
| Earbud Weight (g) | 4.4 |
| Battery | Up to 7 hours of listening time, 29 hours with charging case |
| Charging Case Water Resistance | NIL |
| Earbud Water And Dust Resistance | IP54 |
| Volume Control | Yes, long squeeze right earbud for volume up and left earbud for volume down |
| Active Noise Cancellation | No |
| Features | Custom Driver, Bass Lock, Clear Voice Technology |
Table of Specifications of Nothing Ear (stick)
The approximate volume of the Nothing Ear (stick)'s Charging Case (77.3cm2) is comparable to those popular earphones like the AirPods Pro (59.4cm2) and Pixel Buds Pro (79.0cm2) despite its elongated shape, and weighs around the same.
The earbuds from the Ear (stick) (4.7g) on the other hand weigh lighter than the AirPods Pro (5.3g) and Pixel Buds Pro (6.1g), probably due to the lack of ANC hardware. The earbuds are IP54 rated as compared to the IPX4 on the Ear (1), bringing dust resistance to the table now.
But since the Charging Case on the Ear (stick) has gaps between the inner and outer layer, water and dust can definitely seep through and damage the electrical pins. The charging case isn't rated for dust and water resistance like the AirPods Pro and Pixel Buds Pro as a result.
Nothing's battery life claim for the Ear (stick) is similar to the other 2 earphones, though I would expect a slightly longer battery life since it doesn't run ANC.
Companion App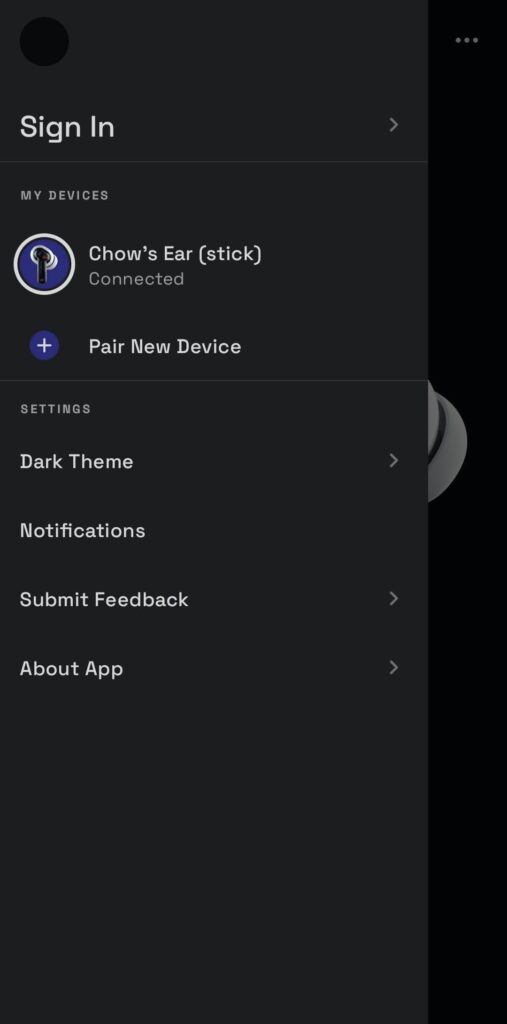 During my time with the device, the Nothing X App wasn't updated for the Ear (stick) since it was still under embargo, so a visual of the Ear (1) was used instead. I was able to connect the Ear (stick) to the companion app nonetheless and managed to access volume and gesture controls.
From the app, you can also toggle between in-ear detection mode, play around with the equaliser, and check battery statuses of individual earbuds and Charging Case. Unfortunately, you cannot map the squeeze gestures to any functions other than controlling the volume.
Features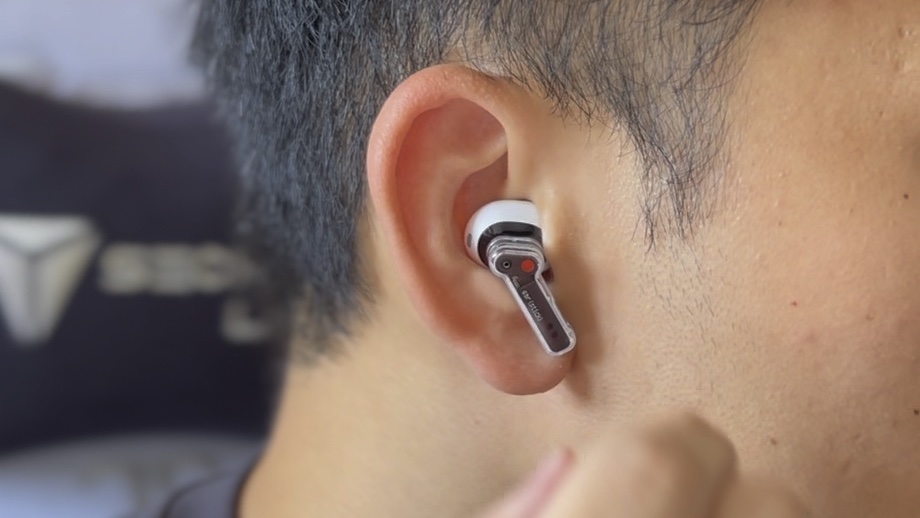 As mentioned earlier, the Ear (stick) relies on long squeezing each earbud for volume control instead of the swipe gestures found on the Ear (1) and it's quite weird. If you thought that Nothing repurposed the swipe gesture for some other action, you're wrong: The Ear (1) does not detect swipes on the sides of the earbuds at all. Not sure why they removed it.
Anyway, the Ear (stick) comes with a custom driver that claims to be one of the most sensitive on the market that delivers authentic high definition music even at extreme frequencies without distortion. It also comes with a Bass Lock feature which utilises the inward facing microphone to detect bass loss and balancing it to ensure consistent depth to the music
All that sounds pretty cool and sure enough, the audio sounded pretty good and did not get warped at high volumes. The bass remained mostly punchy even as I was transiting through crowds.
One feature I found sorely lacking was ANC. With the half in-ear design, the passive noise isolation is worse than the Ear (1), so background noise can easily pass through and disrupt the immersive listening experience. Bass Lock and a fancy Custom Driver is cool and all, but without good enough noise isolation/cancellation, the benefits cannot be fully appreciated especially when I'm in a noisy environment.
Sure, I may be biassed as a 2 year AirPods Pro user with ANC on all the time, but Nothing could have just raised the price by S$30 to match the Ear (1), bring back ANC, and make a solid variant of the Nothing Ear lineup. In my day to day use of travelling through crowds, shuttle buses and trains, the Ear (stick) wouldn't be my pick simply because of the lack of ANC.
Another feature found on the Ear (stick) is Clear Voice Technology. It utilises 3 high definition mics to pick up and filter out background noises like wind and crowds during calls. Now, It works quite ok in my testing, though the mic quality could be better, but it baffles me why this noise isolation feature only works during calls.
If the earbuds have this ability to isolate noise in the first place, I'm not sure why it is not being used when playing audio regularly. And no, there isn't an option in the app to manually turn this background noise filtering on.
To me, the features that Nothing unveiled held true to their claims pretty well, but the combination of certain capabilities and the lack of others puts this device in a weird segment in the wireless earphones space.
Battery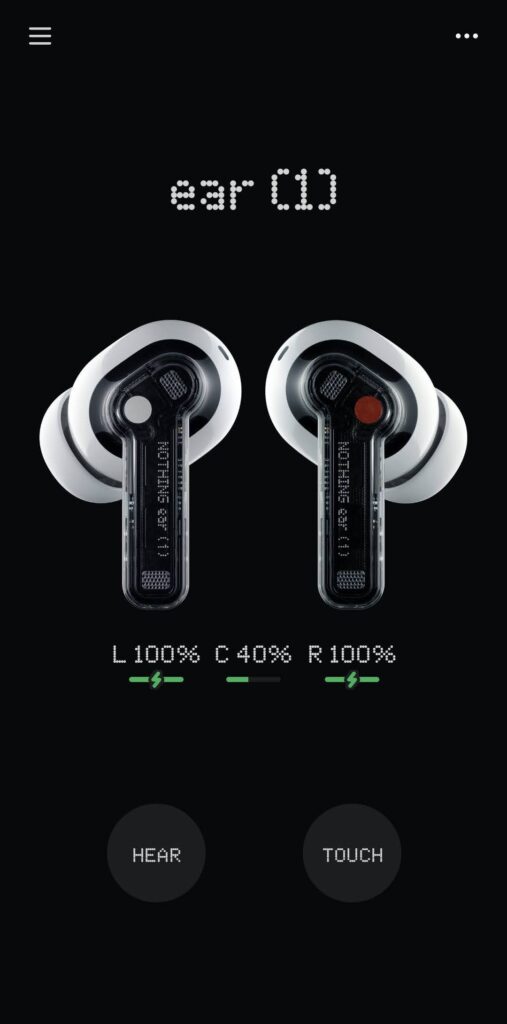 One thing to applaud the Ear (stick) for is its over delivery in its battery life. Using the Ear (stick) for hours on end only sipped around 12% of battery per hour when audio was set to 55%. Extrapolating that, it would give around 8.3 hours of battery life. But then again, the earbuds aren't powering any ANC hardware, so this should be somewhat expected.
Nothing claims to offer up to 9 hours of music playback with just 10 minutes of charging the case. I couldn't test this out fully, but I'm happy to report that charging the case for 10 minutes brings the case percentage up by 20%.
Charging the earbuds is as easy as other popular earphones out there, just plop them into the magnetic case and they will just charge. Battery life is really good on the Ear (stick) and I have no complains.
Durability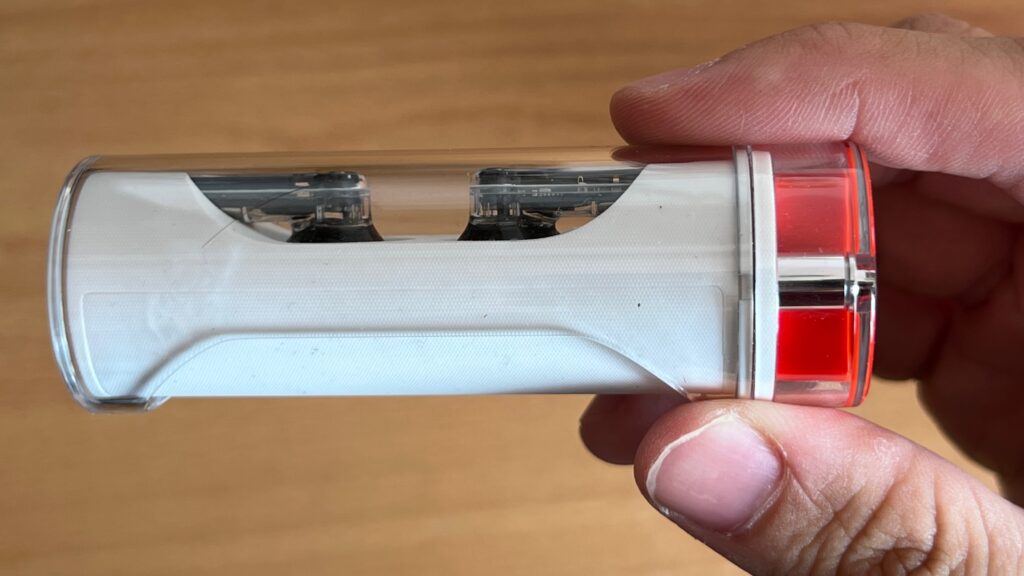 Sigh, in coming up with such an unorthodox form factor for the charging case, one giant concern will undeniably pop up in your head: Durability. Remember how we could smoothly rotate the inner earbuds holder around? 
In order to achieve that, there needs to be a gap between the 2 layers, something most other earphone cases don't have. After using the Ear (stick) for a couple of days, dust particles and hair started to enter through the gap and were quite impossible to get rid of. I tried brushes, dust blowers, and even tape, but those didn't work too well.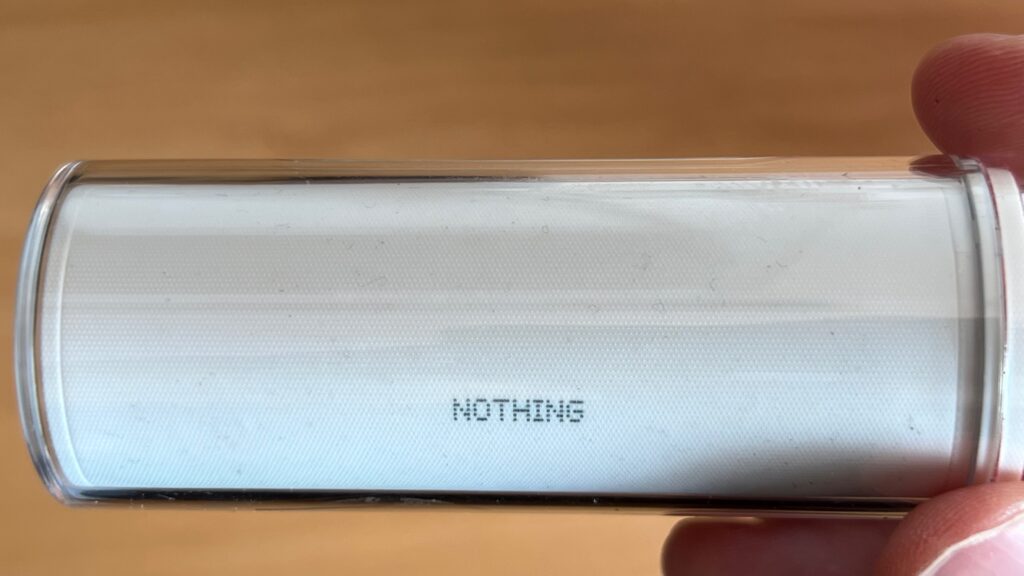 It was quicker than expected to accumulate this debris, especially when I was just storing the charging case in places like my pocket and bag, not deserts or beaches. The white interior even accentuates this build up of dirt.
Just like what Samsung did with their foldable phones where they placed bristles around the gap, Nothing could have considered some variation of that to mitigate this issue. But this goes directly against the minimalist, industrial look Nothing is known for anyway.
Conclusion
This article came out more pessimistic than planned, but don't get me wrong. The Nothing Ear (stick) is a breath of fresh air in the wireless earphones space. Literally no other company builds their charging case like this, and for Nothing to go against the grain, it takes courage and lots of R&D to pull it off.
Personally, I find the rotating lipstick shaped charging case to be a great party trick, and it definitely draws eyes. It is really well built with assuring clicks and buttery smoothness, but from a utilitarian point of view, it doesn't seem necessary to give up much of dust protection just for the aesthetics.
In regards to the Earbuds themselves, I feel like Nothing should have just thrown in full ANC to round up the entire experience. Offering background noise filtering only during calls feels like a feature that should be enabled when playing music. Heck, they could even call it Active Noise Cancellation for that matter.
With the existence of the S$199 Nothing Ear (1) with similar earpiece design, sealed case, ANC and swipe volume controls, it is hard to recommend the S$169 Nothing Ear (stick) that lacks this many features compared to its cousin.
But if you really dig the rotating lipstick design with half in-ear earpieces with the Nothing design language and don't care much about ANC, the Nothing Ear (stick) is for you. Otherwise, there are many other options on the market.
Nothing Ear (stick) will be retailing in Singapore from 11 November onwards at Challenger stores, Shopee and Lazada.
This article may include Referral or affiliate links that provide revenue to Tech Composition.

Derrick (Yip Hern) founded Tech Composition to provide valuable insights into the tech and finance world. He loves to scour the web for the best deals and embark on software projects during his free time, a typical geek, right?