It's ironic: External storage devices like USBs, SSDs and SD cards have come down substantially in price, yet integrated storage options on your smartphones and ARM computers remain mostly high.
Manufacturers can charge these high storage upgrade prices for smartphones because there is literally no other way to do so. (RIP Micro-SD card slots)
The new iPhone 13 Pro's upgrade from 128GB to 256GB costs S$170, and the Z Flip's upgrade from 128GB to 256GB costs S$100.
We begrudgingly accept this reality, but traditionally self-upgradeable PCs are starting to follow this trajectory.
See, Apple introduced its own ARM based (the chip architecture used on our phones) chips that did what most competitors failed to achieve with this new approach: Great performance and the ability to run non-ARM designed apps efficiently.
Consumers (including me) loved the amazing battery life that ARM chip provided, along with its snappy speeds. 
This sparked renewed interest in the manufacturing of ARM chips for PCs. Intel and AMD, among others, announced their desire to replicate what Apple pulled off.
This is a good thing for consumers right? Yes and No. More PCs transitioning to ARM means that storage will be soldered into the motherboard to allow memory swap with the RAM. 
So, companies like what they did with smartphones, are able to charge us sky high prices for storage upgrades. 
Case in point, Apple charges S$300 to upgrade from 256GB to 512GB on its Macbook Air, yikes.
There is a solution to this though. Remember when I mentioned that external storage devices are getting cheaper and better? 
If you can't upgrade the physical storage for cheap, the next best option is to use an external SSD to store your data.
And an option I would choose, is the Samsung T7 Touch. Let me explain why.
Overview
Firstly, for an SSD you would potentially be using for 3-5 years, you wouldn't want data to get corrupted right at all right?
To reduce the likelihood of this happening, it's wise to purchase an SSD from a reputable brand with a low risk of mechanical failure. Well, Samsung claims to be the World's No.1 Flash Memory Brand since 2003, so let's go with the best.
Samsung's T7 series come with sequential read and write speeds of up to 1,050 MB/s and 1,000 MB/s, and is up to 9.5x the speed of old HDD thanks to their PCIE NVMe technology.
This means you can technically transfer movies between your devices in 3 seconds, provided your device's storage speeds are comparable.
So don't go on buying a speedy SSD and expecting 1000 MB/s speeds when you plug it into an ancient machine with a HDD or slow SSD. Test your device's storage speeds with BlackMagic's disk read speed test before your purchase anything.
My T7 Touch got 602 MB/s and 681 MB/s for read and write speeds respectively on my M1 Macbook Air 256GB. Plenty fast for most operations, but like I mentioned, the numbers will vary on each device.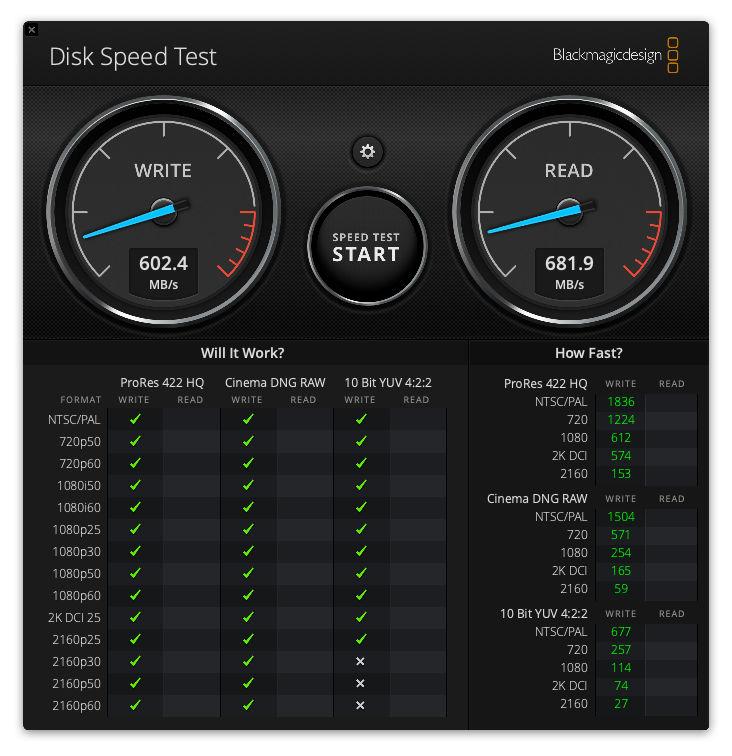 Form Factor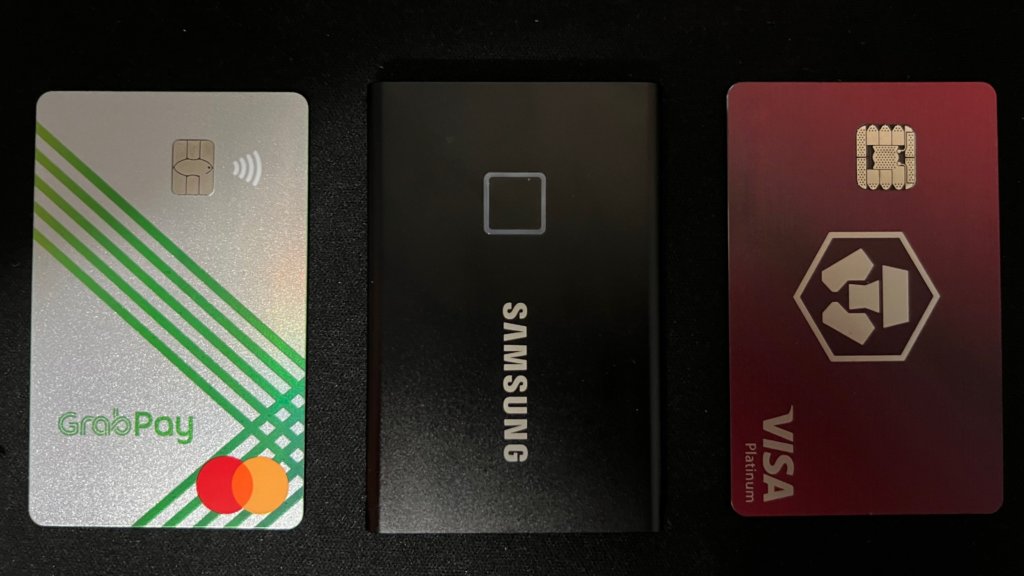 Let's explore what the T7 Touch looks like in person.
The T7 Touch, regardless of storage size, comes in at 57mm wide, 85mm tall, and 8mm thick. Its 2D footprint is exactly that of credit cards like the Crypto.com card, and GrabPay Card.
For scale, the T7 Touch is about 10 credit cards thick, and fits easily in your pocket.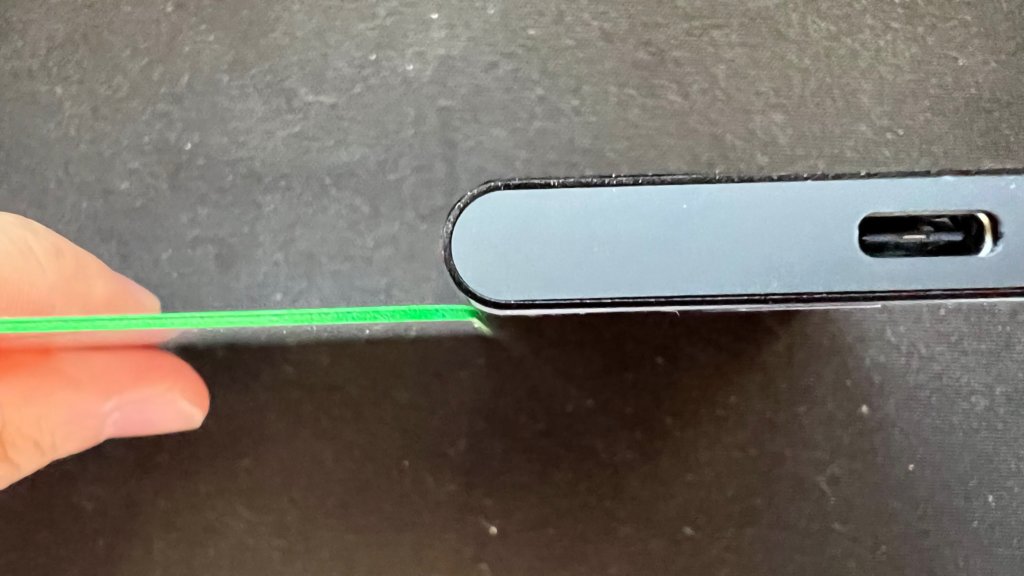 The "Touch" in T7 Touch refers to the fingerprint sensor integrated on the device. The SSD itself doesn't contain any battery, so the sensor will be powered by the device you plug it into.
Samsung also offers a T7 without the fingerprint sensor at a slightly lower price, but with some inconveniences I will talk about later.
T7 Touch comes with a USB-C port, along with a USB-A to C and a USB-C to C cable. Since this device requires a power supply for authentication, iOS devices with a lightning port won't work, even with a lightning to USB-C adapter.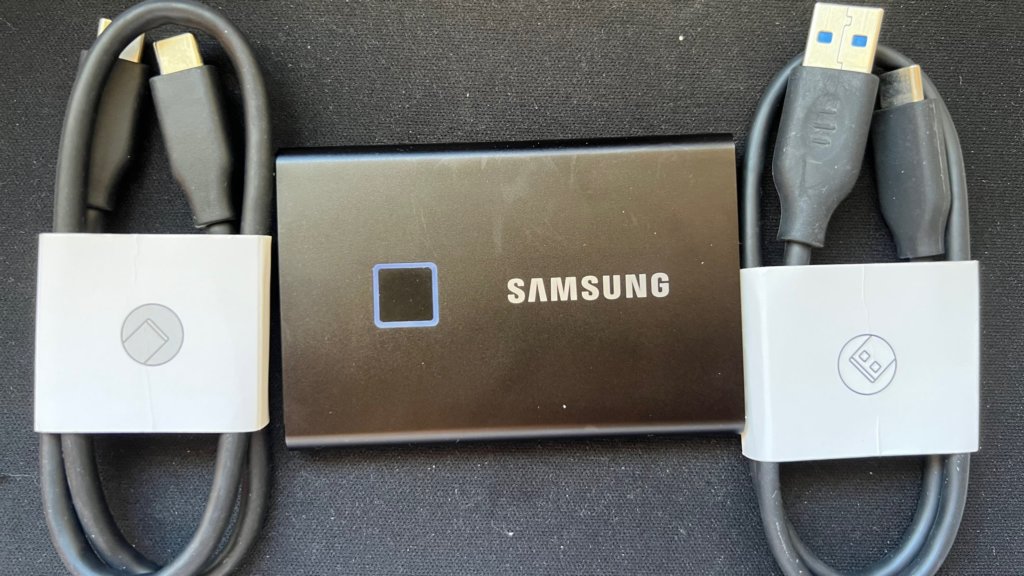 T7 Touch comes with a premium looking, full metal body that feels cool to the touch. This helps the device cool down faster during extended periods of file transfer.
Samsung says that it can survive drops from 2 metres without any data loss, and has a 3 year warranty to back that claim. Talk about confidence.
Security
What differentiates Samsung's T series and most other portable SSDs is security. You can register an AES-256 bit encrypted password using the Samsung Portable SSD app. 
Note that since this is a hardware encryption method, the only way to reset the password if you forgot it is to go to Samsung to perform a hard reset.
Don't worry if you do not have access to the internet during set up, as an Android APK, Windows Installer file, and Mac DMG file will be included for seamless installation.
Since we have access to the fingerprint sensor, up to 4 fingerprints can be added and labelled in the app once you authenticate with the password you set.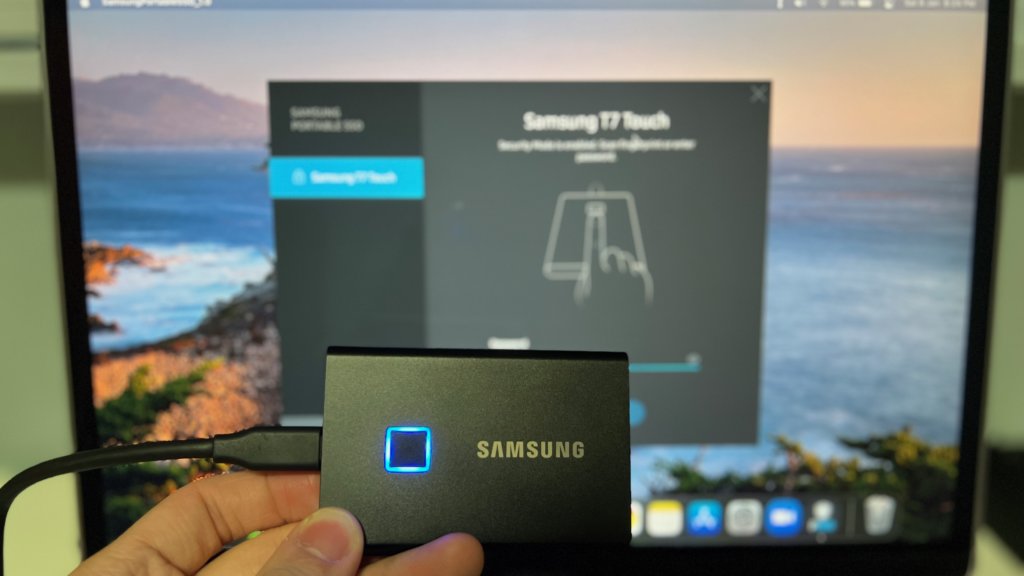 Without a password or fingerprint provided, the T7 folder will be read only, and hides all other folders you added to the drive. Of course, the respective installation files for the 3 platforms will still be accessible.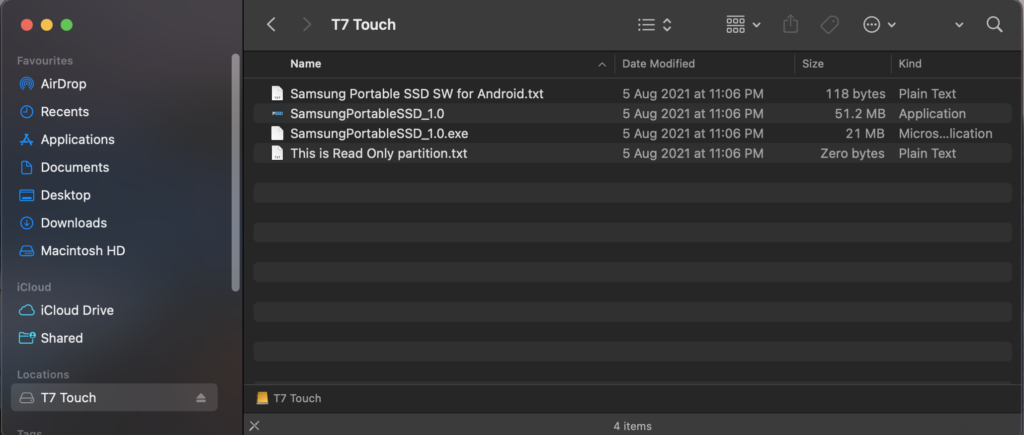 Here comes the slightly inconvenient part if you don't get a T7 with a fingerprint sensor (without "Touch" in its name): You are only able to enter your password and unlock your folder with the app.
So for every new device you want to plug your T7 into, you'd have to install the app in order to access your files. 
But remember, Samsung doesn't include an iOS Portable SSD app. So if you plug your regular T7 into an iPad Pro with a USB-C port, there is no way to unlock the T7 folder.
With the added functionality of the fingerprint sensor on the T7 Touch, the T7 folder can be unlocked on any supported device without the need to install an app. Simply tap your finger onto the sensor when the blue light turns on and you're set.
Conclusion
There is a major reason why I'm recommending this 1.5-year old device today: Price. The T7 Touch originally released at S$229, a little expensive for a 500 GB external SSD but was arguably worth it for the features.
But in recent months, the price has dropped by a whopping 38% to S$139 on most major retailers like Amazon SG and Courts. This S$139 price point gets really close to reputable 500 GB fixed-on SSDs on the market, while beating most of their read and write speeds.
A portable SSD like the T7 touch also enjoys the benefit of multi-device support and the added high-grade security features a normal fixed-on SSD don't. If you are looking in the market for an affordable, portable SSD, there is not much to complain about with the T7 Touch.
This article may include Referral or affiliate links that provide revenue to Tech Composition.

Derrick (Yip Hern) founded Tech Composition to provide valuable insights into the tech and finance world. He loves to scour the web for the best deals and embark on software projects during his free time, a typical geek, right?